Read the following dialogue and answer questions 1-5.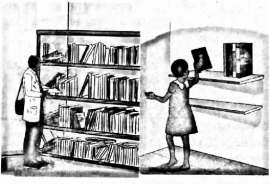 Librarian: How are you Elsie?
Elsie: Am fine thank you.
Librarian: How can I help you?
Elsie: I would like to borrow a story book to read over the weekend.
Librarian: Have you brought your library card?
Elsie: Yes, here it is.
Librarian: You can go and choose a story book to read. I will then record it under your name.
Elsie: Ok, thanks.
Where do you think the conversation was taking place?


At school
In a hospital
At the library
In class

Elsie is a __________________________________.


teacher
pupil
parent
athlete

Who is a librarian?

An English teacher
A learner
A person who sells books
A person who works in a library

What should you carry when going to borrow books from a library?

A story book
library record
Library card
A bag

Elsie's reply....... "Ok, thank you" shows that ________________________________

she is polite
she is still young
she knows English
she was happy
Read the passage below and then answer questions 6-9.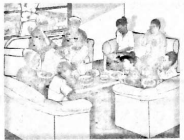 A house will never be a home without a family, and a family is never made of a few individuals. It also includes grandparents, kids, aunties, guardians and uncles. There may also be some adopted orphans. The idea of a family has been an African thing from long ago. The more we are going to understand the importance of a family, the more we will learn to live as one big family that shares and helps each other to deal with problems and daily chores. It is about time we show our kids the importance of family values and influence them to understand it.
According to the above passage a family is made of ________________________________


father, mother, uncles and guests
parents, uncles, grandparents and strangers
guardians and teachers
grandparents, children, aunties, guardians and uncles

What makes a house a home?


Parents
Family
Children
Grandparents

For how long has the idea of family been an African thing?


A few years
Several years
A long time
A short time

What is the meaning of the word values as used in the passage?


Good items
Good practices
Money
Property
Read the passage below and then answer questions 10-12.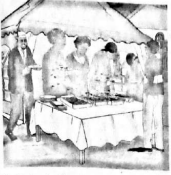 Birthday is the most special day of the year for children. It is a day full of celebrations The birthday boy or girl enjoys many fun activities, party with their friends and family members, receives a lot of gifts and makes a wish as they blow the candle on their special birthday cake. These are all fun, and memorable moments. The children will always remember such parties for a long time.
Which of the following activities does not take place during the birthday party?


Receiving gifts
Partying with friends
Making a wish
Visiting neighbours

The following people will be found at the birthday party except

birthday boy.
friends.
chef.
family members

The phrase "Birthday is the most special day of the year for children" means that a child will celebrate birthday ____________________ in a year.


once
twice
three times
four times
Read the passage below and then answer questions 13-15.

When he had finished his breakfast, the hare looked around to see how far the tortoise had gone. He still hadn't passed halfway. Feeling sleepy after his snack, the hare thought to himself, "I will have a quick snooze now and when I wake up I will quickly run past the finish line. He fell into a deep sleep and dreamed of winning the competition. Time passed and the sun was already setting when the hare woke up. He jumped, looked around and saw the tortoise at the finish line.
What were the two animals that were competing in the race?


Rabbit and tortoise
Hare and tortoise
Tortoise and hyena
Tortoise and lion

Who do you think won the race?

Tortoise
Hare
Both
None

What was the hare doing as the tortoise continued with the race?


Running
Sleeping
Eating
Looking at the hare.
Read the passage below keenly. It contains blank spaces numbered 16 to 20. Fill the spaces using the best alternative from the choices given.
The Competency Based Curriculum ___16___ launched by the Ministry of Education in 2017. CBC replaced the former 8.4.4 education system of 1985 to date. Under the ___17___ curriculum, learners will spend two years in pre-primary, six years in ___18___ school, three years in junior secondary and three ___19___ in senior secondary. ___20___ the learners can then decide to join the world of work or further their careers by joining colleges or universities.
| | | | | |
| --- | --- | --- | --- | --- |
| | A | B | C | D |
| 16. | has | was | is | are |
| 17. | new | old | former | next |
| 18. | pre-primary | home | nursery | primary |
| 19. | ears | term | period | years |
| 20. | Moreover | Therefore | Thereafter | And |
Fill the gaps in questions 21 to 23 using the correct article.
The girl needs help as she is. ___________________ orphan.

a
an
the
either

______________________ head teacher is teaching in grade four.


A
An
The
Her

Mary has __________________ twin sister.


a
an
the
two
For questions 24 to 27, select the word with the same sound as the underlined.
The car has a spare tyre.

Tie
Try
Tire
Tear

She uses dye to hide her grey hair.

Die
Buy
Dice
Tie

When he got home his feet were covered with mud.


Fit
Feast
Fast
Foot

I did not feel any pain when the dentist removed the tooth.


Fail
Fees
Fill
File
For questions 28 to 30, fill the blank space with the best choice.
I was in the hall before it was. _______________________


pool
fool
full
pull

We should read questions _____________________ before attempting to answer.

two
twice
one
three

Every _______________________ counts in this election.

vote
fought
bought
fort
COMPOSITION
WRITING
Write an interesting composition about:
m MY BESTFRIEND
______________________________________________________________________________________

______________________________________________________________________________________

______________________________________________________________________________________

______________________________________________________________________________________

______________________________________________________________________________________

______________________________________________________________________________________

______________________________________________________________________________________

______________________________________________________________________________________

______________________________________________________________________________________

______________________________________________________________________________________

______________________________________________________________________________________

______________________________________________________________________________________

______________________________________________________________________________________

______________________________________________________________________________________

______________________________________________________________________________________

______________________________________________________________________________________

______________________________________________________________________________________

______________________________________________________________________________________

______________________________________________________________________________________

______________________________________________________________________________________

______________________________________________________________________________________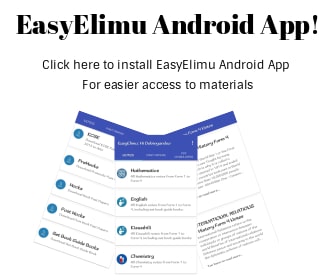 ---
MARKING SCHEME
C
B
D
C
A
D
B
C
A
D
C
A
B
A
B
B
A
D
D
C
B
C
A
C
A
A
C
C
B
A