Physical features are naturally things found on the surface of the earth
They include:

Mountains
Valleys
Plateaus
Ocean
Seas
Gorges
Plains
Lakes
Rivers
Swamps
Hills, rangers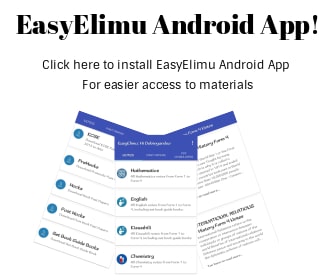 ---
Mountains

Are masses of very high land.
They are the highest physical features on the earth.
Major mountains in Eastern Africa


| | | | | |
| --- | --- | --- | --- | --- |
| KENYA | TANZANIA | UGANDA | SUDAN | ETHIOPIA |
| Mt.kenya | Mt.kilimanjaro | Ruwenzori | Jabel-marra | Ras dashan |
| Mt.longonot | Mt.meru | | Nubadarfur | Guna |
| Mt.marsabit | Pare mts | | Kissu | Danakil alps |
| Mt .kulal | Ngorongoro crater | | | |
| Menengai crater | Lool molasin | | | |

Rift valley

A valley is a low lying are with steep slopes.
In Eastern African the rift valley has 2 branches that stretch across several countries
The two branches are the eastern rift valley and the western rift valley


Lakes

A lake is a water body that is surrounded by land
A hollow/depression filled with water
We have

Fresh water lakes
sailty water lakes

Main lakes in eastern Africa are


KENYA
UGANDA
TANZANIA
ETHIOPIA
RWANDA
Turkana
Baringo
Bogoria
Nakuru
Elementaita
Naivasha
Magadi
Jipe
Chala
Albert
Edward
Bunyonyi
Bisini
George
Kyoga
Kivu
mutanda
Natron
Manyara
eyasi
Rukwa
Malawi
tanganyika
Chamo
Abaya
Steffanie
Shala
tana
ruhondo
kivu

Plains

Are low lying areas of almost flat land.
Examples


| | | | |
| --- | --- | --- | --- |
| KENYA | UGANDA | TANZANIA | SOMALIA |
| Lotikipi, awara, kano, | Luwero | Serengeti | Bilesha |
| Kaputei, loita, | Nakasongola | maasai | Sarar |
| Budalangi,kapiti | | | Haded |
| bilesha | | | |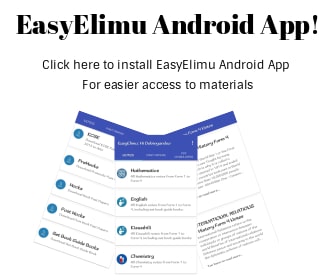 ---
They are also called volcanoes
They are formed through the process of volcanicity/eruption.
Eruption is when the hot molten material underground is forced out by great pressure
The hot molten material is called magma
When magma gets to the surface is called lava
The magma gets out through a main pipe called vent
The opening at the top of a volcanic mountain is called a crater
Most mountains in eastern africa are volcaning mountains



KENYA
TANZANIA
RWANDA
Kenya
Elgon
Longonot
Menengai crater
Marsabit
Suswa
Kulal
Mt meru
Mt Kilimanjaro
Ngorongoro
Lool malsin
Mt karisimbi
Nyiragongo
They are also called horst mountains
They were formed through faulting and uplifting process
Faults are lines of weakness
Faults were developed as a result of forces acting on the layers of the earth
The forces involved are tensional and compressional forces
The middle block was pushed upward by underground forces
The underground forces called up thrust force
Examples


ETHIOPIA
UGANDA
TANZANIA
Danakali alps
ruwenzori
Pare
usambara



The rift valley was formed when two cracks or fault line formed within the crustal rocks
The land between the two faults sunk forming a valley
Was formed through the faulting process
Formed by either tensional or compressional forces
When two parallel faults developed the tensional forces pulls the rocks apart
The middle block between the faults sink
The steep sides of a rift valley are called escarpments

The major lakes in eastern African were formed as a result of


Faulting
River deposition
Down warping
Volcanicity
During the formation of the rift valley, some parts of the land sunk deeper than others forming depressions.
The depressions were filled with water to form lakes
Example – lake Tanganyika in TZ
Down warping is a process by which the earth sinks inwards due to pressure forming a big basin.
Water fills this basin to form a lake.
Example: lake Victoria in Kenya
Lava dammed


Lava dammed lakes are formed when lava flow on the surface of the earth and comes int contact with a river, blocking it
This leads to the formation of a lake
Example: lake kivu in Rwanda

Crater lakes


When volcanic eruption occurs, the top of the mountain may be blown of forming a hallow depression called crater.
Water fills the hallow depression forming a crater lake.
Example; Lake paradaise in Kenya, Ngozi in Tanzania and Shalla in Ethiopia.
Plains are wide low lying areas of flat land.
Plains are formed as a result of erosion and deposition of the eroded materials.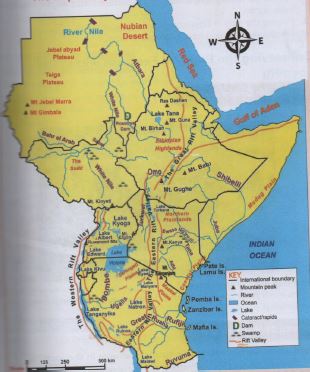 We should protect and conserve physical features found in our locality
Prevent overuse and deforestation of forest.
Avoid pollution of water bodies.
Educate people on importance of physical features.