QUESTIONS
TASK 1: LISTENING AND SPEAKING
Answer the following questions that the teacher will ask you orally (5mks)
Name two things found in the classroom.

State two activities that you do at home.
Spell the word 'calendar'.
Name one means of transport.
Which is the seventh month of the year?
TASK 2: READING ALOUD
Read the story below aloud. (10mks)
Little monkey was ready for school bu he could not find his bag. It was not beside the door. It was not in the cupboard. It was not on the table. Little monkey looked under his bed. The bag was there. He was very happy to find it. Little monkey took the bag and left.
TASK 3: GRAMMAR
Use 'was' or 'were to complete the sentences. (4mks)

There____ some learners writing in class
He____at the gate.
The girls___sweeping the compound
___Mary in the house?

Fill in the gaps (3mks)

b_cycl_
b_at
tr _ _n

Find and circle the words below in the puzzle. (4mks)



sweep
wash
plant
cook

Write the plurals (4mks)

berry
shelf
family
child

Add '-ing' to the words in brackkets and use them to fill in the blanks spaces. (5mks)

Auma is___at the joke. (laugh)
The cows are___green leaves. (eat)
Peter is___near the fence. (stand)
They are___mangoes from the tree. (pick)
The worker is___the cart. (push)
TASK 4: COMPREHENSION
Read the story below and answer the question. (5mks)
Jane and her mother were cleaning the house. Jane was sweeping the sitting room. Her mother was mopping the kitchen. Jane saw a big cockroach on the wall. She pointed at the wall and called her mother. The cockroach moved down the wall. Jane jumped back and shouted. Her mother came to the sitting room quickly. She hit the cockroach with a broom. She used a dustpan to carry it outside the house.

Jane and her mother were__the house.
Jane saw a__cockroach.
Where did Jane see the cockroach?
What did the mother do to the cockroach?
What is the work.of dustpan?
TASK 5: GUIDED WRITING
Write ten sentences about: (10mks)
MY TEACHER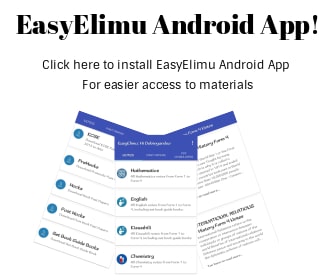 ---
MARKING SCHEME
(a - e mark relevant responses)
Mark as required

were
was
were
was

bicycle
brat
train




berries
shelves
families
children

laughing
eating
standing
picking
pushing

cleaning
big
on the wall
hit the cockroach
to carry the cockroach outside the house

Mark as required