QUESTIONS
TASK 1: HYGIENE AND NUTRITION ACTIVITIES
After bathing I wipe my body using a ____(towel, handkerchief, paper;)
This is a ____(dust bin, dust pan, broom)

Draw a map.
When we are sick we take____ to become healthy. (medicine, soil, send)
We eat the____ of cabbages. (stem, leaves, roots)
Food is cooked in the____ (bedroom, kitchen, living room)
We should not slare (books, pen, toothbrush)
Name three foods you eat during supper.
____
____
____
A____ is a sharp object. (razor blade, blanket, socks)
Fruits must be before eating. (washed, cooked, boiled)
Name three uses of water.
____
____
____
TASK 2: ENVIRONMENTAL ACTIVITIES
Name these items for storing water.


Which of these animals may NOT hurt us? (fish, lion, snake)
Which soil makes the longest ribbons? (loam, clay, sand)
We dig using a____(knife, jembe, saw)
A____(shadow, sunshine, star)is formed when light is blocked.
Every child has a right to____(work, education, fight)
We should keep our school compound____(clean, dirty, untidy)
Name the four colours of the flag.
____
____
____
____
The weather is____(sunny, calm, rainy)

TASK 3: MOVEMENT AND CREATIVE ACTIVITIES
The national anthem has____verses. (4, 2, 3)
We can exercise by____ (sleeping, running, sitting)
This is a ____(shaker, drum, guitar)

Complete this line of the national anthem.
Ee Mungu nguvu (baraka, haki,yetu)
This is a____ line (wavy, straight, zigzag)
We should swim in a____ swimming pool. (dirty, safe, dangerous)
Colour the apple using red colour.

We____ a guitar to produce sound. (pluck, hit, shake)
I kick a ball using my____ (legs, nose, ears)
Complete the pattern.

TASK 4: C.R.E
Adam and Eve lived in the garden of____(Gethsemane, Eden, Cana)
God is happy when we ____our parents. (obey, disobey, beat)
We should____ people who are in need.(help, beat, abuse)
This is a____(church, bible, cross)

The Bible has____ books. (26, 66, 39)
Prophet Elijah had faith in____(God, Satan, Angel)
Jesus was baptised by____ the Baptist.(Andrew, Peter, John)
The three wisemen gave baby Jesus____(food, gifts, clothes)
The mother of Jesus was called____(Elizabeth, Mary, Eve)
If you are given something you should say____(bad, sorry, thank you)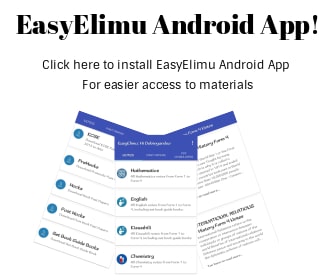 ---
MARKING SCHEME
Task 1
towel
dust pan
medicine
leaves
kitchen
toothbrush
(Any correct food)
(Any correct food)
(Any correct food)
razor blade
washed
Washing (or any other)
Cleaning (or any other)
Drinking (or any other)
Task 2
Bucket
Pot
Bottle
Drum
Fish
Clay
jembe
shadow
education
clean
Black
White
Red
Green
rainy
Task 3
3
running
drum
yetu
wavy
safe
pluck
legs
Task 4
eden
obey
help
cross
66
God
John
gifts
Mary
thank you
---
Download
Integrated Learning Activities Questions and Answers - CBC Grade 3 End Term 1 Exams 2022 SET 2

. Tap Here to Download for 30/-
---
Get on WhatsApp for 30/-
---
Why download?
✔ To read offline at any time.

✔ To Print at your convenience

✔ Share Easily with Friends / Students
---