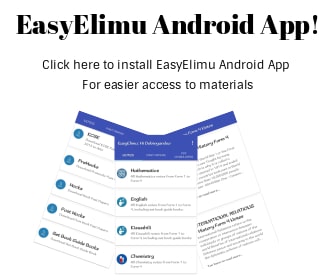 ---
Forestry
This is the planting and taking care of forests.
A forest is a group of trees growing together.
N/B 3% only of kenyan land is under forest.
Natural forest
Planted forest
Grows on its own
Hardwood trees are grown
They take long time to mature
Trees are of different species
Hardwood trees are also called indegenous trees
Obeche
Meru oak
Camphor
Rosewood
Ebony
Mahogany
Greenheart
Iroko
Coastal tropical forest
Mountain highland forest
Mangrove forest
Tropical rainforest
Also called mountain forest
Found in areas with high rainfall
Found on slopes of mountains ,example:

Mt. Kenya Forest
Mt. Elgon Forest
Aberdare Ranges Forest
Kipkelion
Mau Forest
Kaoyagat Forest
Malava
Ngong Hills
Found along the salty water in the coast
Also called lowland rainforest, examples:
covered with tall trees
a good example is Kakamega Forest and Nandi Hills Forest.
Cultivated and developed by man
Softwood trees are grown
Softwood are also kwown as exotic trees
Trees are of the same species
They mature fast
Grown in straight rows
Softwood make papers
Softwood trees
Cedar
Cypress
Eucalyptus
Pine
Wattle tree
Gravillea
Spruce
Ainamioi - Kericho County
Turbo - Uasin Gishu County
Molo - Nakuru County
Kaptagat - Nakuru County
Timboroa - Uasin Gishu
Londiani - Kericho
Kinale - Kiambu
Pests and diseases
Defforestation
Drought
Forest fire
Over exploitation by human being
Government policy of degazettment of forests
Mismanagement of forests
Illegal logging
Damage of wildlife
NB the main problem facing forestry is clearing for agriculture and settlement.
Main reason why we preserve natural forests is to protect the rare/indegenous trees.
Main reason why we presreve forest is to protect water catchment areas.
This is the illegal cutting down of trees without replacing
It is the main problem facing forests
Leads to desertification
Destruction of water catchment areas
It interferes with the carbon cycle
Interferes with water cycle
Leads to soil erosion
Soil erosion leads to dam siltation
Dam siltation affects the hep production
Species of trees become extinct or rare
Leads to shortage of rainfall
these are ways of protecting,preserving and managing forests.


Afforestation
Reafforestation
Agroforestry
Educating people on the importance of forests
Using alternative source of energy
Gazzetment of forests reserves
Putting up electric fence around the forest
Providing tree seedlings
Discourage the use charcoal
Use of energy saving jikos
Public awareness campaigns to conserve forests