ART/CRAFT.
A Grade 5 girl drew a diagram like the one shown below.

What does the diagram show? A


rod puppet.
stick puppet.
marionette.
glove puppet.

Glove puppets are always manipulated using


sticks.
hands.
strings.
rods.

Which one of the following is one of the elements of photography?


Focus.
Camera.
Images.
Pictures.

In mounting artwork, adhesives are always used for


cutting.
capturing.
framing.
sticking.

Which one of the following gadgets can be used to capture an image.

Paper craft technique can be used to make a


hat.
pot.
bottle.
shirt.

Designing a motif on the stamps is a method of


graphic design.
block printing.
thonging.
handcraft.

In which one of the following crafts can twine technique be applied?

Twining fibres can be obtained from

maize.
sisal.
bean.
cactus.

Which one of the following crafts cannot be woven?

MUSIC
Which one of the following hand signs represents solfa note doh?

Which one of the following symbols shows a crotchet?

Sing the song written below.
"Mungu wetu ni wa ajabu.
Mungu wetu ni wa ajabu.
Mungu wetu ni wa ajabu.
anatenda mambo yote."
The type of song written above is an example of


lullabies,
action songs.
sacred songs.
patriotic songs.

Folk songs are commonly sung by


communities.
churches.
religions.
schools.

Percussion instruments are divided into


three.
four.
five.
two.

A drum cannot be tuned by


heating.
warming.
hitting.
tightening.

A percussion-instrument can be played by

pressing.

shaking.

plucking.
blowing.

A Grade 5 Music teacher asked her learners to name the type of performance done by one person. Here is what they said:
Kioko: Lonely performance.
Mary: Solo performance.
Martha: Choral performance.
Jeph: Group performance.
Who among the learners was correct?

Martha
Kioko.
Jeph
Mary

Which one of the following musical instruments shows a descant recorder?

The following line is found in the Kenya National Anthem. Complete it using the correct word.
Haki iwe ngao na

mlinzi.
walinzi.
ulinzi.
linzi.
SOCIAL STUDIES.
Farmers in our country harvest during


wet seasons.
dry seasons.
dry seasons.
rainy seasons.

Name the compass point indicated by letter P.



North west.
South east.
North east.
South west.

Who among the following people do not depend on each other?


Parents and teachers.
Police and robbers.
Motorists and mechanics.
Pupils in school.

Which of the following lists consists of physical features only?


Bridges, hills, rivers.
Mountains, valleys, rivers.
Valleys, parks, plains.
Buildings, monuments, plateaus.

The diagram below shows an economic activity.

The economic activity shown above is

fishing.
carpentry.
basketry.
teaching.

A school ______________________ manages time for the activities in the school.

motto
prefect
routine
history

Which one of the following is not an aspect of traditional culture?

The type of foods eaten.
The celebrations held in the community.
They type of songs sung in the community.
The type of hairstyles done by members of the community.

All the following are examples of resources in the community. Which one is not?

Dances.
Minerals.
Forests.
Wildlife.

Malimali primary school wants to start an enterprise project in their school. Which one of the following is a good example of such projects?

Selling illicit brew to the locals.
Opening a gambling site.
Rearing rabbits for sale.
Opening a night dance club for local talents.

Mutua came across the following short statement at the bottom of a school sign board:
"EDUCATION FOR LIGHT"
This statement shows the school

core value.
motto.
vision.
mission.

Which one of the following activities promotes peace in a school set-up?

Tribal discrimination.
Taking good care of good performers.
Equal distribution of resources.
Gender biasness.

In school, a good citizen should

try to be a role model.
be the prefect.
lead the others in riots.
organise strikes.

Democracy in school is keenly observed when

learners are allowed to elect their leaders.
pupils are allowed to choose their teachers.
teachers are allowed to cane wrong doers.
parents are allowed to make rules in schools.

Our country is made up of ___________ counties.

37
27
47
57.

The following children perform the following tasks in their communities:
Wambui: Washes dishes at home after school.
Komboyo: Works in a local quarry for a pay.
Wamalwa: Sweeps his classrooms in the evening.
Akinyi: Mops her bedroom
Who among the children is exposed to child abuse?

Wambui.
Akinyi.
Wamalwa.
Komboyo.
CHRISTIAN RELIGIOUS EDUCATION
The Jewish leader who went to Jesus at night to know how one can be born again was

Nicodemus.
Samuel.
Balaam.
Belshazzar.

When we repent our sins,

people start talking about us.
we become followers of Jesus Christ.
they are transferred to other sinners
we are accepted in the kingdom of God.

In the story of Balaam's donkey, which Christian value do we learn?

Respect.
Courage.
Trust.
Obedience.

The ten men that Jesus healed were suffering from

epilepsy.
ebola.
leprosy.
blindness.

When Jesus raised a widow's son, He demonstrated His power over

nature.
diiseases.
the dead.
death.

"God has heard your prayer, and your wife Elizabeth will bear you a on..." (Luke 1:13) Who was told these words?

Zechariah.
John the Baptist.
Pharaoh.
Jesus.

The name of the blind beggar who sat by the road was

Methibosheth.
Zacchaeus.
Bartimaeus.
Nicodemus.

Which parable of Jesus teaches Christians that God is happy when a sinner repents? The

ten virgins.
mustard seed.
lost coin
prodigal son.

Pam and Sam are eskmates. One day as Pam was sharpening her pencil, she accidentally hit Sam's inkpot and ink spilt on Sam's exercise book, soaking it completely. As a Christian, what should Sam do?

Pour ink on Pam's book as well.
Start a fight to settle the case.
Cry the whole day.
Forgive her and tell her to be careful.

Who among the following portrayed great faith hence was healed?

Jesus.
John the Baptist.
Bartimaeus.
Zachaeus.

When an angel appeared to Zecharia, he was

burning ineense at the altar.
praying and fasting on the mountain.
looking after a flock of sheep.
throwing his net into the lake.

Who told Zecharia that his wife will give birth to John?

Jesus.
An angel.
The priest.
Church leaders.

"Leave your country, your relatives and your father's home and go to a place I am going to show you" Genesis 12:1. Who said these words?

Abraham.
An angel.
God.
Jesus.

Who among the following used to interpret dreams?

Pharaoh.
Portiphar.
Joseph.
Jacob.

People were not happy when Jesus entered Zachaeus' house because he was a

sinner.
tax collector.
short man.
Jew.
ISLAMIC RELIGIOUS EDUCATION
Suratul Al-Falaq means


dawn.
men.
help.
unity.

Who among the following was the prophet's uncle?


Abu Talib.
Abu Daud
Abubakar Sidiq
Al-Abbas

We should not brush our teeth


when we wake up.
after meals.
when eating
before sleeping.

Which of the following attributes of Allah means the king of tings?


Al-Samiu.
Al-Basir.
Al-Malik.
Al Salam.

Which of the following is referred to as the angel of death?


Atid.
Raqib.
Izrail.
Israfil.

Lam yalid walam yooladu is an ayat from surah


Al-Kawthar.
Al-Nagr.
Al-Maun.
Al-Ikhlas.

How many ayats are there in suratal An- Nas?


6
3
4
5

Which of the following lessons is learnt from surah Al-Masad?


Allah controls all things.
Evil people have bad endings.
Allah is the best cure from magic and mother evils.
We seek refuge in Allah from evil

Min Sharri ma khalaga. What does this ayat mean?

I seek refuge in the Lord of the daybreak.
And from the darkness that he created.
From the evil that which he created.
The one who whispers in the heart of mankind.

Prophet Muhammad (SAW) was a strong

supporter of the poor.
believer in paganism.
man.
worshiper of idols.

Which among the following is not a hadith on etiquette on eating?

Eat from the side of the plate and not from the middle.
Wash your hands before, when and after eating.
Do not drop the food.
Say bismillah and eat what is in front of you.

Which of the following is not a way of keeping physically fit?

Playing dice.
Swimming.
Playing football.
Diving.

Jazakallahu Khayran can be said after

giving someone something.
the last swalah of the day.
receiving something from someone.
using the toilet.

The sayings of the prophet are called

hadiths.
wisdom.
virtues.
khutbahs.

Which of the following is not a nullifier of wudhu?

Sijdah
Passing wind
Blood.
Fainting.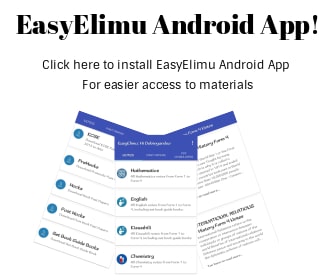 ---
MARKING SCHEME
C
B
A
D
C
A
B
C
B
A
C
C
B
A
D
B
B
D
B
A
B
D
B
B
A
C
D
A
C
B
C
A
A
C
D
C.R.E
A
B
D
C
D
A
C
C
D
C
A
B
C
C
A
I.R.E
A
A
C
C
C
A
B
A
A
A
B
A
C
A
A