QUESTIONS
SCIENCE AND TECHNOLOGY
Which of the following lists consists of living things only?


Plants, animals.
Plants, logs.
Animals, stones.
Logs, stones.

All the following are characteristics of plants except that they all


grow.
die.
move from place to place.
reproduce.

Some Grade five learners were asked to list characteristics of animals:
Aisha: All animals make their own food.
Moha: All animals react to the changes in the environment.
Zuhura: All animals remove waste products
All: All animals reproduce.
Who among the learners was not correct?


Aisha.
Zuhura.
Moha.
Ali.

Study the drawing below.

The digital device drawn above is used for

processing data on a computer.
producing hard copies of data.
typing on the computer.
displaying the data being typed.

A small blinking line showing at the end of the text being typed is called the

mouse.
cursor.
icon.
cable.

Which one of the following is not a fiquid?


Porridge:
Juice.
Chalk dust.
Water.

What is the function of the tooth drawn below?



Chewing.
Crushing.
Biting.
Tearing.

All the following are effects of water pollution. Which one is not?

Transmission of diseases.
Improvement of the population of sea animals.
Causes death of plants and animals inwater.
Sea animals cannot survive in polluted water

Which one of the following is an air pollutant?

Rotting leaves.
Smoke.
Fertilizer's.
Manures.

A teacher drew the device below on the white board and asked some learners to name it:

Petro: cable
Yekobo: mouse
Yohana: printer
Elisha: CPU
Who was correct?

Yakobo.
Petro.
Elisha.
Yoha

A certain substance had the followi characteristics:

It had a definite shape.
Its volume was definite.
It had a definite mass.
The substance was most likely to be

paraffin.
sand
petrol.
air.
Use the diagram below to answer the following questions.

Digestion of proteins takes place in the part marked


Y
X
Z
W

What is the name of the part labelled Z?


Colon.
Large intestines.
Small intestines.
Duodenum.

What is the function of part Y?

Production of a digestive juice.
Absorption of water and mineral salts.
Digestion of proteins.
Breaking of food into smaller pieces.

Space bar is a feature found on the


keyboard.
monitor.
mouse.
VDU.
AGRICULTURE.
Choose a crop whose seeds can be sown directly.


Sugarcane.
Cassava
Carrots.
Bananas.

Which of the following lists consists of vegetables only?

Onions, yams and cabbages.
Tomatoes, carrots, and onions,
Wheat, rice and barley.
Peas, beans and groundnuts.

Mwamburi was asked to draw one example of cereals. Which of the following shows what his correct drawing looked like?

Which of the following is a use of sandy soil?

Modelling.
Farming.
Construction.
Making ribbons.

When making compost manure, you need all the following except

kitchen refuse.
sand.
ash.
maize stalks.

The type of soil with the smallest particles

is the best for farming.
holds more water.
has a rough texture.
is called loam.

As Grade 5 learners visited a farm near their school, they saw the activity below.

Which use of water did they see?

Washing farm tools.
Rearing fish.
Watering plants.
Mixing chemicals.

Study the diagram below.

The irrigation method shown above is called

drip irrigation.
sprinkler irrigation.
furrow irrigation.
overhead irrigation.

Which of the following is the correct use of a scarecrow?

Killing small wild animais.
Entertaining farm visitor.
Frightening small animals
Helping farmers to weed.

Which one of the following is necessary when preparing fruit seeds?

Cellotape.
Nails.
Knife.
Ruler.
HOMESCIENCE
A grade four girl wants to make a doll. Which one of the following materials can she use?


Pieces of metals.
Iron sheets.
Old clothes.
Stones.

Which one of the following is not a quality of safe play items? They should be

for the right age.
simple.
unbreakable.
expensive.

Which one of the following should be done to promote good health?


Maintaining poor hygiene.
Sharing personal items.
Eating well cooked food.
Washing hands when eating.

Below is a cleaning materials used at home.

The material above can be used to clean


the floor.
table surfaces.
walls.
utensils.

Which of the following can be used to make a broom?


Clothes.
Papers.
Grass.
Wires.

All the following materials can be used to make shoes. Which one cannot?


Canvas.
Wool.
Rubber.
Leather.

Below is a type of lamp used at house.

Which type of fuel does this type of lamp use?

Parafin.
Petrol.
Diesel.
Gas.

Which type of shoes are cleaned by polishing?

Canvas shoes.
Plastic shoes.
Rubber shoes.
Leather shoes.

Which one of the following may not be needed when fixing a button?

Plasticine.
Needle.
Thimble.
Thread.

Which of the following kitchen utensils is fragile?

Cooking stick.
Spoon.
Thamos flask.
Fork.
PHYSICAL HEALTH EDUCATION.
Choose an item that can be found in the first aid box.

In athletics, races end at the


landing pit.
take off lane.
start point.
finish line.

Which of the following illustrations shows standing long jump?

Hand juggling technique can be practised using

pebbles.
bets.
posts.
balls.

The type of pass where the player hits the ground with the ball before it bounces to the next player is called

bounce pass.
chest pass.
instep pass.
underarm pass.

The illustration below shows a method used for transporting a injured person.

The method illustrated above is called

single human crutch method.
double human crutch method.
one person crutch method.
two people crutch method.

Clean cut wounds can be cleaned using

soapy water.
paraffin.
antiseptic.
blood.

Which of the following is not a type of bounce in jump rope?

Two feet bounce.
One foot bounce.
Single bounce.
Double bounce.

Name the gymnastic move shown below.


Cartwheel.
Crab stand balance.
Wheelbarrow balance.
Hand stand.

Crouch surface and standing surface are both methods of

swimming.
diving
gymnastics.
Jumping.

One handed rim catch is a sports activity applied in

soccer.
rounders.
athletics.
frisbee.

Which one of the following is a non- locomotor skill?

Twisting.
Skipping.
Galloping.
Sliding.

What is the best action to take when a player gets hurt in the process of a game?

Stop playing and ask for help.
Lie in the field until he or she gets well.
Continue playing.
Sit in the field and cry.

In water safety, what does the initial H in HELP stand for?

Help.
Harm
Heat.
Harmful

Punting is a ball technique that can be used in

handball.
soccer.
volleyball.
softball.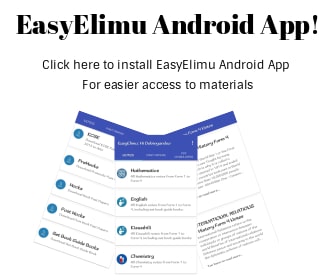 ---
MARKING SCHEME
A
C
A
B
B
C
D
B
B
A
B
B
C
A
A
C
B
C
C
B
B
C
A
C
C
C
D
C
A
C
B
A
D
A
C
B
D
D
D
A
A
C
A
B
B
D
A
A
B
B