Task 1: LISTENING AND SPEAKING (5mks)
Listen to the story I am going to read and then I will ask you some questions.
Juma's family has a father, mother, brother and one sister. Juma's father is called Mr. Bakari and his mother is called Mrs. Zainabu. Juma's brother is called Ali and his sister is called Halima. His father is the head of the family.
How many people are in Juma's family?
What are the names of these members of Juma's family?
Father
Mother
Brother

Who is the head of Juma's family?
Task 2: READING ALOUD (10mks)
Read the story below aloud to the teacher.
My home is very big. My house has many rooms. There are bedrooms, kitchen, sitting room and dinning room. In my sitting room that is where we rest as we watch television. There are things like television, sofasets, tables and a radio. In the kitchen that is where we cook food. There are many utensils found in the kitchen. I love my home.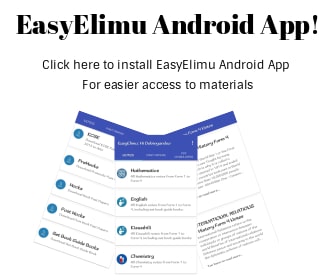 ---
MARKING SCHEME
Five/5
Mr.Bakari
Mrs Zainabu
Ali
His father/Mr Bakari
---
Download
Reading Aloud Activities Questions and Answers - CBC Grade 1 End of Term 3 Set 2 2022

. Tap Here to Download for 30/-
---
Get on WhatsApp for 30/-
---
Why download?
✔ To read offline at any time.

✔ To Print at your convenience

✔ Share Easily with Friends / Students
---