ENGLISH ACTIVITIES
Draw these picture
| | | | |
| --- | --- | --- | --- |
| | | | |
| (a) Basket | b) Egg | c) Umbrella | d) Table |
ACTIVITIES AT HOME
What are these people doing?




Fill in the gaps using was, are and were
Last night, I went to a wedding party. It______1 a beautiful evening. It______2 warm. Many people______3 at the celebration. I stood and watched the people.
Some people ______8 talking with friends or family . People______9 taking pictures. A band ______10 playing music on the stage. People______11 dancing to the music.
Arrange the sentences in the correct order

I was walking to school
I also began to run
They were running to school
Then I saw my friends
TRANSPORT
Name the names of transport in the picture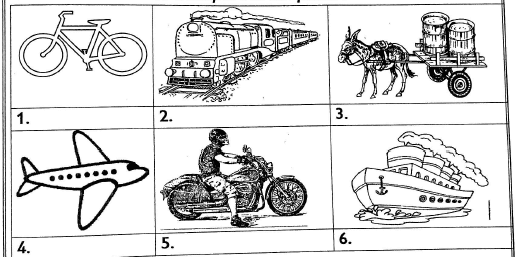 Fill in using the words below
her, me, him, us, them
The lorry took George to town. The lorry took______ to town.
The school bus drops Mary at the gate. The school bus drops______at the gate.
I took the train at 6 O'clock. The train took______ to the station.
The school bus took all of______to school.
The van left______because I woke up late
We travelled by train. It took ______ to the city.
They left by bus. It Left______at the gate.
Tom and Kate were late. The train left______
Copy the following sentences and use capital letters correctly
fatuma is my friend
evan was sick on monday
I went to mombasa in june
have you seen nick?
juma is coming with us
mary is a kind girl
TIME AND MONTHS OF THE YEAR
Make words using these sounds
Tw
br
cr
Match the words with the correct sentence
March It has seven days
A week It has 30 days
June It has four weeks
A year It has 31 days
A month It has twelve months
Which day begins with N______
Which month is the first month?
What two days make up the weekend? ______and______
Complete the sentences using has or have
James ______many friends.
I ______many toys.
Mary______ ten pens.
My dog______ brown eyes.
Do you______ extra pencils?
Your dog______ a long tail.
We ______a meeting today.
Do you______ time for me?
My brother ______a new toy.
I______my own textbooks.
SHOPPING
Name these items


Change the following words into plural
Lorry
Shelf
Party
Puppy
Calf
Wife
Story
Toy
Fly
Loaf
Read the passage and answer the questions
Once upon a time there lived in the village of Kiendo three children. They lived with their parents. They went to visit the grandparents. Their grandparents were very happy. They went to a big shop. One boy wanted ice cream. His grandmother bought it for him.
The other boy wanted cake, white the girl wanted two loaves of bread. Grandfather and grandmother wanted to buy some strawberries.
Answer these questions
What was the name of the village?
How many children are in this story?
What did one boy want?
The other boy wanted?
The girl wanted
What did grandfather and grandmother buy?
Were they in a big or small shop?
THE GARDEN
Name 10 things found in a garden
Read these words
Crop
Stable
Garden
Cream
Table
Feeding
Vegetables
Green Grocery
Complete the following by adding -ing to the word in brackets
I am______ vegetable. (eat)
Mother is______ . (cook)
Awino is ______fruits. (buy)
They are______ripe bananas(share)
James is______a car. (drive)
They are______with a rope. (play)
He is______meat. (cut)
The girls are ______(dance)
ACCIDENT
Read these words
bandage
bruise
wound
antiseptic
bridge
blade
cut
bleeding
razor
clean
cloth
dipping
First Aid kit
Tick the things that are not safe to play with


Fill in the following sentences with was or were
I______walking home.
Jane and John______singing.
Mary______dancing
They______swimming.
He______writing.
We______washing dishes
They______drawing.
Alice______riding a bicycle.
CLASSROOM
Draw and colour three things found in class
Fill in the blanks with the correct word
Example
I was the______ (first, one) to complete the work
I was the first to complete the work
She was the______(second, two) in the race
They were the______(ten, tenth) group.
I was the______(three, third) in the examination
Salim is the______(five, fifth) born in the family.
I have______(first, one) book.
Mary has______(two, second) pencils.
We are ______(six, sixth) in our family.
Use the picture to answer questions 8 to10


The bike is in the______position
Which objects comes after nail______
______is in position between bicycle and doll.
THE FARM
Name these animals


Name other 6 animals found in the farm
Rearrange the letters to get the answer
Where do they live?
A rabbit lives in a______(uhtch )
A horse lives in a______(elbast)
A hen lives in a______ (hcieknopoc)
A cow lives in a______ (oirchsde)
A dog lives in a______ (nelken)
Use the following words to fill in the blanks (male, duck, cow, hen, cock)
The lady was milking a______
This is the______ that is laying eggs.
The______ crows every morning.
We saw a______ swimming.
A ______cow is called a bull.
POSITION AND DIRECTION
Answer correctly


The girl is sitting______(in, on)the bed

The dog is______(next,under) the table

The girl is looking______(through, above)the window

Write the opposites
Ewe
long
black
son
bitch
cock
big
fat
day
tall
ENVIRONMENT
Fill in the blanks using a an or the
This is______orange tree
We have______big field.
There was______ant in the soil
We saw______elephant.
The children climbed______hill.
She is______kind lady.
I ate______ carrot.______carrot was sweet
Here is______ostrich.
Have you ever seen______warthog?
______sun is hot.
Write words that begin with
sn
tr
TECHNOLOGY
Read these words
Mouse
Tablet
Sim card
Desktop
Smart phone
Monitor
Arrange the letters and write them correctly

oneph



lettab



putercom
Fill in the blanks usin his hers mine ours and ours
I have a doll. The doll is______
We have a cow. It is______
You have a new dress. The dress is______
She has a bicycle. The bicycle is______
Sharon has a phone. It is______
Evans has a car. It is______
He has a cow. it is______
CULTURAL ACTIVITIES
Fill in the gap using which, where, when whose or who
______wedding did you attend.
______were they yesterday?
______baked the wedding cake?
______did you come back?
______gift did the bride get?
______ is the cultural day?
______will come with me to the party?
CHILD LABOUR
Complete using_"and" "because" and "but"
Mary______Alice were late this morning.
I got a very big lemon______it was rotten.
Who will help the teacher with a pen______a rubber,
This road is narrow______that one is a bit wide.
My cousin was sick______he was able to complete the race
The bag looks big______it is not heavy.
She went to the hospital______she was sick
LITERACY
Exercise 1
White words with the following sounds
bt
gr
cl
oo
sw
fl
tw
nk
dr
ng
Circle the odd one out
starting
sing
ring
drink
drawn
drip
spin
drought
frog
flag
frank
front
sweeping
being
wing
drop
drug
dream
swing
drive
toy
burnt
clay
play
Exercise 2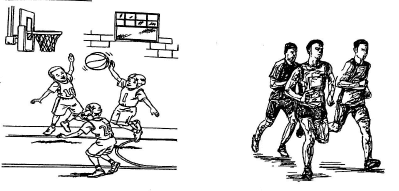 Write ten sentences from the picture
Choose the correct answer in the bracket
They_______ to school every day. (go, goes)

She is_______ the house.(sweeps, sweeping)

Kim a book every_______evening ( reads, reading)

Tim and Tom _______firewood for cooking (collect, collects)

Exercise 3
Read the following sentences
I visit my grandmother every weekend.
We play at break time.
I did not play yesterday because I was sick.
She is hungry and tired.
Match the words with the correct ending
Match board
Break park
Cup box
Game ball
Foot fast
Construct sentences using these words
Uniform
Kitchen
Book
Write
Home
Exercise 4
Rewrite the sentences. Use capital letter and a full stop where necessary
my name is jecinta cheptoo.
nairobi is the capital city of kenya
we don't go to school on saturday and sunday
today is a holiday
june is the coldest month in kenya
Make words from the word
Breakfast
ear
Join these letters to form words
Example
To ma toes - Tomatoes
Po ta toes
Cab ba ges
O ra nges
Ba na nas
flo wer
Exercise 5
Circle and say words that sound the same
Ben kin ten nap pen
Set let cup net book
Rat van fat put mat
Egg wall leg peg ball
Tree see hen cow bee
Write in capital letters
head teacher
sweeping
class
grandmother
uniform
Read the story below
Walter and Wendy do not go to school. They work on a big farm. They wear black, blue and pink clothes. They pick red coffee berries every day. They use three big brown baskets to carry the berries. They dry the berries on twelve rectangular mats. They pick twenty big tins daily.
They eat two small pieces of bread only. For their work, they earn fifty shillings per day. They sometimes become very sick They don't have time to play.
They sleep late and wake up early. They work too much and they don't like it.
Answer the following questions
Where do the children work?
What work do they do?
Do the children like the work?
Why do the children wake up early?
How do they carry the coffee berries?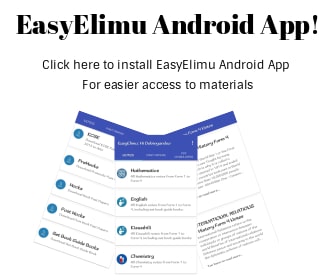 ---
ANSWERS
Passage 1
Drawings
Washing utensils
Fetching water
Sweeping
Was
Was
Were
Were
Were
Was
Were
I was walking to school. Then I saw my friends. They were running to school. I also began to run.
TRANSPORT
Bicycle
Train
Cart/Donkey
Aeroplane
Motorbike
Ship
Him
Her
Me
Us
Me
Us
Them
Them
Fatuma is my friend
Evan was sick on Monday.
I went to Mombasa on June
Have you seen Nick
Juma is coming with us
Mary is kind girl
TIME AND MONTHS OF THE YEAR
1 - 3: Different answers
It has 31 days
It has seven days
It has 30 days
It has twelve months
It has four weeks
November
January
Saturday/ Sunday
Has
Have
Has
Has
Have
Has
Have
Have
Has
Have
SHOPPING
Pineapple
Bread
Cabbage
Apples/Oranges /Tomatoes
Lorries
Shelves
Parties
Puppies
Calves
Wives
Stories
Toys
Flies
Loaves
Kiendo
Three Ice- cream
Cake
Two leaves of bread
Strawberries
Big
THE GARDEN
1 - 10: Accept correct answers
Eating
Cooking
Buying
Sharing
Driving
Playing
Cutting
Dancing
ACCIDENT
Was
Were
Was
Were
Was
Were
Were
Is
CLASSROOM
Second
Tenth
Third
Fifth
One
Two
Six
4th
pineapple
Bread
THE FARM
Camel
Dog
Goat
Cock
5 -10: Accept correct answer
Hutch
Stable
Chicken soap
shed
Kennel
Cow
Hen
Cock
Duck
Male
POSITION AND DIRECTION
One
Under
Through
Ram
Short
White
Daughter
Dog
Hen
Small
Thin
Night
Short
ENVIRONMENT
an
a
an
an
the
a
a, the
an
a
the
TECHNOLOGY
Reading

Phone
Tablet
Computer

Mine
Ours
Ours
Hers
Hers
His
His
CULTURAL ACTIVITIES
Whose
Where
Who
When
Which
Which
Who
Where
CHILD LABOUR
And
But
And
But
But
But
Because
LITERACY
Black, blue, block
Grow, group,
Cloud, clot, cloth
Book, school
Sweet, sweat
Flow, flog, floor
Two, twin, twig
Ink, brink, blank
Drop, draw, drum
Swing, digging
Drink
Spin
Flag
Drop
Swing
Burnt
Exercise 2
1. -10:Accept correct sentence
go
sweeping
reads
collect
Exercise 3
Matchbox
Breakfast
Cupboard
Game park
Football
6. -10 Accept correct sentences
Exercise 4
My name is Jacinta Cheptoo,
Nairobi is the capital city of Kenya
We dont go to school on Saturday and Sunday.
She has a brother called Martin.
Today is a holiday.
June is the coldest month in Kenya.
7. -15 Accept correct words.
Exercise 5
Ben,ten,pen
Set let,net
rat,fat,mat
egg,leg,peg
tree,see,bee
HEADTEACHER
CLASS
UNIFORM
SWEEPING
GRANDMOTHER
Story
On a big farm
They pick red coffee berried
No they don't
To go and work
With three big basket