Task 1: LISTENING AND SPEAKING. (5 mks)
The teacher will ask questions and you will answer
What is your name?
(Learner responds)
What is the name of your teacher?
(Learner responds)
What is the name of your school?
(Learner responds)
What do you want to be when you grow up?
(Learner responds)
Which food do you like eating?
(Learner responds)
Task 2. READING ALOUD
Read the story below aloud to your teacher. (10mks)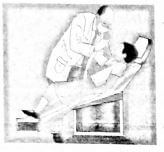 I don't like to visit a dentist. But one day I had a bad toothache, so my mother called the dentist and told him about me. He told my mother to take me to his hospital. When he started treating me. I was afraid but the dentist was kind and gentle. He said that there was a cavity in one of my teeth. He treated me very well. On my way home I was happy. The pain had gone.
---
Download
English Language Activities Questions and Answers - Grade 3 Opener Exams Term 1 2023 Set 3

. Tap Here to Download for 30/-
---
Get on WhatsApp for 30/-
---
Why download?
✔ To read offline at any time.

✔ To Print at your convenience

✔ Share Easily with Friends / Students
---