Questions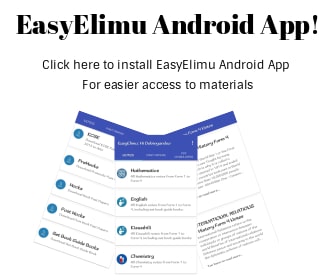 Functional Writing, Cloze Test, Oral Skills
FUNCTIONAL WRITING
You have returned to school after the mid-term break and realized that you left one of the set books back home. Write to your parent back home asking him or her to bring you the book during the Peace Prayer Day to be held in your school. Remember to tell them about your back to school, performance in the examinations you have done and your target grade at K.C.S.E.
(20 marks)


CLOZE TEST
Fill in each blank space in the following passage with the most appropriate word. (10 marks)

Most African tribes have a communal (a)………………………………………… to life. A person is an individual only to the extent that he or she is a (b)…………………….…………of a clan, a community or a family. Land was never owned by an individual, but by the people, and (c) ……………………..………………… not be disposed of by anybody. (d)……………………………. there were traditional heads, they held land in (e)………………………………….. for the community generally. Food grown on the land was regarded as food to feed the hungry among the tribe. (f)……………………………………. each family might have its own piece of land on which to cultivate, when there was famine or when you simply wanted to eat, you merely looked for food and ate it. There was no (g) ………………….. on your mind as to who owned it. In many parts of Africa it was thought quite natural for travelers to walk (h)…………………………… the nearest garden, and pick some bananas or maize and eat. Nobody would interfere with them (i)……………..…………………….. they went in and started taking loads of food away. Then they were, of course, (j)………………………………. the laws of hospitality and generosity, and exploiting the clan through whose land they were passing.
(Adapted from Freedom and After; Tom Mboya; London; Andre deutsch; 1963)


ORAL SKILLS



Read the narrative below then answer the questions that follow.

In the beginning, the sun married the moon. They travelled together for a long time, the sun leading and the moon following. As they travelled, the moon would get tired, and the sun would carry her for three days every month.

One day the moon annoyed the sun and she was beaten by the sun, just the same way some women are beaten by their husbands. But it happened that the moon was one of those short-tempered women who fight their husbands. When she was beaten, she fought back and wounded the sun's forehead. The sun also beat the moon, scratched her face and plucked out one of her eyes.

When the sun realized that he was wounded, he was very embarrassed and said to himself "I am going to shine so hard that people will not be able to look at me". And so he shone so hard that people could not look at him without squinting. That is why the sun shines so brightly.

As for the moon, she did not feel any embarrassment and so she did not have to shine any brighter. And up to now, if you look closely at the moon, you will see the wounds that the sun inflicted on her.

Questions

Mention any two ways by which you would prepare your audience to receive this story (2 marks)
How would you say the line: "I am going to shine so hard that people will not be able to look at me" to bring out complete effect? (3 marks)
Imagine you are the story-teller charged with the responsibility of narrating this story.
What story telling devices would you employ and why? (3 marks)
While telling the story, you realized that a section of the audience was passive. What was the likely cause for this? (2 marks)

Provide another word that has the same pronunciation as each of the following words (3 marks)

wrapped …………………………
lichen ………………………….
room ………………………….

State whether you voice will rise or fall at the end of each of the sentences below (3 marks)

Fire! Fire! ……………………………………..
Did carry your set book to class? ………………………….
I was never visited by parents. ………………………………

Explain what you would do if you were, without prior notice, asked to pass a vote ofthanks during your school's Prize-Giving Day. (4 marks)
You have attended a one-day seminar. The person sitting next to you is intruding into your personal space. What four personal space guidelines could this person have failed to follow? (4 marks)
The following is a conversation between two girls. Identify and illustrate any three shortcomings in the Pet's listening skills (6 marks)
SHELLIE: (Walking excitedly to her) Good afternoon, Pet.
PET: (Reading a newspaper. Looking up…) Afternoon too Shellie (resumes reading)
SHELLIE: (Beaming) Yesterday, I watched the students of Mpesa Academy eulogize the late Bob Collymore.
PET: The one that was brought live on TV? I don't like funerals since I lost my aunt.
SHELLIE: They were articulate and expressive in their show of emotions…
PET: So that moved you?
SHELLIE: It not only moved me. It made me admire the late Bob.
PET: (Absent- mindedly) Even after being cremated? I would rather burn in hell.
SHELLIE: (Insistent) I think he was a wonderful man; he had time for even little people.
PET: (Dismissively) So?
SHELLIE: We can learn something from those who depart before us, Pet. It is possible.
PET: (Laughing as she walks away) Ok. Keep learning. I hope you become professor.
SHELLIE: Pet, I think something is the matter with you.
PET: (Waving at her) Bye! See you in school tomorrow.


Marking Scheme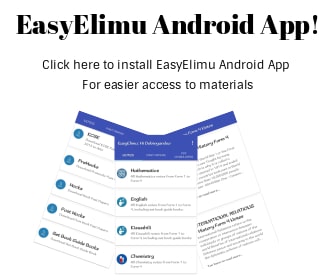 FUNCTIONAL WRITING

You have returned to school after the mid-term break and realized that you left one of the set books back home. Write to your parent back home asking him or her to bring you the book during the Peace Prayer Day to be held in your school. Remember to tell them about your back to school, performance in the examinations you have done and your target grade at K.C.S.E. (20 marks)

Expect an informal letter. If not deduct – 4 AD
Accept both blocked (strictly) semi – blocked (strictly). If mixed deduct 1 mk.
Tone – formal (This is tied to language mark)

FORMAT
Address 1 - (Don't award if name is in address
Date - Format Accept only Eg 30th July, 2019
           (if different format deny mark)
Salutation – Accept Dear Mum, Dear Dad ONLY
Closing tag - Your son/daughter/ Yours sincerely
                     Name (Accept one name or two)

CONTENT
Greetings/Pleasantries *P (1 mark)
Mention of having forgotten a set-book and its title *ST (2 mark)
Asking the parents to bring the book *B (1 mark)
Mentioning the date and time for the Peace Prayer *DT (2 mark)
Mentioning the performance in an exam *PM (1mark)
Stating the target at KCSE *T (1mark)

LANGUAGE 4 marks
Very good   A – 4 (merit ticks)
Good          B – 3
Fair             C – 2
Weak          D – 1 (Extremely chaotic)



CLOZET TEST
Fill in each blank space in the following passage with the most appropriate word. (10 marks)

Most African tribes have a communal (a) approach to life. A person is an individual only to the extent that he or she is a (b) member of a clan, a community or a family. Land was never owned by an individual, but by the people, and (c) could not be disposed of by anybody. (d) where there were traditional heads, they held land in ( e) trust for the community generally. Food grown on the land was regarded as food to feed the hungry among the tribe. (f) Although each family might have its own piece of land on which to cultivate, when there was famine or when you simply wanted to eat, you merely looked for food and ate it. There was no (g) question/doubt on your mind as to who owned it. In many parts of Africa it was thought quite natural for travelers to walk (h) into the nearest garden, and pick some bananas or maize and eat. Nobody would interfere with them (i) unless they went in and started taking loads of food away. Then they were, of course, (j) disobeying / contravening the laws of hospitality and generosity, and exploiting the clan through whose land they were passing.

(adapted from Freedom and After; Tom Mboya; London; Andre deutsch; 1963)


ORAL SKILLS

Read the narrative below then answer the questions that follow.

In the beginning, the sun married the moon. They travelled together for a long time, the sun leading and the moon following. As they travelled, the moon would get tired, and the un would carry her for three days every month.

One day the moon annoyed the sun and she was beaten by the sun, just the same way some women are beaten by their husbands. But it happened that the moon was one of those short-tempered women who fight their husbands. When she was beaten, she fought back and wounded the sun's forehead. The sun also beat the moon, scratched her face and plucked out one of her eyes.

When the sun realized that he was wounded, he was very embarrassed and said to himself "I am going to shine so hard that people will not be able to look at me". And so he shone so hard that people could not look at him without squinting. That is why the sun shines so brightly.

As for the moon, she did not feel any embarrassment and so she did not have to shine any brighter. And up to now, if you look closely at the moon, you will see the wounds that the sun inflicted on her.

Questions

Mention any two ways by which you would prepare your audience to receive this story(2 marks)

Clear throat
Ring bell
Give relevant proverbs
Tell a joke
Clap hands
Any 2 plausible @ 1 mark = 2 marks NB: Personal involvement



How would you say the line: " I am going to shine so hard that people will not be able to look at me" to bring out complete effect? (3 marks)

Verbal – rising intonation (indicating threat)
Non-verbal – Accept any relevant
Gesture
Facial expression must specify
Body movement
Accept Either
1 verbal
2 non verbal
OR
2 verbal
1 non – verbal
NB: Personal involvement



Imagine you are the story-teller charged with the responsibility of narrating this story. What story telling devices would you employ and why? (3 marks)

Mimicry
Tonal variation
Facial expression
Gestures & body movement / dramatization
Accept relevant / specific illustration of each
Any 3 x 1 = 3 marks
NB: Personal involvement



While telling the story, you realize that a section of the audience was passive. What was the likely cause for this? (2 marks)

I was inaudible
I failed to involve /engage them in the story eg through involving them in signing, fillers etc.
I failed to maintain eye contact
Physical factors – Noise, heat
Any other relevant 2 @ 1 mark = 2 marks



Provide another word that has the same pronunciation as each of the following words.

Wrapped rapped
Lichen liken
Room rheum



State whether your voice will rise or fall at the end of each of the sentences below (3 marks)

Fire! Fire!    Rise
Did carry your set book to class? Rise
I was never visited by parents Fall



Explain what you would do if you were, without prior notice, asked to pass a vote of thanks during your school's Prize-Giving Day. (4 marks)

Accept the challenge
Psyche myself, adopt, upright posture / confidence
Speak audibly
Recognize those present (hierarchy)
Thank those who have attended / participating
Highlight a few of items captured eg in speech esp guest of honour
Encourage fellow students to work hard
Eye contact
Any other relevant @ 1 mark = 4 marks NB: Personal involvement



You have attended a one-day seminar. The person sitting next to you is intruding into your personal space. What four personal space guidelines could this person have failed to follow? (4 marks)

She could have been
Seated too close for comfort
Leaning on my shoulder
Looking into my bag, phone / personal items
Chewing to loudly / distracting me NB: Personal involvement



The following is a conversation between two girls. Identify and illustrate any three shortcomings in the Pet's listening skills.
SHELLIE: (Walking excitedly to her) Good afternoon, Sheillie..
PET: (Reading a newspaper. Looking up…) Afternoon to Pet (resumes reading)
SHELLIE: (Beaming) Yesterday, I watched the students of Mpesa Academy eulogize the late Bob Collymore.
PET: The one that was brought live on TV? I don't like funerals since I lost my aunt.
SHELLIE: They were articulate and expressive in their show of emotions..
PET: So that moved you?
SHELLIE: It not only moved me. It made me admire the late Bob.
PET: (Absent-mindedly) Even after being cremated? I would rather burn in hell.
SHELLIE: (Insistent) I think he was a wonderful man; he had time for even little people.
PET: (Dismissively) So?
SHELLIE: We can learn something from those who depart before us, Pet. It is possible.
PET: (Launching as she walks away) Ok. Keep learning. I hope you become professor.
SHELLIE: Pet, I think something is the matter with you.
PET: (Waving at her) Bye! See you in school tomorrow.

Pet has

Poor turn taking
She does not pay attention / is absent minded
Makes sarcastic remarks
Pet is impolite / rude Identification – 1 mark Illustration(from the context) - 1 mark