Instructions to candidates
Write your name, index number and the name of your school in the spaces provided above.
Sign and write the date of examination in the spaces provided above.
Answer all questions in this question paper.
All working MUST be clearly shown where necessary.
KNEC mathematical tables and non-programmable silent electronic calculators may be used.
Candidates should check to ascertain that all pages are printed as indicated and that no questions are missing.
For Examiner's Use Only
| | | |
| --- | --- | --- |
| Question | Maximum score | Candidate's score |
| 1 | 12 | |
| 2 | 11 | |
| 3 | 9 | |
| 4 | 13 | |
| 5 | 11 | |
| 6 | 12 | |
| 7 | 12 | |
| Total | 80 | |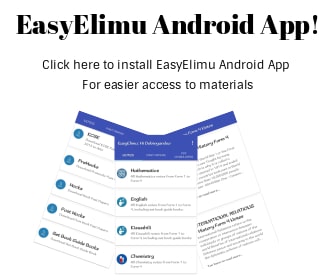 ---
QUESTIONS
The grid below forms part of the periodic table. Study it and answer the questions that follow. The letters do not represent the actual symbols of the elements



What is the name of the chemical family to which element P belongs? (1mk)
An element N has an atomic number of 15. Write down its electronic arrangement and hence fix it in its right position on the grid above. (2mks)
Electronic arrangement ………………………………………………
Compare the size of the atom of R and that of its ion. Explain your answer. (2mks)
Give the formula of the compound formed between (1mk)

P and W …………………………………………………………………………
T and Y …………………………………………………………………………..

Compare the melting points of element Q and S. Explain. (2mks)
Give two advantages that element S has over element Q in making electric cables. (2mks)
Draw (a) dot (.) and cross (x) diagram to represent the bonding in compound formed between T and Y (2mks)

An investigation was carried out using the set-up below. Study it and answer the questions that follow.



State and explain what will happen in two test-tubes R and T after seven days. (2mks)
Give one reason why some metals are electroplated. (1mk)

The reduction potential of elements K, L, M, and P are as given below


| | |
| --- | --- |
| IONS | REDUCTION POTENTIAL |
| K+ | -1.46v |
| L2+ | +0.49v |
| M2+ | -2.69v |
| N+ | +0.52v |
| P+ | -0.86v |

Which letter represents the, strongest reducing agent? Give a reason. (2mks)
Which two letters represent elements whose half cells would form an electrochemical cell with the largest e.m.f? (1mk)
Calculate the e.m.f of the cell formed in (ii) above (2mks)

During the electrolysis of a molten chloride of metal Q, a current of 0.25A was passed though the molten chloride for 2 hours and 10minutes. Given that 0.9grams of metal Q were deposited at the cathode.

Calculate the quantity of electricity passed (1mk)
Charge carried by the ions of metal Q given that R.A.M of metal Q is 84 (2mks)

Name the allotropies of sulphur (1mk)
Sulphur is mined using the Frasch process which uses super-heated water at 1700c and hot compressed air.

Explain how water at 1700c is obtained. (1mk)
State one role of the super-heated water (1mk)

State and explain what happens when wet petals of red flowers are put in a gas jar full of sulphur (IV) oxide (2marks)
Write an equation for the reaction of sulphur(IV) oxide and concentrated Nitric (V) acid (1mark)

Name the catalyst used in contact process (1mark)
An equilibrium exists as
2SO2(g) + O2(g) ↔ 2SO3(g)
State and explain what happens if more oxygen is added to the system (2 marks)

A hydrocarbon contains 85% carbon. Its molecular mass is 70g.

Determine its empirical and molecular formula. (C = 12, H = 1). (4mks)
Draw two positional isomers of the hydrocarbon. (1mk)

In an experiment an organic compound was reacted with absolute ethanol in the presence of concentrated sulphuric (VI) acid to form a compound whose formula is
CH3 CH2CH2 COOCH2 CH3

Name

The type of reaction that took place. (1mk)
What is the role of concentrated sulphuric (VI) acid in the experiment?(½mk)

Write the structural formula and give the systematic name of the acid used in the above experiment. (2mks)

Study the flow diagram below and answer the questions that follow.



Identify the following compounds.
B ____________________________________________________ (½mk)
C ____________________________________________________ (½mk)
A ____________________________________________________ (½mk)
E ____________________________________________________ (½mk)
Name the process in steps.
I ____________________________________________________ (½mk)
II ___________________________________________________ (½mk)
IV ___________________________________________________ (½mk)
Reagent
P ____________________________________________________ (½mk)
Q ___________________________________________________ (½mk)

Study the flow chart below and answer the questions that follow.



Name one Ore of N. (1mk)
Explain why the ore is first dissolved in excess sodium hydroxide solution (1mk)
Name the major compound present in the residue. (1mk)
Give the formula of the aluminum compound present in solution X (1mk)
Explain how to obtain aluminum hydroxide from solution X (2mks)

Write an equation of the reaction that takes place in (e) above (1mk)
What is the role of cryolite (Na3 AlF6) in the extraction of Aluminium: (1mk)
Explain why Na+ and F –ions are not discharged during electrolysis in step (iv) (1mk)
Aluminium is a good conductor of electricity. State two uses of aluminum based on that property. (2mks)

State Le chateliers principle on equilibrium? (1mk)
Bromine reacts with water in accordance with the following ionic equation.
Br2 (aq) + H2O(l) ↔ Br -(aq) + OBr -(aq) + 2H+(aq)
Explain how addition of sodium hydroxide solution would affect the given equilibrium. (2mks)

3g of a powdered carbonate of metal X of formula XCO3 were mixed with 13.2cm3 of 2M hydrochloric acid. The mass of the reaction vessel and its contents was recorded at various times. From these readings, the total loss in mass of the reaction vessel and its contents was calculated and recorded as shown in the table below


| | | | | | | | |
| --- | --- | --- | --- | --- | --- | --- | --- |
| Time (sec) | 30 | 60 | 90 | 120 | 150 | 180 | 210 |
| Total loss in mass (g) | 0.08 | 0.37 | 0.90 | 1.19 | 1.28 | 1.32 | 1.32 |

On the grid provided below, draw a graph of total loss in mass (y-axis) against time (3mks)

Calculate the rate of reaction at the 120th second. (2mks)
Explain why there is no change in mass between 180 and 210 seconds. (1mk)
Write an equation for the reaction that takes place. (1mk)
Calculate the relative atomic mass of X (C=12.0, O=16.0) (2mks)

The flow chart below shows industrial manufacture of sodium carbonate.
Study it and answer the questions that follow.



Name substances A, B, C and D. (2mks)
A ………………………………………
B ………………………………………
C ……………………………………….
D ………………………………………
Write equation for the reactions taking place in chamber 3. (1mk)
Chamber 3
Name the physical process in chamber 4 and 5. (2mks)
Chamber 4
Chamber 5
Name one source of cheap carbon (IV) oxide for Solvay process. (1mk)
Briefly explain how sodium chloride required for this process is obtained from sea water. (2mks)
Below are allotropes of carbon.



Identify the allotropes
P ………………………………………………………. ½mk
Q ……………………………………………………… ½mk
Allotrope Q can be used as a lubricant. Explain. (2mks)
Give a reason why burning charcoal jiko in a poorly ventilated room is dangerous. (1mk)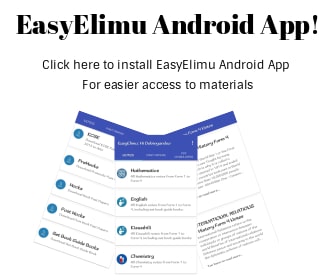 ---
MARKING SCHEME
The grid below forms part of the periodic table. Study it and answer the questions that follow. The letters do not represent the actual symbols of the elements



What is the name of the chemical family to which element P belongs? (1mk)
An element N has an atomic number of 15. Write down its electronic arrangement and hence fix it in its right position on the grid above. (2mks)
Electronic arrangement 2.8.5
Compare the size of the atom of R and that of its ion. Explain your answer. (2mks)

The atom of R is larger than its ion √1
The atom of R has 4 occupied energy levels while its ion has 3.√1
OR, the ion of R has a stronger nuclear charge than its atom.

Give the formula of the compound formed between (1mk)

P and W P2W
T and Y TY4

Compare the melting points of element Q and S. Explain. (2mks)

S has a higher melting point than that of Q. √1
Because S has smaller atomic radius hence stronger metallic bonds than in Q.√1
OR
S contributes 3 electrons to the metallic lattice while Q contributes 2 hence stronger metallic bonds in S√1. Or vice versa.

Give two advantages that element S has over element Q in making electric cables. (2mks)
Draw (a) dot (.) and cross (x) diagram to represent the bonding in compound formed between T and Y (2mks)


An investigation was carried out using the set-up below. Study it and answer the questions that follow.



State and explain what will happen in two test-tubes R and T after seven days. (2mks)

In R a brown coating forms on the nails√½, due to presence of oxygen and water√½. In T no brown coating is formed on the surface of the nails√½ due to absence of oxygen√½

Give one reason why some metals are electroplated. (1mk)

To improve their appearance √1
OR to prevent corrosion√1
OR to prevent those made of iron from rusting√1

The reduction potential of elements K, L, M, and P are as given below


| | |
| --- | --- |
| IONS | REDUCTION POTENTIAL |
| K+ | -1.46v |
| L2+ | +0.49v |
| M2+ | -2.69v |
| N+ | +0.52v |
| P+ | -0.86v |

Which letter represents the, strongest reducing agent? Give a reason. (2mks)

M√1
Most negative electrode potential√1

Which two letters represent elements whose half cells would form an electrochemical cell with the largest e.m.f? (1mk)
Calculate the e.m.f of the cell formed in (ii) above (2mks)

E.m.f = Ereduced - Eoxidised
= 0.52 –(-2.69)√1
= +3.21v√1

During the electrolysis of a molten chloride of metal Q, a current of 0.25A was passed though the molten chloride for 2 hours and 10minutes. Given that 0.9grams of metal Q were deposited at the cathode.

Calculate the quantity of electricity passed (1mk)

Q = It
= 0.25A x (7200 + 600)s√½
= 1950c√½

Charge carried by the ions of metal Q given that R.A.M of metal Q is 84 (2mks)

moles of Q =

mass

;

0.9

; 0.0107moles
R.A.M 84
from Faradays law, 1F = 96500c
? = 1950c


1950

× 1 = 0.02021
96500
Thus charge on Q =

0.02021


0.0107
= 1.88 approx. ± 2

Name the allotropies of sulphur (1mk)

Rhombic sulphur√½
Monoclinic sulphur √½

Sulphur is mined using the Frasch process which uses super-heated water at 1700c and hot compressed air.

Explain how water at 1700c is obtained. (1mk)

Heating water at 10 atmosphere pressure √1
OR
Heating water at high pressure.√1

State one role of the super-heated water (1mk)

To melt the sulphur deposits√1

State and explain what happens when wet petals of red flowers are put in a gas jar full of sulphur (IV) oxide (2marks)

The red petals turn white√1
Sulphur (IV) oxides bleaches the flower petals √1

Write an equation for the reaction of sulphur(IV) oxide and concentrated Nitric (V) acid (1mark)

2HNO3 (aq) + SO2(g) → 2NO2(g) + H2SO4 (aq)

Name the catalyst used in contact process (1mark)

Vanadium (V) oxide √1
OR Platinum√1

An equilibrium exists as
2SO2(g) + O2(g) ↔ 2SO3(g)
State and explain what happens if more oxygen is added to the system (2 marks)

The yield of sulphur (VI) oxide increases√1 OR, The equilibrium shifts to the right√1
Because adding more oxygen increase the concentration of reactants in the forward reaction√1

A hydrocarbon contains 85% carbon. Its molecular mass is 70g.

Determine its empirical and molecular formula. (C = 12, H = 1). (4mks)


C

H

85

15

12

1

7.083

15√½

1

2√½

CH2√1

n(E.F.M) = M.F.M
14n = 70
n = 5
molecular formulain C5H10
Draw two positional isomers of the hydrocarbon. (1mk)


In an experiment an organic compound was reacted with absolute ethanol in the presence of concentrated sulphuric (VI) acid to form a compound whose formula is
CH3 CH2CH2 COOCH2 CH3

Name

The type of reaction that took place. (1mk)
What is the role of concentrated sulphuric (VI) acid in the experiment?(½mk)

It speeds up the rate of reaction(½mk)
Acc. Catalyst.

Write the structural formula and give the systematic name of the acid used in the above experiment. (2mks)

CH3CH2CH2COOH, OR , CH3(CH2)2COOH√1 Acc. Correct open structure
Butanoic acid √1

Study the flow diagram below and answer the questions that follow.



Identify the following compounds.

B Ethane (½mk)
C Ethanoic acid (½mk)
A Polythene acc. polyethene (½mk)
E Ethan-1,2-diol (½mk) Acc. Correct formula

Name the process in steps.


I Hydrogenation (½mk)

II _Polymerisation (½mk)

IV Oxidation (½mk)

Reagent


P _Water (½mk)

Q Propanoic acid (½mk)

Study the flow chart below and answer the questions that follow.



Name one Ore of N. (1mk)

Bauxite√1 OR
Corundum√1
Mica√1
Rej. Chemical formula

Explain why the ore is first dissolved in excess sodium hydroxide solution (1mk)

To remove iron (III) oxide impurity√1

Name the major compound present in the residue. (1mk)
Give the formula of the aluminum compound present in solution X (1mk)
Explain how to obtain aluminum hydroxide from solution X (2mks)

Seeding√1, where solid aluminium hydroxide is used to precipitate aluminium hydroxide from the solution√1 OR Bubbling carbon (IV) oxide through solution X to precipitate aluminium hydroxide.√2

Write an equation of the reaction that takes place in (e) above (1mk)

What is the role of cryolite (Na3 AlF6) in the extraction of Aluminium: (1mk)

Lower the melting point of aluminium oxide√1

Explain why Na+ and F –ions are not discharged during electrolysis in step (iv) (1mk)

Because their concentration is low√1

Aluminium is a good conductor of electricity. State two uses of aluminum based on that property. (2mks)

Making of overhead electric cables.√1
Manufacture of Electrical appliances√1

State Le chateliers principle on equilibrium? (1mk)

When a system at equilibrium is subjected to changes in conditions, the system adjusts so as to oppose the change√1
OWTTE

Bromine reacts with water in accordance with the following ionic equation.
Br2 (aq) + H2O(l) ↔ Br -(aq) + OBr -(aq) + 2H+(aq)
Explain how addition of sodium hydroxide solution would affect the given equilibrium. (2mks)

The equilibrium shifts to the right√1
Since the OH- reacts with H+ reducing the concentration of the later.√1

3g of a powdered carbonate of metal X of formula XCO3 were mixed with 13.2cm3 of 2M hydrochloric acid. The mass of the reaction vessel and its contents was recorded at various times. From these readings, the total loss in mass of the reaction vessel and its contents was calculated and recorded as shown in the table below


| | | | | | | | |
| --- | --- | --- | --- | --- | --- | --- | --- |
| Time (sec) | 30 | 60 | 90 | 120 | 150 | 180 | 210 |
| Total loss in mass (g) | 0.08 | 0.37 | 0.90 | 1.19 | 1.28 | 1.32 | 1.32 |

On the grid provided below, draw a graph of total loss in mass (y-axis) against time (3mks)

Calculate the rate of reaction at the 120th second. (2mks)

rate =

change in mass


change in time
=

1.40 - 0.90


150 - 75
= 00667g/s

Explain why there is no change in mass between 180 and 210 seconds. (1mk)

All the metal carbonate had been used up√1

Write an equation for the reaction that takes place. (1mk)

XCO3(s) + 2HCl (aq) → XCl2(aq) + CO2(g) + H2O(l)√1

Calculate the relative atomic mass of X (C=12.0, O=16.0) (2mks)

Moles of HCl =

(2 x 13.2)


1000
= 0.0264moles
Moles of XCO3 = 0.0264 x ½
= 0.0132moles
R.F.M =

1.32


0.0132
= 100
M + 12 + 48 = 100
M = 40

The flow chart below shows industrial manufacture of sodium carbonate.
Study it and answer the questions that follow.



Name substances A, B, C and D. (2mks)

A Ammoniacal brine√½
B Sodium hydrogen carbonate√½
C Ammonium chloride√½
D Calcium chloride√½

Write equation for the reactions taking place in chamber 3. (1mk)
Chamber 3

2NH4Cl(aq) + Ca(OH)2(aq) → 2NH3(g) + CaCl2(aq) + 2H2O(l)√1

Name the physical process in chamber 4 and 5. (2mks)
Chamber 4

Filtration√1
Chamber 5
Thermal decomposition√1

Name one source of cheap carbon (IV) oxide for Solvay process. (1mk)

Thermal decomposition of limestone √1

Briefly explain how sodium chloride required for this process is obtained from sea water. (2mks)

At low temperature sodium chloride becomes less soluble in sea water and crystalizes out. It is then dug from the sea bed by bucket dredgers.√2

Below are allotropes of carbon.



Identify the allotropes

P Diamond ½mk
Q Graphite½mk

Allotrope Q can be used as a lubricant. Explain. (2mks)

In its structure the weak van der Waals forces√1 allow its layers to slide over each other when pressed giving it its slippery feel √1thus reducing friction between moving parts.

Give a reason why burning charcoal jiko in a poorly ventilated room is dangerous. (1mk)

Carbon undergoes incomplete combustion forming carbon (II) oxide which is poisonous. √1