Answer three questions only.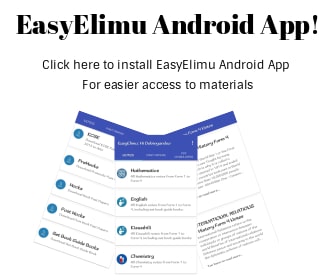 Imaginative composition (compulsory) (20 marks)
Either

"Both boys and girls have equal rights to their parents' inheritance"
Write a composition, supporting or opposing this statement.

Or
Imagine that a friend has invited you to an occasion. Initially you were reluctant to attend but a sibling persuaded you to go and you really enjoy yourself. Describe what the occasion was and why you felt so fulfilled.



The compulsory set text (20 marks)
Ngugi wa Thiongo, The river between.

Write an essay on cultural conflict, citing examples from Ngugi wa Thiongo's Novel: The River Between.


The optional Set Texts (20 marks)
Answer any one of the following three questions.
Either

The short story
Macmillan(Ed). Half a Day and Other Stories
Write an essay supporting or refuting the statement, "School is the factory that makes men and women out of boys and girls respectively."
Illustrate your answer with references from the short story, 'Half a Day ' by Naguib Mahfouz.

Or
Drama
John Ruganda, Shreds Of Tenderness
Using illustrations from John Ruganda's play, Shreds of Tenderness, Write an essay entitled: "The Truth Shall Set You Free"

Or
The Novel
Velma Pollard, Homestretch
"Difficulties in life strengthen one's character"
Using Brenda's experiences in the United States, In England and in Jamaica, write an essay supporting this statement.
MARKING SCHEME
POINTS OF INTERPRETATIO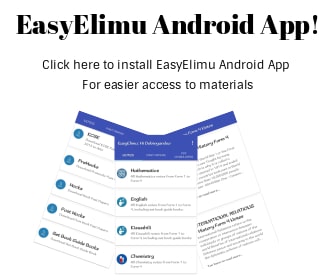 Must be a discursive essay. If not deduct 4 marks. AD candidate must clearly indicate whether they are supporting or opposing the proposition and proceed to adduce the points for their position, Candidate's must take the broader definition of property, not only land. Those who are aware of the provisions of the new constitution to be awarded for merit. If candidate discusses both sides they must take a stand. Otherwise treat as minor irrelevancy and deduct 2 marks AD.
Must be a description of an occasion. If not deduct 4 marks AD, Candidate must document what it was that was so fulfilling. Must be a credible, personal account detailing the candidate's participation.

   

Introduction
Function of Introduction:



Confirms what candidate is going to say in the essay; comments on the question; echoing, portions of the question, general / specific to interpretation of the question. Definition is not enough as an introduction.
Cultural conflict occurs when people of different backgrounds or communities disagree, argue or fight because of differences in their cultural beliefs or values. People may also disagree because of opposing ideas, opinions, feelings or wishes. Cultural conflict may also occur at individual level when a person is faced with a difficulty to make certain choices. There are many examples of cultural conflict depicted in Ngugi wa Thiongo's The River Between.

Any other relevant introduction. It must demonstrate that candidate understands the task.
2 marks

Body

Any of the examples below can be used to develop the essay.
Look for:

Identification;
Textual evidence;
Comment

Conflict can occur among a community.

Old Rivalry

Makuyu and Kameno, the two ridges were in constant conflict as shown throughout the novel. There was constant rivalry between the two and Waiyaki always hoped to unite them. The different belief systems caused misunderstanding and suspicion. pp.1,2,144,88,97,67.

Religious Conflict

There was conflict between the Christians and the non-Christians. Kameno represented the traditional while Makuyu the Christian. The missionaries demanded that the converts should denounce all traditional beliefs and practices and this caused disharmony. For example, they condemned initiation rites which were a central part of the Gikuyu culture. Livingstone described circumcision as barbarious (p.54). When he witnessed the dances he said that he was "horrified beyond measure .... the songs he heard and the actions he saw convinced him beyond any doubt that these people were immoral through and through." pp 22-26, 28-31, Joshua's fear pp. 32-37,39-40, 42-57, 63-64, 65,67,69-70,73,137,144,96,97,126,129,132,137,144, 105-10
There is conflict between Joshua and Kabonyi. Joshua remained a staunch adherent to Christianity while Kabonyi turned back to tradition and seriously opposed Joshua and the Christians or Christian culture.

Old Prophecy

Kabonyi is also in conflict with Waiyaki whom he regards as a threat to the leadership mantle that he is jealously eying. It is told that Kabonyi is probably the only other person who knows about the old prophecy that put Waiyaki in the line of leadership. He belittles Waiyaki in the committee meetings and the school meetings with parents in an attempt to iscredit him as a youngster who knows nothing. pp.19 - 21,37,127,133,91 92-94, 98, 121 - 125, 139 - 140, 145 - 147.

Circumcision

There is conflict between Muthoni and her father. Muthoni chooses to be circumcised (tradi tional culture) and automatically becomes an outcast to her father who does not even mourn her death. (pp 24 - 26) Nyambura pp. 22-23, Muthoni pp.24-25, pp.46-47,Chege 36-37, Joshua pp.34-35, 51-52, 82. Livingstone see it as barbaric p. 53.The Kiama Waiyaki pp 40-41, 45, 138, Waiyaki's mother 118-119.

Waiyaki

Waiyaki faces conflict within himself as he agonizes over how to unite the people of the two ridges. He tries to appreciate the good in Christianity but this only earns him misunderstand ing. He falls in love with Joshua's daughter, Nyambura but the gulf between them is a source of great conflict. 38,41,67,84,97-98,137-138, 115-117, 137-138.
Any 4 well developed points 3:3:3:3 = (12 marks)

Conclusion

The examples considered above prove that cultural conflict can take different forms and can be caused by various reasons. Cultural conflict can occur between whole communities, individuals or at personal level. Whatever the case, conflict occurs because of opposing views or experiences. Cultural conflict if not resolved, can be destructive as Ngugi wa Thiong'o portays in The River Between.
Accept any other valid conclusion.(2 marks)
Language use and Grammar and Presentation(4 marks)

            

 

Introduction
Candidates must show their understanding of the statement, "School is the factory that makes men/women out of boys/girls".

At school, children undergo the process of making them/developing them into responsible people.
It is part of children's socialization process.
School ingrains values in children.
Candidates can support or refute the statement.
Accept any other relevant introduction.
(2 marks)
Main Body
For:  


Independence


School helps children become independent. As he releases his hand from his son, the father says, "You go in yourself. Join them. Be a man ... today you truly begin life". (p.8) Compare this with the way the boy had tightly 'clung to his hand' (p.8).
It widens a child's horizon about life - the boy learns that there are children whose fathers are dead, as he meets one p. 10"... who brought you here? "My father is dead" (p.10).

Knowledge / Cognitive Skills

School deepens one's knowledge not only about life, but also about religion (p.10) Language skills, Maths, Geography are taught.

Perseverance

One learns to be patient and to persevere (p.10)
A child is taught that the road to success is struggle.

Socialization

School is another home. School is enjoyable. One learns to socialize and to live as an adult, co-existing with those outside one's home or family. The boy becomes friends with other boys and falls in love with girls (p.10)
School offers rich variety (p.10)

Conclusion

School is the gateway to leaving the narrowness and simplicity of home and entering into the breadth and complexity of the world at large (p.11) Boys and girls enter school, timid and apprehensive and leave mature and sophisticated.
(2 marks) 

Against
Few candidates may wish to refute the statement. They could use some of the points below.
Children see it as a punishment (p.8). Boy challenges father "why school...?"

Separation /detachment

School tears children away from the intimacy of home (p.8). "I'm not punishing you..."
It is a strange/hostile environment; for instance, the symbol of the building "huge, high-walled fortress, exceedingly stern and grim" (p.8)

Hardship

It is not the happy atmosphere it might appear on the surface - there are conflicts among students. "as our path ... punishment.
Expect 4 well developed points 3:3:3:3: = 12 marks
Language use and grammar. (4 marks)

TITLE: The truth shall set you free ( If not deduct 1 mark)

Introduction

There are experiences in our lives that we often want to hide from other people. This is usually either out of guilt, or out of the realization that we did something wrong for fear of being judged negatively by other people. Sometimes we want to appear better than we really are so we put on a mask. Trying to conceal the truth of who we really are puts us in bondage. In Shreds of Tenderness, we see this played out through the character of Odie. Odie has many things to hide but finally the truth comes out and he is only set free after he confesses and reconciles with his brother, Wak and sister, Stella.
Accept any other relevant introduction. (2 marks)

Body

Hostility

Odie is shocked and disgusted at the return of Wak. His strong resentment raises our suspicion that there is something more than just sibling rivalry. He tries very hard to get Stella to be on his side so that they can oppose Wak but he does not succeed. He knows that sooner or later Wak may get to know the truth and he will need the support of Stella. After a series of confrontations the truth is gradually revealed. pp 8-9, 12 - 15, 21-24,52 - 57, 58 - 70,119 134.

Jealousy

We learn that Odie was jealous of Wak but he pretends to be a loyal and caring brother. He dislikes Wak because although Wak is younger, he was given the family inheritance. When cornered by Wak about SRB files Odie confesses the father never loved him. pp 20, 29-30, 37, 48, 58 - 59, 120, 128-129.

Orbituary

Odie placed a notice of obituary in the papers announcing Wak's death" and went ahead and transferred the family property to his name. Stella leads Odie to admit that it was a hoax. pp 18 - 22.

Betrayal

Odie betrayed his brother Wak to the SRB and was the cause of his 10 year exile and yet has all along played ignorant and loyal until the truth comes out. He concealed this from Stella all along. Odie owns up by re-enacting the betrayal scene and also asks for forgiveness. pp118 - 119, 121 - 134.

Stella and Major Ali

Stella is in a relationship with Maj. Ali who is not only her father's murderer but also the one who ordered the platoon to raid her school and rape the girls and nuns. It is only after Odie brings it out that stella ashamedly owns up. pp 29 - 31.

Returnees

The returnees as represented by Wak are perceived by stayees ( represented by Odie) with suspicion and hostility; that they went to enjoy themselves in exile and are cowards. It is often the re-enactment of the plight of refugees that Odie understands and appreciates Wak's predicament. 23, 73 - 75,80 -114, 116 - 117.
Expect any 4 well developed points 3:3:3:3: = 12 marks

Conclusion

Living a life of deceit only puts us in bondage. Odie's admission of his misdeeds at the end of the play brings reconciliation and freedom. We need to be ourselves. We need to learn to tell the truth and then we will live a free life. (2 marks)
Language use and Grammar   (4 marks)

     

Introduction

The difficulties we face in life do not have to destroy us. Sometimes, people learn important lessons from the hardships and become better and stronger. When we have positive attitudes, therefore, difficulties can shape us and make us more understanding. In Homestretch, Brenda undergoes tough experiences, but she rises above those difficulties, finishes her education and supports her mother and other Jamaican children in foreign countries.
Accept any other relevant/valid introduction (2 marks)

Main Body

Financial Difficulties

Hardships in life lead her to a resolve to work hard. During her early life in Jamaica, Brenda faced many financial difficulties because her mother's salary as a cashier was not adequate for them. As a result Brenda chose to baby-sit on weekends."
In the United States she worked in Mrs Stewart's shop to meet her personal needs. The hardships she faced in Jamaica, in the United States and in England also motivated her to work hard in her studies. pp 51-54 56-57. 76, 8, 142, 181-182, 188.

School system

In the United States when Brenda found the discrimination in the school system blocking her vision to good education, she sought help from Mrs. Saul and later from Joan stewart. These connections contributed to her academic success. pp 58 - 59, 65 - 67, 73, 75 - 77.

Mistreatment

The mistreatment by Johnnie and Lyn also motivated her to seek acceptance elsewhere and apart from developing friendship with the Stewards, she joined the netball team and excelled in sports. 56-58, 62, 65, 72, 88.

Discrimination

In England, it is the discrimination by both the British and the Jamaican student population that drove her to find connections with the African students. 75 - 78,90-91.
She values her, friendship with Laura and it is this relationship that helps her to overcome the bitterness resulting from her past frustrations. 181 letter

Relationship with Milton

Milton breaks Brenda's heart when he leaves her. pp 105 - 106, 186.

Disillusionment about Jamaica

Brenda is very bitter about what Jamaica has done to her. She feels she has had difficulties in America and England because Jamaica rejected her. Her desire to know more about Jamaica sets her across many towns. pp 51-54, 88, 84-98, 116-123, 139, 147 - 149, 151-154, 164-169, 181-182, 188. Expect any 4 well developed points 3:3:3:3: = 12 marks
Conclusion:
Brenda went through a lot of difficulties as she adjusted to the education, social and cultural systems in the three countries she lived, schooled and worked. She faced discrimination and mistreatment but all these contributed to her growth as a person. Like Brenda, we can also refuse to be crushed by difficulties. As they say, every cloud has a silver lining.
Accept any other valid conclusion and presentation (2 marks)
Language use and Grammar (4 marks)