Drawing and Design Paper 2 (449/2)
DESIGN PROBLEM (40 marks)
Gardeners usually encounter a lot of problems when trying to reach branches of tall trees to prune them. They also risk falling-off from the unstable ladders when pruning trees. Design a leaning type ladder to facilitate the pruning of tall trees considering the following.
The ladder should have provision for using it on tree trunks with both regular and irregular surfaces.
It should be possible to conveniently serve the gardener when pruning trees of different heights.
It should have steps that are comfortable to the user.
It should have provision for a firm grip on the ground.
It should also have provision for packing to enhance ease of transportation.
REQUIREMENTS
Make hand sketches of two possible designs.(6 marks)
Select one of the designs in (a) above and make a refined pictorial drawing of the design and label the main parts.(11 marks)
Make exploded pictorial sketches to show the mechanisms for each considerations in 1,2,3,4 and 5 above. (15 marks)
Name two different materials used in making the ladder and state one reason for each of the chosen materials.(4 marks)
Give two methods used in joining the parts and state where each is applied. (4 marks)
MARKING SCHEME
POSSIBLE DESIGN SKETCHES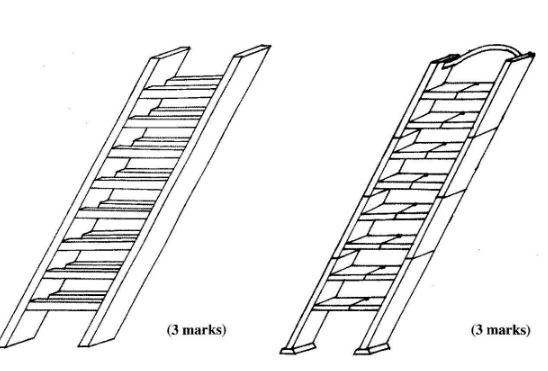 (3 marks)
SUB-TOTAL = 6 MARKS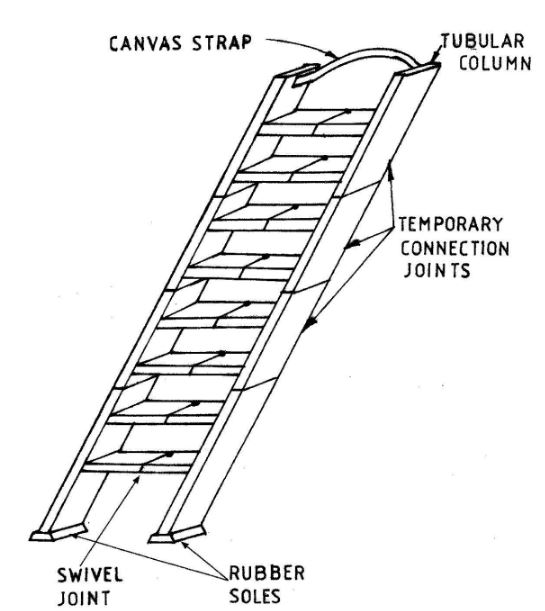 MARKING SCHEME
| | | |
| --- | --- | --- |
| | DESCRIPTIONS | MARKS |
| 1 | Temporary connection for heights | 3 |
| 2 | Rubber soles for firm grip | 2 |
| 3 | Steps provision for climbing comfortably | 2 |
| 4 | Provision to using it on different tree trunks | 2 |
| 5 | Collapsibility for transportation | 2 |
| | SUB-TOTAL | 11 |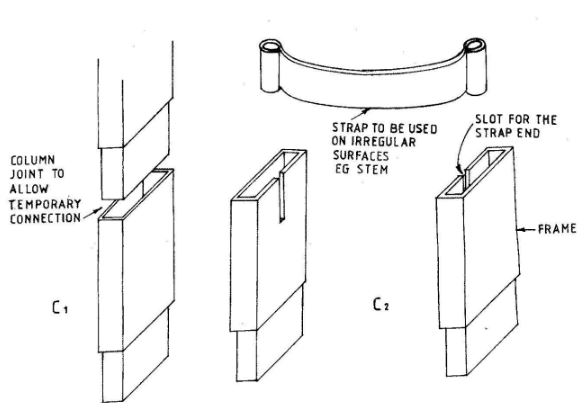 SUB-TOTAL = 6 MARKS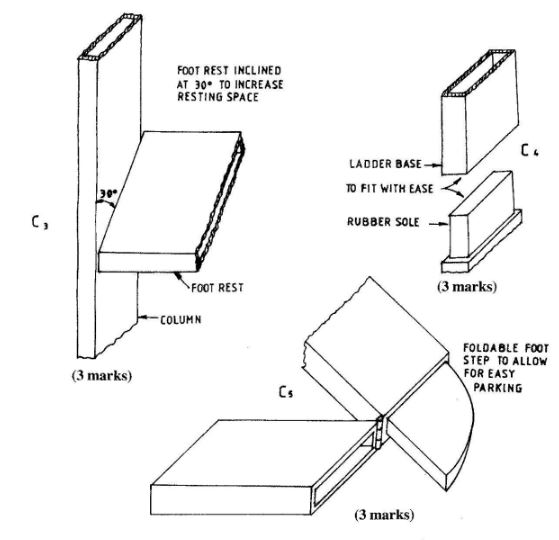 MATERIALS USED:

ALUMINIUM ALLOY IT IS LIGHT FOR EASE OF HANDLING AND IS STRONG ENOUGH (1 mark
FOR THE FRAME (1 mark)
RUBBER FOR
THE SOLE (1 mark), IT PROVIDES A FIAM GRIP ON THE GROUND (1 mark)

WELDING (1 mark) TO ASSEMBLE THE FRAME WORK (1 mark)
RIVETTING(1 mark)TO RIVET THE PARTIAL PARTS OF THE FOOT STEP(1 mark)
SUB TOTAL = 17 MARKS
TOTAL = 40 MARKS