SECTION A (40MARKS)
List three major components of the diesel fuel system (3marks)
Arrange the following personnel training levels in the correct order starting with the highest, (2marks)
Technician, Craftsman, Technologist, Artisan

Differentiate between live and dead axle. (2marks)
Explain the following terms as used in the suspension system. (2marks)

sprung weight
un sprung weight

State two reasons for alloying metals. (2marks)
For each of the following components state two measurements which should be taken during inspection. (2marks)

Crankshaft
Piston rings

State one use of each of the following tools (2marks)

Piston ring compressor
Micrometers
stethoscope
Compression gauge
Differentiate between friction and antifriction bearings. Give one example of each type. (4marks)

State one cause of each the following excessive tire tread wear patterns . ( 1mark)

feathered edge
shoulder wear

State four physical checks that need to be carried on a car battery. (2marks)

State two possible causes of a clutch slip. ( 1mark)
Give two reasons why bearings are necessary. (2marks)
State two requirements for combustion in a diesel engine (2marks)

State two possible causes why a petrol engine would emit white or light blue smoke at its exhaust pipe( 2marks)
Identify two advantages of a pressurized water cooling system over thermo-siphon cooling system (2marks)

List two advantages of a two –stroke engine over a four –stroke petrol engine (2marks)
State two types of fire extinguishers used to put out a burning carburetor (1mark)

Explain each of the following terms as used in power mechanics (3marks)

Detonation
pre- ignition
Atomization

State two functions of each of the following vehicle systems .( 3marks)

suspension system
steering system
braking system
SECTION B: (60 MARKS)
Answer question 11 and any other three questions from this section.
Candidates are advised to spend(not more than 25 minutes) in question 11.
The figure below shows an isometric drawing of a machine component. Draw FULL SIZE, in first projection the following views in the drawing paper provided. 15 marks)

Sectional front elevation B-B .
The plan.
Include 3 important dimensions.
Do not show hidden details.


State the functions of the following in a vehicle (2 marks)

Final drive unit
Clutch

List three advantages of wankel rotary engine over the conventional reciprocating piston type. (3marks)
Identify four differences between full-flow and By-pass filters (2marks)
Using sketches explain the operation of warning light pressure gauge.

Draw and label four main parts of a ball bearing. ( 4 marks)
Draw atypical valve train diagram and label atleast six parts .( 6 marks)
Using a well labeled diagram explain the operation of mechanical fuel pump. ( 5 marks)

Draw a well-based rim and label the parts .( 3marks)
Outline the procedure to be followed when carrying out brake bleeding.( 4marks)
State the cause of the following types of wear on a tire ( 3 marks)

Wear at the centre of the tread
Wear on both sides of the tread
Wear on one side of the tread

Using sketches distinguish between king pin inclination and castor angle (3 marks)
List down four advantages of the independent front suspension over the solid I –beam axle.( 2 marks

State the function of the following in a cooling system.(3 marks

Thermostat
Pressure valve
Vacuum valve

List four types of manual steering boxes sketch and explain the operation of one of them. (12 marks)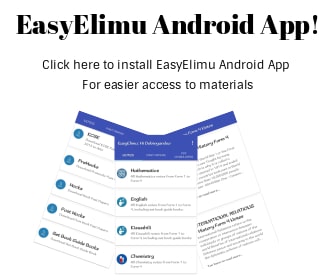 ---
MARKING SCHEME
List six major components of the diesel fuel system (3 marks)
-spray nozzles (injector) -fuel governor
-Fuel tank -fuel injection pump
-Fuel supply pump -fuel filters
Arrange the following personnel training levels in the correct order starting with the highest, (2marks)
Technician, Craftsman, Technologist, Artisan
Technologist, technician, craftsman, artisan.

Differentiate between live and dead axle. (2marks)
Live axle- also called power driven axle is the axle that carries the load and also propels the vehicle. While a dead axle is one that is purely load carrying
Explain the following terms as used in the suspension system (2marks)

Sprung weight –this is the weight carried by springs.
Unsprung weight – the weight that is not carried by springs.

State two reasons for alloying metals.(2marks)
-to lower the melting point of the metal.
-to achieve additional strength and hardness.
-to alter the color appearance.
-to secure cleaner and sharper castings
-to increase resistance to corrosion.
For each of the following components state two measurements which should be taken during inspection. (2marks)

Crankshaft- measures the journals and crank pin diameter and check the crankshaft end –play.
Piston rings ----measure ring gap (clearance) and also measure ring to groove clearance

State one use of each of the following tools (2marks)

Piston ring compressor –used to compress piston rings when installing the piston together with the rings into the cylinder,
Micrometers –used to measure outside or inside dimensions are more accurate and handy to use.
Stethoscope – a device that detects and locates internal engine noises.
compression gauge -used to measure pressure in an engine cylinder by attaching it to the spark plug hole on the cylinder head.
Differentiate between friction and antifriction bearings. Give one example of each type. (4marks) friction bearings – are bearings in which the moving parts are contained in a shell or lining with adjacent surfaces separated by a film of oil or grease. i.e. have no moving parts .e.g. bushings and split or shell bearings.
Anti-friction bearing –has a cage, give the lowest friction and are expensive. e.g. ball bearings and roller bearings.

State one cause of each the following excessive tire tread wear patterns .( 1mark)

feathered edge -incorrect toe in or toe out
shoulder wear -under inflation

State four physical checks that need to be carried on car battery (2marks)
-level of electrolyte
-condition of the battery casing
-condition of terminals
-condition of vent plugs
-cleanliness of the battery casing

State two possible causes of a clutch slip. ( 1mark)
weak thrust springs
no pedal free travel
sticking linkage
clutch riding
worn friction scored or heat checked disc
Give two reasons why bearings are necessary. (2marks)
they support and guide rotating or reciprocating parts of a mechanism and greatly minimizes friction and wear.
State two requirements for combustion in a diesel engine(2marks)
-Diesel fuel must be very clean before it is forced by the pump into the injectors.
-proper atomization of the fuel to ensure proper spread out of fuel into the air turbulence resulting in improved combustion for maximum power development .
-fuel lines should be of the same length, diameter and strength so that they can supply the same amount of fuel to each cylinder.

State two possible causes why a petrol engine would emit white or light blue smoke at its exhaust pipe (2marks) - white smoke means that water has entered the combustion chamber. While blue smoke is emitted when oil enters the combustion chamber and is burnt
Identify two advantages of a pressurized water cooling system over thermo-siphon cooling system ( 2marks)
Pressurized water cooling system
–Smaller radiator can be used than in thermo –siphon system
-less coolant is carried as the water is circulated faster and, therefore, the heat is removed more quickly.
-smaller passages and hoses are used.

List two advantages of a two –stroke engine over a four –stroke petrol engine (2marks)
-Two-stroke
- requires less space
-Simpler in design
four –stroke
-requires more space
-complicated in design
State two types of fire extinguishers used to put out a burning carburetor (1mark)
Carbon dioxide fire extinguisher and dry powder.

Explain each of the following terms as used in power mechanics (3marks)

Detonation--- this is the spontaneous combustion of part of the compressed charge after the spark.
Pre-ignition – this is the irregular knock that occurs when the air –fuel mixture is ignited by other means other than the spark of the spark plug. Usually caused by the hot spots of carbon that form in the combustion chamber, an overheated exhaust valve or a spark plug.
atomization is the mixing of the air and fuel into proper proportions to give a combustible charge for proper engine performance

State two functions of each of the following vehicle systems .( 3marks)

Suspension system –to provide comfort by safeguarding the vehicle occupants against the road shocks. – To prevent damage to the vehicle components by minimizing the effect of vibration. –to maintain the vehicle standard height so that it remains stable while in motion. –maintains road wheels in contact with the road surface at all times. – To support the vehicle weight.
Steering system –controls the front wheels to the desired direction.
-transmits the road feel to the driver hand.
-it allows the small effort of the driver to turn a large load at road wheels
Braking system –controls the speed of the vehicle.
- Stop it when and where desired quickly and efficiently without skidding.
–holds the vehicle in any position after it had stopped and the driver is not present.
SECTION B: (60 MARKS)
Answer question 11 and any other three questions from this section.
Candidates are advised to spend (not more than 25 minutes) in question 11.
The figure below shows an isometric drawing of a machine component. Draw, FULL SIZE, in first projection the following views in the drawing paper provided. 15 marks)

Sectional front elevation B-B.
The plan.
Include 3 important dimensions.
Do not show hidden details


State the functions of the following in a vehicle (2 marks)

Final drive unit
-changes the drive from the propeller shaft to that of half shafts through 90
Allows easier cornering of the vehicle by allowing the inner wheel to move at a reduced speed while the outer wheel is speeded.
It increases the torque output of half shafts by reducing the speed of the propeller shaft by use of a small pinion to drive the larger crown wheel.
Clutch
-connects and disconnects the drive between the engine and the gear box.
– it enables the drive to be taken up gradually and smoothly
-it provides the vehicle with a temporary neutral.

List three advantages of wankel rotary engine over the conventional reciprocating piston type. (3marks)
-Runs quieter
-Reduced vibrations owing to absence of reciprocating parts
-Has better power compared to its size
- Has a higher volumetric efficiency.
-It breathes more easily
Identify four differences between full-flow and By-pass filters (2marks)
Full flow filter
-filters all the oil delivered to the bearings and other moving parts of the engine.
-relatively coarse
-has a higher flow rate
- Filter is located between oil pump and main gallery.
By-pass filter
-Filters a portion of the oil delivered to the bearings.
-Has a much finer element.
-Much more resistance to flow.
- Filter mounted on any convenient part of the engine and connected to the oil gallery by flexible oil lines.
Using sketches explain the operation of warning light pressure gauge. (8 mark)

Draw and label four main parts of a ball bearing. ( 4 marks
Draw atypical valve train diagram and label at least six parts. (6 marks)
Using a well labeled diagram explain the operation of mechanical fuel pump. ( 5 marks)

Draw a well-based rim and label the parts .( 3marks)


Outline the procedure to be followed when carrying out brake bleeding.( 4marks)
-Fill reservoir
-Attach bleed pipe to bleed screw on slave cylinder and submerge the free end under the surface of a small quantity of fluid in a glass jar.
-Slacken off bleed screw and press down pedal slowly. Tighten bleed screw before pedals reaches end of its travel.
–allow pedal to return unaided.
–repeat same sequence until no bubbles of air can be seen emerging from the tube. Tighten the bleed screw and remove the pipe.
state the cause of the following types of wear on a tyre( 3 marks)

wear at the centre of the tread –over-inflation
wear on both sides of the tread – under-inflation
wear on one side of the tread—incorrect camber

Using sketches distinguish between king pin inclination and castor angle (3 marks)
List down four advantages of the independent front suspension over the solid I –beam axle.( 2 marks)

-Deflection of one wheel does not affect the other wheel.
-More comfortable ride
- Better steering control
- Engine is mounted fairly low leading to increased vehicle stability .

State the function of the following in a cooling system.(3 marks

Thermostat - prevents coolant passage from the engine block to the radiator until the engine attains its normal operating temperatures.
Pressure valve –allows the escape of excess pressure in the cooling system to prevent blow-off of the hoses.
Vacuum valve –protects the system from developing a vacuum that could collapse the radiator as the coolant temperature drops.

List four types of manual steering boxes. Sketch and explain the operation of one of them.( 12 marks)
-Worm and wheel steering
-reciculating ball steering
-Worm and sector steering
-worm and peg steering
-Worm and nut steering
-rack and pinion steering
-Worm and roller steering