GEOGRAPHY
PAPER 1
TIME: 2¾ HOURS.
Instructions to candidates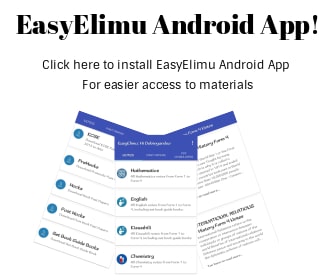 This paper has two sections: A and B . Answer ALL questions in section A.
In section B, answer question 6 (Six) and any other two questions.
SECTION A:(25 MARKS)
Answer ALL the questions in this section
   

Name the branches of geography. (3 mks)
Give two dates in a year during which the number of hours of darkness is equal in both north and south pole (2 mks)

The diagram below represents the earth on its axis. Use it to answer question (2).



Name the latitude marked M.(1 mk)
What is the angle of inclination of the earth's axis from its orbit?(1 mk)
State three effects of the rotation of the earth.(3 mks)

    

State the conditions considered in choosing a suitable site for a weather station. (2 mks)
Name the weather recording instrument that are placed in a Stevenson's screen. (2 mks)
Give two reasons why weather forecasting is important. (2 mks)

     

The diagram below represents some coastal features. Name the features marked P,Q and R. (3 mks)

State two conditions necessary for the formation of a beach. (2 mks)

     

Distinguish between a Wadi and a Mesa.(2 mks)
Name two features formed by water erosion in deserts.(2 mks)
SECTION B:(75 MARKS)
Answer Question 6 and ANY OTHER TWO questions in this section.
Study the map of Belgut (1:50,000) sheet 117/3 provided and answer the following questions

A straight all weather road is to be constructed from Kebenet junction to Kakibei school

What is the length of the road? Give your answer to the nearest 100m. (2 mks)
Calculate the bearing of the principal air photo point in grid square 3957 from the bridge in grid square 4255. (2 mks) .
Calculate the area to the north east of the Kericho - Muhoroni/ Kisumu all – weather road. Give your answer in square kilometres. (2 mks)

The square below represents the area in the map extract bounded by Easting 40 and 47 and Northing 50 and 57. Identify and name the features marked J, K, L and M. (4 mks)

     

Explain three factors which have influenced the distribution of settlement in the area covered by the map. (6 mks)
Citing evidences from the map, give two agricultural activities carried out in the area covered by the map (4 mks)

Describe the drainage of the area covered by the map. (5 mks)

     

     


Define the term vulcanicity (2 mks)
State two types of vulcanicity (2 mks)

      

Using well labeled diagrams, differentiate between a Lopolith and a Laccolith (4 mks)
The diagram below shows a complex volcanic cone



Identify the parts marked F and G (2 mks)
Describe how the feature is formed (5 mks)
Give two examples of the feature in East Africa (2 mks)

Define the following terms

Fumaroles (1 mk)
Solfatara (1 mk)

Explain three ways in whịch volcanic mountains positively influence human activities. (6 mks)

          

          

What is natural vegetation? (2 mks)
Describe how the following factors influence the distribution of Vegetation.

Biotic factors(3 mks)
Edaphic factors (3 mks)

The diagram below represents zones of natural vegetation on a mountain in Africa. Use it to answer the questions below it.


Name the vegetation zones marked L, M and N. (3 mks)
Describe the characteristics of the vegetation marked P (3 mks)
Give two uses of the vegetation marked P. (2 mks)
Name the temperate grasslands found in the following countries

South Africa (1 mk)
United States of America (1 mk)

Form four students carried out a field study of natural vegetation within their county.

Give two reasons why it would be important for them to seek permission from the school administration. (2 mks)
How would they identify the different types of vegetation? (3 mks)
State two problems they might have encountered during their field study (2 mks)

 

        

What is a lake (1 mk)
Give three sources of water in lakes (3 mks)

With aid of well labeled diagrams describe how a corrie lake is formed. (8 mks)
         

State three reasons why some lakes in the rift valley have fresh water (3mks)
Explain how lakes modify the climate of the surrounding areas. (4 mks)

Citing examples of lakes explain three significance of lakes. (6 mks)

     

   

Define the term soils (2 mks)
Apart from humus, name three other components of soil (3 mks)

Explain how the following factors influence the formation of soils

Topography (4 mks)
Time(2 mks)

The diagram below represents a well-developed soil profile, use it to answer following questions


Describe the characteristics of horizon B 250 E lett (3 mks)
State three ways in which vegetation protects soil from erosion (3 mks)
Name two types of soil as classified by texture (2 mks)

     

Explain how the following farming practices may lead to soil fertility

Mixed farming (2 mks)
Mulching(2 mks)

Identify two types of soil degeneration.(2 mks)
MARKING SCHEME
Section A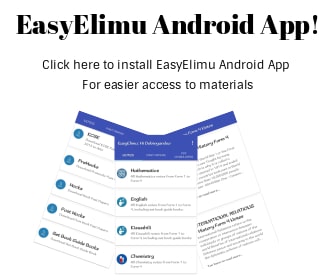 Branches of Geography

Physical geography
Human and economic geography
Practical geography,

Days when number of hou of day and night are equal

    

Latitude marked M 
Angle of inclination of the earth axis 
Effects of rotation of the earth 

It causes day and nights 
Causes different in time at different longitudes
Causes deflection of wind/ocean currents
Causes raising and falling of sea tides

     

Conditions considered in choice of a suitable site for a weather station

The ground should be level/ gently sloping
The area should be free from flooding
Should be in an open space away from tall objects/building
The area should have wide view

   

A hygrometer/ wet and dry bulb thermometer



Reasons why weather forecasting is important

To enable farmer to plan their farming activities
Helps in planning military activities
Helps people to plan on suitable clothing for the day
Influences the design of houses
Helps in guiding the landing and taking off of aircrafts

    

Features marked

P-Blowhole
Q-Cliff
R-Cave



Conditions necessary for formation of a beach

The shore should be shallo
Strong swash/ constructive waves/ weak backwash
Gently sloping land at the sea shore
Waves should carry a lot of materials to be deposited

     

A wadi is a rocky steep sided desert valley ortavine in which occasional rainwater flows during and shortly ater a rare sporadic rainstorms while a mesa is a flat-topped residuo hill in a desert, whose top rock layer is generally resistant to denudation


Features formed by water erosion in deserts

Allavial fans
Bajada
Wadis
Mese and butes
Pediments
Section B
Study the map of Belgut (1:50,000) sheet 117/3 provided and answer the following questions.

A straight all weather road is to be constructed from Kebenet junction to Kakibei School.

What is the length of the road? Give your answer to se nearest 100m.
Calculate the bearing of the principal air photo point in grid square 3957 from the bridge in grid square 4255.
Calculate the area to the north east of the Kericho Muhoroni/ Kisumu all - weather road. (Give your answer in square kilometers.) (2 marks)

Full squares - 53 thus 53 km
Half squares-43-2 -21.5km 
Total area - 74.5km-0.5(74-75km)



The square below represents the area in the map extract bounded py Easting 40 and 47 and Northing 50 and 57. Identify and name the Features marked J, K, L, and M.

J - all weather Road loose surface
K-papyrus swamp
L-trigrometrical station
M -Estate

    

Explain three factors which have influenced the distribution of settlement in the area covered by the map.

Distribution of estates - there are few clusters of settlements in the tea estates in the south eastem region where labour lines are constructed Vegetation - there are few/no settlements in the forested royion in the south castern region since these are protected areas.
Relief - in the steep northem, western and south western parts of the area covered by the map, there are few settlements due to the difficulties of construction/ there are many settlements due to the danger of flooding/ water borne diseases
Distribution of roads - there are lincar settlements along some roads/there are many settlements in area served by roads due to the casiness of movement transportation of goods



Citing evidences from the map, give two agricultural activities carried out in the area covered by the map

Tea cultivation tea factory
Cattle rearing. veterinary livestock centre 
Maize cultivation - posho mill



Describe the drainage of the area covered by the map.

The main rivers are Sondo and Yurith
There are many permanent rivers
River Sondo is a wide river
River Yurith has sand deposits along part of its channel before it joins river Sondo
There are some papyrus and seasonal swamps in some parts of the map
Some rivers have riverine vegetation along their channels 
River Yurith originates from the south eastern part of the area covered by the map
The main river in the north western part of the arca covered by the map is Awach Kano (Ririsik)
River Sondo flows through a deep gorge in grid squares 2747 and 2748.
The main tributaries of river Yurish are Itere and Kitoi
There are dams in the south eastern parts of the area covered by the map.
Most of the overflows in deep v-shaped valleys.

    

    

 Define vulcanicity 

Vulcanicity is the process through which liquid , solid or gaseous material are formed into the earth crust or on to the surface due to high pressure and temperature.



State two types of vulcanicity

cinder cones
composite volcanoes
shield volcanoes
lava domes.

    

Using well labeled diagrams, differentiate between a Lopolith and a Laccolith 

A lopolith is a mass of volcanic or igneous rock found within strata which has spilled downward into underlaying strata and forms depressed regions.
A laccolith a mass of igneous or volcanic rock found within strata which forces the overlaying strata upwards and forms domes.



    

Identify the parts marked F and G 

F- layers of lava and ash
G- parent rock/. country rock



Describe how the feature is formed 

They form when different types of eruptions deposit different materials around the sides of a volcano. Alternating eruptions of volcanic ash and lava cause layers to form. Over time these layers build up. The result is a cone that has a gentler slope than a cinder cone but is steeper than a shield volcano.



Give two examples of the feature in East Africa 

Mount Kilimanjaro, Mount Kenya, Mount Longonot, Menengai Crater, Mount Karisimbi, Mount Nyiragongo, Mount Meru and Mount Elgon,



Define the following terms

Fumaroles - Fumaroles are openings in the earth's surface that emit steam and volcanic gases, such as sulfur dioxide and carbon dioxide. 
Solfatara - are openings in the earth's surface that emit steam and mostly emit the sulfur dioxide gas



Explain three ways in whịch volcanic mountains positively influence human activities.

Volcanic lava upon weathering forms fertile soils which are used in agricultural activity
Some volcanic plugs/aureola, have valuable minerals which can be mined
Steam jets are used in harnessing geothermal electricity for domestic /industrial use
Some volcanic features attracts tourists earning a country foreign exchange
Volcanic mountains influence the formation of relief rainfall on their slopes which encourage agricultural activities/settlement.
Volcanic lakes used for fishing which is a source of income/ food
Some lakes are a source of water for domestic/ industrial use
Volcanic mountains are source of rivers which provide water for domestic/ industrial irrigation.
Hot springs/ spurs are used for medicinal purposes
Some volcanic rocks are used as building materials

           

 

What is natural vegetation? 

Natural vegetation refers to a plant community, which has grown naturally without human aid and has been left undisturbed by humans for a long time.



Describe how the following factors influence the distribution of Vegetation.

Biotic factors 

Trees cast their shadow on many shade-loving plants which grow around or beneath them. The micro-organisms, such as bacteria, algae, fungi, and viruses affect the life of plants of a given area in many ways.
Besides these, the decomposition of dead parts of plant bodies causes significant addition of organic compounds and humus to soil. In this way, vegetation modifies the habitat to a considerable extent. Similarly, animals which are in close association with plants also affect the plant life in one or several ways. Many animals use plants as their food and for shelter as well. Besides animals, the man is most significant agent for modifying the vegetation.

Edaphic factors 

They affect the type of vegetation that grow as different plants require different soil pHs, salinity and textures. For instance, Texture affects the water holding capacity in turn affecting the types of plants that grow. 

    

Name the vegetation zones marked L, M and N.

L- Heath and Moorland
M- Bamboo
N- Rainforest
 

Describe the characteristics of the vegetation marked P 

Grasses are tall (up to 3m with stiff blades and elephant grass is tallest reaching up to 4m)
Most trees are deciduous and shed leaves 
Trees consist of acacia and baobab



Give two uses of the vegetation marked P. 

The grassland area is used for livestock farming/ grazing
The vegetation provides habitat for wild animals
Trees are used for bee keeping
Some of the vegetation is used for medicinal purposes
Some of the vegetation provides wild fruit
Trees are a source of wood fuel
Some vegetation provides building material
Grass forage decompose to farm humus



Name the temperate grasslands found in the following countries

South Africa 
United States of America 

Form four students carried out a field study of natural vegetation within their county.

Give two reasons why it would be important for them to seek permission from the school administration. 

The school administartion is the supervising authority on all school activities
The administration may be able to provide appropriate tools/ support eg organize fo transport
To enable the school plan appropriately to ensure that the study doesn't collide with other essential school activities.



How would they identify the different types of vegetation? 

Presence and distribution of trees
Types of trees/ other vegetation
Characteristics of the natural plant life eg size of leaves, height of trees etc



State two problems they might have encountered during their field study

Identifying trees wrongly
Inaccessibility to some areas because of terrain
Bad weather

        

              

What is a lake?

A lake is a large mass of water that has accumulated in a large hollow or depression on the earth's surface.



Give three sources of water in lakes

Rain water
Melt water - Rivers
Underground water
Magmatic water



With aid of well labeled diagrams describe how a corrie lake is formed



Glacier accumulates in the pre-existing rocks valley

The depression is deepened by abrasion and steepened by plucking

A large depression is filled with melting or rain water to form a corrie lake
A pre-existing hollow at the upper slope of glaciated mountain such as mount Kenya may be filled up with ice or glacier
Glacial erosion by plucking steepens the depression through freeze-flow effect. The plucked materials such as rock particles are used to crode the floor of the depression by abrasion process, deepening it This result in the formation of an armchair-shaped depression
When temperature rises, the ice melt and the water flows into a depression, filling it up to form a tarn or corrie lake. This depression may also be filled up with water from rain or rivers and streams to form a lake. Example Teleki tarn on mount Kenya

       

State three reasons why some lakes in the rift valley have fresh water lakes

Some of the lakes in the rift valley have outlets through which excess salts are carried away, leaving the water fresh
Some lakes have underground outlets which drain the salts accumulated in their beds
Some lakes are situated in areas that receive high amounts of rainfall.
The rainwaters therefore dilutes any salt in these lakes thus keeping the water fresh
Some of these lakes have a regular in flow of fresh water from rivers which dilute saits keeping the water fresh
Some of the lakes in the rift valley such as lake Baringo are situated in low evaporation thus keeping the water fresh.



Explain how lakes modify the climate of the surrounding areas .

The presence of lakes such as lake Victoria in an area result in the formation of sea breeze during the day and land breeze at night. These local winds moderate the temperature of the surrounding areas by cooling or arming them respectively.
During the day, there are high evaporation rates from lakes such as lake Victoria and lake Turkana. This result in high amounts of water vapour in the atmosphere
High evaporation rates of water from lake increases the amount of water vapour in the atmosphere. As this water vapour rise it cools and condenses forming clouds which result in heavy convectional rainfall in the surrounding areas.



Citing examples of lakes explain three significance of lakes

Some lakes such as lake Bogoria has hot springs which form unique scenery for tourists attraction.
Other lakes such as lake Nakuru and lake Baringo have flamingoes which also attract tourists.
The foreign exchange eamed from these tourists is used by the government to improve other economic sectors such as education.
Fresh water lakes such as lake Victoria, Baringo and Nakuru provide water for the people living near them or domestic uses such as washing and cooking
Fresh water lakes from suitable habitats or fish, thus enhancing fishing activities, fish caught are sold by people to earn income an some eaten to supplement other protein foods such as meat. Some fresh water lakes provide water for irrigation in areas which receive low amount of rainall, for example lake Naivasha provides water for irrigating vegetables and lower farms in the surrounding areas.
Some lakes eg Lake Magadi contains valuable minerals which are exploited to provide raw materials in processing industries.
This mineral is exported to other countries earning foreign exchange. Such revenue is used to improve other sectors in economy such as agriculture.
Some lakes eg Lake Victoria provide transport ways for people and transit of goods from one place o country to another. This enhances trade acavities between places or counties. High evaporation rates of water from some lakes such as lake Victoria increase the amount of moisture in the atmosphere. As this water vapour rises, it cools and condenses forming clouds which result in heavy convectional rainfall in the surrounding area.
This enhances the growing of crops such as sugar cane in such areas.
Some lakes form sources of rivers. For example Lake Victoria is a source of River Nile which whose water is used by the people of Uganda, Ethiopia and Egypt for irrigation activities.

         

  

Define the term soil

It is the uppermost surface layer of loose unconsolidated materials that overlie the crustal rocks on which plants grow.



Apart from humus name three other soil components

Soil air
Soil water
Mineral particles/weathered materials
Living organisms



Explain how the following factors influence the formation of soils

Topography Steep slopes encourage rapid removal of top soil thus slowing down soil formation

Steep slopes have thin soils that are poorly developed.
Flat areas have soil that are waterlogged thus slow soil formation process
Gently sloping areas have well developed soil soil profile because they are well drained
Valley bottoms have deep fertile soils due to the deposition and accumulation of weather materials

Time

Is passive factor of soil formation
Soils don't form overnight - it requires time
Some soils may take a few years to reach maturity other take thousands of years

    

Describe the characteristics of Horizon B

It is the accumulation zone of leached minerals from horizon A
The soil texture is clay in nature
Soils are generally dark in colour
The zone sometimes forms a hard pan or murram or laterites
It is an illuviation zone.



State three ways in which vegetation protects soil from erosion

Vegetation acts as a cover protecting the top soil form being carried away by wind.
Vegetation allows water to penetrate through it to the soil thus binding the particles, making it possible to be carried away
The roots of vegetables hold soil particles together



Name 2 types of soil as classified by texture

Loamy
Silty
Gravel
Clay
Sandy

      

Explain how the following farming practices may lead to soil fertility

Mixed farming

Crops are grown and animals kept on same farm
Manure from animals enrich/ add humus to the soil
The plants decompose and add humus to the soil



Mulching

Use of plant remains to cover cultivated ground.
It increases humus content off soil
It protects soil from erosion



Identify two types of soil degeneration

Physical mechanical degeneration
Chemical degeneration
Biological degeneration
NB: Physical degeneration - decline in usefulness of soil that affect texture, structure, moisture and quantity of soil
Chemical degeneration - change the mineral nutrients, change of pH
Biological - Decline in organic content of soil, and vegetation cover soil