QUESTIONS
You are provided with


4.5g of Solid T in a boiling tube
Solution N, 0.6M acidified potassium manganate (VII)
You are required to determine:
Solubility of Solid T at different temperatures
The rate of reaction of Solution T at different temperatures
PROCEDURE A
Using a burette, add 4cm3 of distilled water to Solid T in the boiling tube. Heat the mixture while stirring with a thermometer to about 85ºC for the solid to dissolve; allow the solution to cool while stirring. Note the temperature at which crystals of Solid T first appear. Record the temperature in Table 1.
Using a burette, add 2cm3 of distilled water to the content of the boiling tube. Warm the mixture while stirring with the thermometer until all the solid dissolves. Allow the mixture to cool while stirring. Note and record the temperature at which crystals of Solid T first appears.
Repeat step b) two more times and record the temperature in Table 1. Retain the contents of the boiling tube for use in Procedure B.
Complete Table 1 by calculating the solubility of T at different temperatures
Table 1


| | | | | |
| --- | --- | --- | --- | --- |
| Total volume of water in the boiling tube (cm3) | 4 | 6 | 8 | 10 |
| Temperature at which crystals of T appear (ºC) | | | | |
| Solubility of Solid T (g/100g of water) | | | | |

(5 marks)


On the grid provided, draw a graph of Solubility T (y-axis) versus temperature in ºC. (3 marks)

Use your graph to find the temperature at which the first crystal will appear if 100g of Solid T is dissolved in 100cm3 of distilled water at 85ºC then the solution is allowed to cool. (2 marks)
PROCEDURE B
Transfer all the content of the boiling tube into a 100ml beaker. Accurately measure 10cm3 of distilled water and add to mixture T in the beaker.
Accurately measure 4cm3 of the mixture in the beaker and transfer into a clean boiling tube. Heat the mixture to 80ºC and add 4cm3 of Solution N (acidified potassium manganate (VII)) and immediately start the stopwatch.
Note the time taken for the mixture to change to colourless. Discard the content of the boiling tube and accurately measure another 4cm3 of the mixture in the beaker (Solution T) and transfer into the boiling tube.
Heat the mixture to 70ºC and add 4cm3 of Solution N and immediately start the stopwatch. Note the time taken for the mixture to turn to pink.
Repeat the procedure two more times and complete Table 2 using temperature in the table.
Table 2


| | | | | |
| --- | --- | --- | --- | --- |
| Temperature (ºC) | 80 | 70 | 60 | 50 |
| Time, t (sec) | | | | |
| ⅟time (sec-1) | | | | |

(5 marks)

On the grid below, draw a graph of ⅟time (sec-1) (y-axis) versus temperature. (3 marks)
State and explain the shape of your graph (2 marks)

What does the reciprocal of time represent on your graph? (1 mark)
From your graph, determine the time the mixture will decolorize if the experiment is carried out at 65ºC (1 mark)
You are provided with Solid D. Carry out the tests below. Record your observation and inferences in the spaces provided.

Put a spatula end full of Solid D in a boiling tube. Add about 1.0cm3 of distilled water. Shake well.


| | |
| --- | --- |
| Observation | Inference |
| (1 Mark) | (1 Mark) |

Divide the above mixture into four portions each, of 2cm3.


| | |
| --- | --- |
| Observation | Inference |
| (1 Mark) | (1 Mark) |

To the 1st portion, add 2M NaOH solution dropwise until in excess.


| | |
| --- | --- |
| Observation | Inference |
| (1 Mark) | (1 Mark) |

To the 2nd portion, add 3 drops of barium chloride solution


| | |
| --- | --- |
| Observation | Inference |
| (1 Mark) | (1 Mark) |

To the 4th portion, add 3 drops of lead (II) nitrate solution


| | |
| --- | --- |
| Observation | Inference |
| (1 Mark) | (1 Mark) |

Dip a clean glass rod in the remaining solution and place on a non-luminous flame of a Bunsen burner


| | |
| --- | --- |
| Observation | Inference |
| (1 Mark) | (1 Mark) |

To the 3rd portion, add 2cm3 of bromine water


| | |
| --- | --- |
| Observation | Inference |
| (1 Mark) | (1 Mark) |

You are provided with Solid J. Carry out the tests below and record your observations and inferences in the spaces provided.

Burn half of Solid J on a non-luminous flame of a Bunsen burner.


| | |
| --- | --- |
| Observation | Inference |
| (1 Mark) | (1 Mark) |

Put the remaining amount of Solid J in a boiling tube. Add about 10cm3 of distilled water and shake thoroughly. Divide the mixture into 2 portions. To the 1st portion, add 3 drops of NaHCO3 solution.


| | |
| --- | --- |
| Observation | Inference |
| (1 Mark) | (1 Mark) |

To the 2nd portion, add 3 drops of acidified potassium manganate (VII) solution.


| | |
| --- | --- |
| Observation | Inference |
| (1 Mark) | (1 Mark) |
CONFIDENTIAL
INSTRUCTIONS TO SCHOOLS
The information contained in this paper is to enable the head of the school and the teacher in charge of Chemistry to make adequate preparations for the Chemistry practical examination.
No one else should have access to this paper or acquire knowledge of its contents. Great care must be taken to ensure that the information herein does not reach the candidate either directly or indirectly. The teacher or laboratory technician in charge of Chemistry should not perform any of the experiments or give any information related to these instructions to the candidates.
In addition to common laboratory apparatus each candidate to be provided with:
10ml measuring cylinder
Boiling tube
10ºC to 100ºC thermometer
Accurately measured 4.5g of solid A(oxalic acid)
20cm³ of 0.6M acidified KMnO4 solution
100ml beaker
Heat source/water bath
Means of timing (stop watch/stop clock)
About 2g of potassium iodine (solid D)
About 2g of oxalic acid (C2H2O4.2H2O) solid J
Access to:
Distilled water in a wash bottle
2M Sodium Hydroxide Solution
0.5M Barium Chloride Solution
0.5M Lead (II) Nitrate Solution
Heat source (Bunsen Burner Flame)
Glass rod
Bromine water (prepared by dissolving 1cm³ of liquid Bromine in 100cm³ of distilled water)
Metallic Spatula
0.5M Sodium Hydrogen Carbonate solution
Acidified potassium manganate VII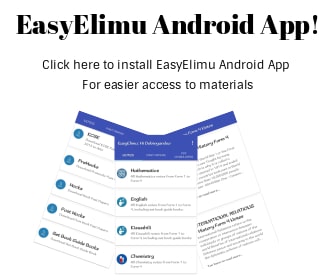 ---
MARKING SCHEME
TABLE 1
| | | | | |
| --- | --- | --- | --- | --- |
| Total volume of water in the boiling tube (cm3) | 4 | 6 | 8 | 10 |
| Temperature at which crystals of T appear (ºC) | 75 | 72 | 65 | 54 |
| Solubility of Solid T (g/100g of water) | 112.5 | 75 | 56.25 | 45 |

Graph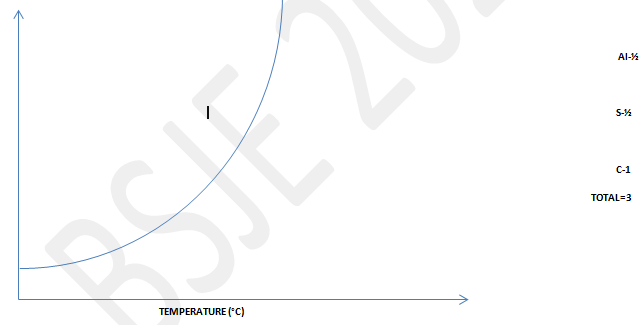 Read from the graph at 68°C
TABLE 2a

| | | | | |
| --- | --- | --- | --- | --- |
| Temperature (ºC) | 80 | 70 | 60 | 50 |
| Time, t (sec) | 5 | 10 | 20 | 40 |
| ⅟time (sec-1) | 0.200 | 0.100 | 0.050 | 0.025 |

Graph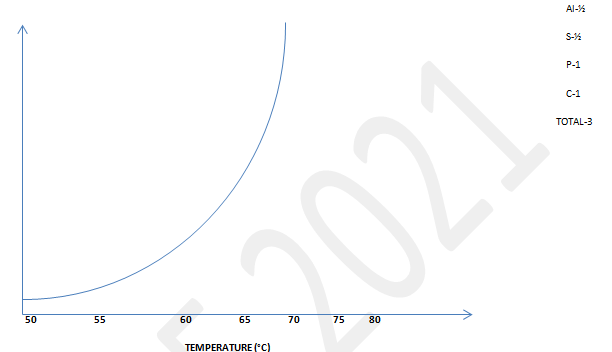 State and explain the shape the your graph
Ans. The graph is an exponential curve; rate of reaction increases exponentially with increase in temperature
What does ⅟ t represent in your graph?
Ans. Rate of reaction
From the graph determine the time the mixture will decolorize if the experiment is carried out at 65°C
At 65°C, ⅟ t =y
t=⅟ y
Q 02
| | |
| --- | --- |
| OBSERVATIONS | INFERENCES |
| a) White solid dissolves in distilled water to form a colorless solution | Absence of colorless ions e.g. Fe, Fe³˖ or Cu // soluble salt |
| b) i.No white precipitate is formed | Ca ,Mg Al³˖ Zn or Pb absent |
| ii. No white precipitate is formed | SO₄ SO₃ or CO₃ absent |
| iii. Yellow precipitate is formed | I⁻ Present |
| iv Lilac/ bluish purple/purple flame | K˖ Present |
| v. Dark brown solution is formed | I⁻ Present |
Q 03

| | |
| --- | --- |
| Melts and burns with yellow sooty/smokey flame | = C =C= // ---C≡C---Present // Unsaturated Organic compound// Long chain hydrocarbon |
| (ii) Gas bubbles/Effervescence/Fizzing | ---COOH/R—COOH/H˖ /H₃O˖ Present |
| (iii) Purple acidified KMnOч (aq) | Decolorizes C=C= // --C≡C- present |