QUESTIONS
Explain five differences between a public corporation and a public limited company. (10 mks)
Explain five factors that would lead to increase in the level of National income. (10 mks)

Explain five factors that hinder entrepreneurial activities in a country.(10 mks)
Makhisa traders started a business on 1st January 2022 with cash in hand sh. 50,000 and cash at bank sh. 19,000. His transactions during the month of January, 2022 were as follows:
Jan 1 : Bought furniture worth sh. 10,000 by cash.
Jan 2 : Deposited sh. 5,000 cash in the business bank account from the cash till.
Jan 5 : Sold goods to Michael worth sh. 7,900 on credit.
Jan 12 : Makhisa disposed off a van at sh. 70,000 receiving Payment of sh. 27,000 by cheque and a balance in cash.
Jan 15 : Paid rent sh. 1,700 cash.
Jan 16 : Paid salaries sh. 2,200 by cheque.
Jan 20 : Received donations sh. 15,000 by cheque.
Jan 22 : Withdrew cash sh. 10,000 for personal use.
Jan 28 : Transferred all cash into the bank except sh. 1,000.
Required:
Prepare a two column cash book for Makhisa traders for the month of January, 2022. (10 mks)

Explain five roles of middlemen in the chain of distribution.(10 mks)
Explain five principles of insurance. (10 mks)

Explain five benefits of mobile banking to customers. (10 mks)
The following trial balance was extracted from the books of Atiti traders for the year ended 31st December 2021.
Atiti Traders
Trial Balance
As at 31/2/2021


Details
Capital
Drawings
Stock (1/1/2021)
Purchases
Sales
Returns
Carriage outwards
Carriage inwards
Discounts
Motor vehicle
Furniture
Creditors
Premises
Debtors
Bad debts
Dr (Shs)

33,000
47,000
300,000

4,000
10,000
28,000
4,000
130,000
25,000
100,000
50,000
15,000
746,000
Cr (Shs)
250,000



420,000
7,000


14,000

55,000



746,000

Additional information.
Stock at 31st December 2021 was valued sh. 55,000.
Required
Prepare

Trading, profit and loss account for the year ended 31st December 2021.
Balance sheet as at 31/12/2021.

Explain five ways in which inflation can be controlled by the government. (10 mks)
Explain five barriers to effective communication. (10 mks)

Explain five disadvantages of using direct taxes to raise government revenue.(10 mks)
Explain five circumstances in which a firm may acquire monopoly Power. (10 mks)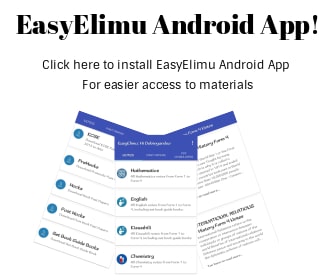 ---
MARKING SCHEME



Public Corporation
Public Limited Company
Formed under the act of parliament.
Partially owned by the government.
Initial capital provided by the state.
Management appointed by the government.
Set up to offer essential service, to the public.
Political interference due to nomination of directors by the government
Auditing done by government auditors.
Formed under the company's act
Owned by Private persons who own shares.
Capital obtained from issue of shares and loans.
Directors elected by the shareholders.
Formed to make profit.
No political interference.
Auditing done by private auditors.

Entrepreneurship culture
A country with many hardworking businessmen will invest more hence increasing the level of national income.
Political stability
A country that is politically stable will encourage more production activities hence increasing national income.
Availability of capital
Adequate capital leads to generation of move income.
Availability of labour
A country with a large about force which is skilled will utilise it to increase the level of national income.
Availability of natural resources
A country endowed with more natural resources like minerals will exploit then hence high national income.
Improved technology.
A country that uses modern technology in production will increase its output and level of national income.

Unfavourable government policies tend to discourage smooth running of business.
Poor Infrastructure – Insecurity, poor transport and communication network discourage.
Lack of adequate knowledge and skills to start and run businesses.
Lack of market.
Stiff competition.
Political Instability.

Makhisa Traders
Two Column Cash book
For the month of January 2022
Dr Cr


Date
Details
l.f
Cash
Bank
Date
Details
l.f
Cash
Bank
2022
Jan 1
Jan 2
Jan 12
Jan 20
Jan 28
28
28



Capital
Cash
Van
Donations
Cash


Bal


C


C

b/d

50,000

33,000




83,000
1,000
19,000
5,000
27,000
15,000
55,300

121,300
119,100
2022
Jan 1
Jan 2
Jan 15
Jan 16
Jan 22
28
28



Furniture
Bank
Rent
Salaries
Drawings
Bank
Bal





C
c/d
10,000
5,000
1,700


10,000
55,300
1,000
83,000




2,200


119,100
121,300

Penalise for no title.

Link producers to consumer.
Breaking the bulk.
Prepares goods for sale.
Accumulate the bulk.
Offer transport and storage facilities for producers.
Offer Advice to consumers and producers.
Provide finance to producers.

Principle of indemnity.
States that one can only be compensated for the actual loss suffered.
Principle of utmost good faith.
The insured is expected to disclose all the relevant material facts relating to the property.
Principle of insurable interest.
A person can only insure the property that if a loss occurs that he suffers a direct loss.
Principle of subrogation.
All remains after compensation become the property of the insurer.
Principle of contribution.
All the insurers share in compensating the insured in case of a loss.
Principle of proximate cause.
There must be closs relationship between the loss suffered and the risk insured against

It enable a customer to access funds in his/her account any time.
Enables the customers to pay utility bills without travelling hence saving transport cost.
Facilitates transfer of money cheaply and faster.
Enables one to top up mobile airtime automatically.
One can request for mini-statements.

Atiti Traders
Trial Balance
As at 31/2/2021


Details
Capital
Drawings
Stock (1/1/2021)
Purchases
Sales
Returns
Carriage outwards
Carriage inwards
Discounts
Motor vehicle
Furniture
Creditors
Premises
Debtors
Bad debts


Dr (Shs)

33,000
47,000
300,000

4,000
10,000
28,000
4,000
130,000
25,000

100,000
50,000
15,000
746,000
Cr (Shs)
250,000



420,000
7,000


14,000

55,00




746,000

Atiti Tradere
Trading, profit and loss account
For the year ended 31/12/2021


Opening stock 47,000
Add: Purchase 300,000
Add : Carriage inwards 28,000
Less: Returns outwards ( 7,000)
Goods available for sale 368,000
Less: closing stock 55,000
Cost of goods sold 313,000
Gross profit c/d 103,000
Expenses 416,000
Carriage outwards 10,000
Discount allowed 4,000
Bad debts 15,000
Net profit c/d 88,000
117,000
Sales 420,000
Less: returns inwards 4,000
Net sales 416,000




416,000
Gross profit b/d 103,000
Discount received 14,000


117,000
Net profit b/d 88,000

Atiti Traders
Balance sheet
As at 31/12/2021


Fixed Assets
Premises 100,000
Furniture 25,000
Motor vehicle 130,000
Current Assets
Debtors 50,000
Stock 55,000
360,000
Capital 250,000
Add:Net profit 88,000
Less Drawings ( 33,000)
Short term Liabilities
Creditors 55,000


360,000

Reducing spending in order to reduce demand for goods.
Controlling foreign exchange.
Controlling the level of exports
Sale of treasury bonds/government securities
Institute price control on specific industries.
Control consumptions of imports.

Language barrier

Poor listening
Noise
Negative attitude
Prejudgment

Possible tax evasion
Discourages savings
Discourages work
Discourages Investment
Not imposed on all citizens.
May inconvenience the tax payer.

When there is a government policy restricting formation of only a single firm.
When the size of the market is small.
Incase a firm controls an important input in production.
When a firm owns the production rights
Where a group of firms combine to act as one.
Where the initial capital is very high.
When there is additional costs by other firms.