INSTRUCTIONS TO CANDIDATES
This paper consists of TWO Sections A and B.
Answer all questions in section A.
Answer 6 and any other TWO questions from section B.
All questions must be written.
SECTION A
Name two horticultural crops grown in Kenya (2mks)
State three reasons why horticulture is more developed in the Netherlands than in Kenya. (3mks)

Name two breeds of dairy cattle reared in Kenya (2mks)
State three factors which favour dairy farming in Denmark (3mks)

Name two conditions that are necessary for the formation of petroleum (2mks)
List three ways in which opencast mining affects the environment. (3mks)

State three physical conditions that favour sugar cane growing in the lake Victoria basin in Kenya (3mks)
State two problems experienced in sugar cane farming in Kenya (2mks)

State two characteristics of the cottage industry in India. (2mks)
Name three agricultural non-food manufacturing industries in Kenya. (3mks)
SECTION B
Answer questions 6 and any other two other two questions from this section.
The table below shows four principal crops produced in Kenya in the years 2000 - 2001. Use it to answer question (a) and (b).


| | | |
| --- | --- | --- |
| CROP | AMOUNT IN | METRIC TONS |
| | 2000 | 2001 |
| Wheat | 70,000 | 130,000 |
| Maize | 200,000 | 370,000 |
| Coffee | 98,000 | 55,000 |
| Tea | 240,000 | 295,000 |

Source: Central Bureau of statistics

Using a scale of 1 cm to represent 50,000 metric tons, draw a comparative bar graph based on the data above. (8mks)
State two advantages of using comparative bar graphs (2mks)

Calculate the percentage increase in wheat production between the years 2000 and 2001. (2mks)
State five physical conditions required for the growing of tea in Kenya (5mks)
Explain four problems experienced in small scale tea farming in Kenya (8mks)

Define the term tourism. (2mks)
Name three tourist attraction found in the Rift valley province of Kenya.(3mks)

Explain three factors which hinders the development of domestic tourism in Kenya. (6mks)
Explain three problems experienced by the Kenya government in its effort to conserve wildlife.(6mks)
Explain four factors which have made Switzerland a major tourist destination in Europe.(8mks)

Differentiate forestry and afforestation. (4mks)

Give three soft woods trees which grow in the forest reserves of Canada.(3mks)
State four characteristics of planted forests in Kenya. (4mks)

Compare forestry in Kenya and Canada under the following sub – topics

Growth (2mks)
Harvesting (2mks)
Marketing (2mks)

State four measures taken by the Kenyan government to conserve forest.(4mks)
The students of Mawego mixed secondary school are planning to carry out a field study on forestry in wire forest in Homabay County.

State two objectives for their study. (2mks)
Formulate two hypothesis for their study. (2mks)

Define the term fisheries (2mks)
Name two countries in Southern Africa that are important for marine fish production (2mks)

Explain four factors that favor the fishing industry in Japan (8mks)
Describe purse seining as a method of fishing (6mks)

State four problems experienced in the marketing of fish in Kenya (4mks)
State three ways in which the Kenya Government is promoting the fishing industry in the country (3mks)

Name two geothermal power stations in Kenya (2mks)
Explain three physical factors that influence the location of Geothermal power stations (6mks)

State three negative effects of energy crisis (3mks)
Explain four measures taken by the Kenyan Government to manage and conserve energy (8mks)

State three challenges facing energy management in Kenya (3mks)
State three disadvantages of natural gas (3mks)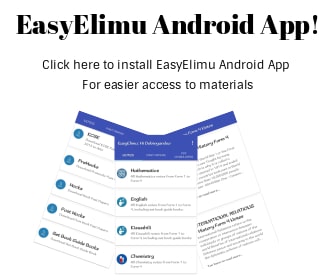 ---
MARKING SCHEME
Vegetable / tomatoes / onions / carrots.(allow any correct vegetable(1mk)
Fruits / oranges , pineapples, plums, mangoes (allow any correct fruit)
flowers, roses,carnition(allow any correct flower) 1 mk)

Netherlands has a higher urban population than Kenya / there is high demand both local and foreign for horticultural crops products in Netherlands than in Kenya.
Farmers in Netherlands have more access to the capital needed for horticultural farming than in Kenya.
There is more advanced and appropriate technology in Netherlands which has enhanced horticulture farming than in Kenya.
Netherlands unlike Kenya has highly skilled labour for production and handling of agricultural products.
There is more advanced horticultural farming related research in the Netherlands than in Kenya.
Netherlands unlike Kenya has well organized marketing procedures / co-operatives / auction markets which are conducive for horticultural farming. (any 3 well compared points 3x1(3mks)

Guernsey
Jersey
Friesian
Ayrshire

well-developed co-operative movement which ensure supply of very high standard of product
Availability of market for dairy produce
Extensive use of artificial insemination which improve quality of breeds
Cool to warm temperature which facilitate pasture
Handy fodder/ pasture which leads to high milk production
Advanced technology which improve production and storage of pdts

Presence of sedimentary rocks
Presence of organic remains/fossils
Presence of pressure to compress or organic remains
Presence of porous rocks.

It causes water, air pollution/noise pollution
It leads to soil erosion
Dumping of heaps of rock waste litters the surface
Water collects in the open pits forming breeding ground for mosquitoes/pests
Destruction of biodiversity (plants and animals)

High temperature /ranging from 20°C – 27°C
High rainfall / 1000mm – 2030 mm per year.
Well – distributed rainfall throughout the year.
Gently sloping landscape .
Deep well drained soils
Dry sunny spell for sugar accumulation

The crop is attacked by diseases such as ratoon stunting, smut leaf spot and pests such as termites and moles
Fluctuation of sugar prices in the world market.
Poor roads that delay delivery of cane to factory
Mismanagement of sugarcane co-operatives
Inaccessibility to credit / inadequate capital.
Expensive prices of inputs e.g. fertilizer, pesticides that lower profit margin
Delayed payments which lowers farmers morale

The industry is owned by individuals, families or group
Locally available raw materials are used.
Labour is provided by individuals or members of the family.
Simple tools are used.
The industry is labour intensive.
Little capital investment is required.
The products are mainly sold to the local market.
The industries are found almost throughout the country.
Craftsmen and women are very skilled.
The industry operates in small workshops and in homes 2mks)

Footwear production.
Soap manufacturing.
Tobacco processing.
Sisal processing or rope-making.
Leather tanning.
Textile manufacturing.
Beeswax processing.
Pyrethrum processing.
Sawmilling or pulp and paper making.
(any3x1=3mks)
SECTION B
They allow ease in comparison interpretation.
They give clear visual impression
They are easy to read
They easily show the trend of the given data.
Easy to draw / construct
(Any 2x1 = 2mks)

130,000


- 70,000


60,000


60,000

x 100 = 85.7% 2mks
70,000

Cool / warm climate / condition. 10°c to 28°c throughout the yeaR
High rainfall/ 1000 – 2000 mm per year.
Well distributed rainfall through the year.
Areas the are frost – free
Deep light and well drained soils
Gently sloping / undulating land
Acidic / Volcanic soils / ph of 4 – 6
High altitude / 100 m – 2300m a.s.l
(Any 5 x 1 (5mks)

Delayed payments / low payments that lowers the morale of the farmers
Poor feeder roads in the tea growing areas lead to delays in collection / delivery of the green leaf hence wastage.
Adverse weather conditions such as long droughts / hale storms lead to destruction of the crop / lower production.
Fluctuation of prices in the world market makes it difficult for the farmer to plan ahead/ lower morale/ discourages farmers
High production costs due to high prices of farm inputs leads to lower yields since most farmers cannot afford to buy them
Pests/ Fungal diseases destroy crop/. Reduce yields ( pests e.g. red spider-mites, weevils and beetles), termites, nematodes.
Inadequate/ unreliable transport facilities delays the collection/ delivery of green leaf reducing the quality.
Labour shortage/ expensive labour leads to low products/quality.3x2=6mks

Tourism is the visiting of places of interest for recreational purposes

The varied relief features.
Wild animals
Birds / flamingos
Hot springs / Geysers / Fumaroles /Geothermal
Vegetation
People culture
Pre- historic sites /Historical sites e.g. Kapenguria
Mining sites
Sports tourism e.g. fishing

The roads leading tourist sites are poorly maintained. Discourages people from visiting such sites.
Inadequate local compaign and advertisement of tourist attractions/ special packages leads to low public awareness.
Familiarity with the tourist attraction among the local people makes them fail to appreciate their beauty and value
Negative attitude towards local tourism limits the number of people who engage in tourism.
Insecurity from gangsters/ poachers in national parks and game reserves scare people away from visiting them.
The high cost of accommodation in the game lodges discourages local tourism / the high cost of hiring tourism vehicles discourages people from touring / low income.
3x2=6mks

Illegal hunting / poaching of wild game threatens the conservation efforts leads to the extinction of some species of animals.
Overstocking of some wild animals leads to destruction of natural environment through over-grazing.
Frequent drought experienced in some of the national parks and reserves leads to loss of animals through starvation and death.
Straying wild animals from the parks to settlement leads to destruction / high cost of fencing.
Inadequate capital limits government conservation efforts / over reliance on foreign donor.
Rapid human population growth leads to the encroachment of games parks and reserve.
Pollution of the environment leads to death of wild animals.
Fire outbreaks destroy wildlife.
3x2=6mks

Favourable climate; with warm sunny summer which allow swimming and sun bathing and cold winters which encourages winter sports such as skiing.
The varied scenery consisting of snow – capped mountains, cascading waterfall and glaciated landscape provides varied tourist attraction which are lacking in other parts of Europe.
Political neutrality of Switzerland removes any travel restrictions to the country as a tourist destination.
Diversity of languages spoken in Switzerland makes it possible for tourist to communicate and move around the area.
Well- developed transport network tourist sites provide easy accessibility.
Advanced training in tourist industry enables Switzerland to provide the necessary services to tourist thus attracting more to the country / package tours services offered e.g. hotels.
Availability of health resorts.
Inherent hospitality of Swiss people encourage tourist to visit Switzerland.
Well-developed financial institutions (Banks) have promoted easy transaction, hence encouraging tourist to Switzerland.
Switzerland is HQ of several international agencies; this has lead to the influx of delegates to the country later turn to tourist.
4x2=8mks

Forestry is the science / practice of planting, cultivating, developing and management of forests/ tree farming while afforestation is the planting of trees generally in an area which has not had trees in the past. 4mks

Western red Cedar
Douglas fir
Pine
Spruce
Larch
Hemlock
3x1=3mks

Trees appear in rows
Trees are of the same species/
Little / no undergrowth
Trees take short time to mature
Trees appear in blocks of different stage / age
4 x1 =4mks

Growth

Severe cold in Canada show slow down growth of trees hence take long to mature while in Kenya trees mature faster due to cool climates in the highlands. 2mks

Harvesting

In Canada harvesting is done through clear cutting while in Kenya selective cutting is used.
In Canada harvesting is done in summer while in Kenya it takes place throughout
In both cases machines are used for logging. 2mks

Marketing

Most of Canadas wood products are exported to USA/ Britain/ Europe while wood products in Kenya are sold locally with few being exported to USA and Europe. 2mks

Agro forestry programmes
Public awareness and education through mass media
Establishment of forest research stations
Afforestation and reafforestation programe
creation buffer zone
Enactment of legislation governing forest conservation

To find out the species of tree found in the forest
To find out the importance of the forest to the community around it

The main species of tree in the forest are cedar,pine and podo
Trees provide wood fuel to the community living near the forest

Define the term fisheries
Fisheries are water bodies where exploitation of aquatic organisms is carried out. (2mks)
Name two countries in Southern Africa that are important for marine fish Production

South Africa
Angola
Namibia
( Any 2 x 1 = 2 mks)

factors that favour the fishing industry in Japan

The cool waters are ideal for fish breeding because of the abundant supply of plankton / fish food
The coast has many off- shore islands which provide sheltered inlets ideal for the establishment of fishing port/ villages
The indented coastline provides secure breeding grounds for fish
The meeting of the warm Kuro Siwo and the cold Oya Siwo Ocean currents result in upwelling of the sea water thus bringing minerals for the planktons from the sea bed to the surface
The mountainous nature of the country restricts agricultural activities hence fishing is an alternative economic activity
Most settlements are found along the coast and main occupation of the people there is fishing
The Japanese have advanced technology that is used in fishing, processing and preservation of fish
Japan has a large population which provides ready local market for fish.
Japanese have a long history of sea faring thus are highly experienced in fishing
The shallow continental shelf allows light to the sea bed for growth of micro- organisms which are food for fish
The cool waters encourages thriving of numerous species of aquatic life.
( Any 4 x 2 = 8 mks)

It uses two boats, one large and one small
It uses a large net
The net has floats on top and weights at the bottom to keep it in a vertical position while in water
The net has a string along its bottom edge
The fishermen begin by locating a shoal/ area rich in fish
The small boat drags the net to enclose the area that has fish
The string at the bottom of the net is pulled to close the net at the bottom and trap the fish
The net is pulled out of the water and fish hauled into the large boat for preservation and transportation to the shore.
( Any 6 x 1 = 6 mks)

problems experienced in the marketing of fish in Kenya

Some fishing areas are far from the markets and roads are in poor condition thus fish goes bad enroute
Fishermen lack appropriate storage and preservation facilities
There are limited local markets due to cultural beliefs
The external markets are limited by tight restrictions/ competition from other producers
The limited number of fish species limits the market
( Any 4 x 1 = 4 mks)

ways in which the Kenya government is promoting fishing industry in the country

Fishermen are given loans
Fishermen are encouraged to form cooperatives
Research is carried out/ the over – fished are re- stocked with fingerlings
There is standardization of the size of nets used in fishing
There is restriction of fishing from some specific parts of the sea where fish breeds
Laws have been enacted against water pollution to protect fish
Clearing of water hyacinth from the fresh water fisheries
( Any 3 x 1 = 3 mks)

Presence of super heated water/ steam from underground rock
The amount of steam is of high temperature and pressure to turn the turbines
Presence of a hard basement rock to support the plant.
(Any 2x3 = 6mks)

Energy crisis leads to increase in prices of imports and other locally manufactured goods.
Third world countries spend huge sums of money on importation of crude oil.
Affects balance of trade since earnings from exports will be lower than imports.
Result into inflation since government passes the costs to consumers.
Oil crisis lower the GDP of the third world countries since there will be more expenditure than investments.
It causes the recession making an economy unable to create more jobs.
Causes a rise in the living standards of people.
Increased production costs in other industries.

Reducing the consumption rate energy by encouraging people to put off electricity when not in use.
Rationing of power by distributing company.
Encouraging the use of public vehicle, proper maintenance of vehicle to cut down the amount of petroleum consumed.
Encouraging the use of alternative source of energy like biogas and solar energy that can be renewed hence saving on non –renewable energy sources.
Ensuring the development of energy savings devices like jikos which use wood / charcoal.
Development of industrial machines which can coal that is cheaper as an alternative form of energy.
Reduction of taxes on gas and solar panels to cut down on the use of wood fuel.

Illegal logging as people are still destroying forests even with the strict policies to protect forests.
Failure to hold aggressive campaign for rise of other alternatives sources of energy like biogas and wind.
Poverty has also contributed to energy management problems as many people use wood fuel since it is the cheapest option.
In rural areas wood fuel is most known source of energy, gas electricity, biogas, solar are unknown to people.

It is an exhaustible source of energy.
Since it is highly flammable, any leakage may lead to an explosion
An expensive source of energy especially to low income earners.
It is a pollutant and very dangerous.