Instructions to candidates
Write your name and class in the spaces provided above.
Sign and write the date of examination in the spaces provided above.
Answer ALL questions in the spaces provided.
Additional pages MUST NOT be inserted.
Candidates will be penalized for incorrect spelling especially of technical terms and for use of slovenly language
You are required to spend the first 15 minutes of the 1¾hours allowed for this paper reading the whole paper carefully before commencing your work.
For Examiner's Use Only
| | | |
| --- | --- | --- |
| Question | Maximum Score | Candidate's Score |
| 1 | 16 | |
| 2 | 15 | |
| 3 | 09 | |
| Total score | 40 | |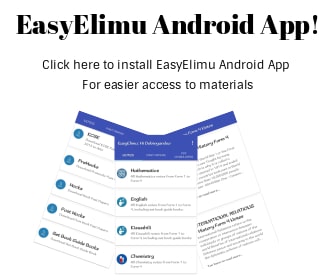 ---
QUESTIONS
You are provided with two pieces of specimen K which is a plant structure, a scalpel blade and two solutions labeled L1 and L2.With one of the pieces of specimen K held vertically, place the blade edge at the top centre of the specimen as illustrated below

Smoothly cut the piece longitudinally through the centre in the direction of the arrows as illustrated above up to approximately half the length of the plant structure. Place this partially cut piece in solution L1. Repeat the procedure with the second piece of specimen K and place this second piece in solution L2. Allow the set ups to stand for 45 minutes and then remove the pieces of specimen K and wipe off excess solution using tissue paper.

Observe and draw illustrations showing the results of the two experimental set ups (2 marks)
Piece from solution L1

Piece from solution L2


In one word in each case, describe the texture of each of the pieces of specimen K (2 marks)
Piece from solutionL1
……………………………………………………………………………………………………………
Piece from solution L2
……………………………………………………………………………………………………………
Account for the results of the set up in solutionL1 (3 marks)

You are provided with a solution labeled N which is a food sample, solution H- Benedict's solution, solution G-Iodine solution, and solution F whose identity is unspecified

Conduct food tests using the reagents provided and complete the table below (4 marks)


| | | | |
| --- | --- | --- | --- |
| Test | Procedure | Observation | Conclusion |
| | | | |
| | | | |

Place 2cm3 of solution N in a test tube. Add 1cm3 of solution F. Place the mixture in a water bath maintained at 400C for 30 minutes and repeat Benedict's test on the resultant mixture. State your observations and conclusions (2 marks)
Observations
…………………………………………………………………………………………………………… ……………………………………………………………………………………………………………
Conclusion
……………………………………………………………………………………………………………
……………………………………………………………………………………………………………
Give the identity of solution F (1 mark)
……………………………………………………………………………………………………………
Account for the results in (b)(ii) above (2 marks)

Study photograph A below which shows a plant specimen and an associated sisal pole and answer the questions that follow



What name is given to the coiled part of the plant specimen shown in photographA? (1 mark)
Name the type of response exhibited by the coiled part of the plant specimen in photograph A (1 mark)
Specify the stimulus responsible for the response named in (a)(ii) above (1 mark)
Explain how the response exhibited by the coiled part of the plant specimen in photograph A occurred (3 marks)
State the biological significance of the response described in (iv) above to the survival of the plant (1 mark)

Study photographs B1 and B2 below carefully and answer the questions that follow. The part in B2 was extracted from the specimen inB1



Identify the agent of pollination of the specimen shown in the photographs above (1mark)
Give a reason for your answer in (b)(i) above (1mark)
Describe the pistil of specimen B1 (2 marks)
What is the name given to the type of pistil found in specimen B1? (1 mark)
Describe the external features of the leaves of the plant from which specimen B1 was obtained (3marks)

The three living organisms shown in the photographs below are often found in the same ecosystem.



Name the trophic level identified by the antelope. Give a reason. (2 marks)
Draw a pyramid of biomass for the three organisms in the ecosystem (3 marks)
Explain the differences between the biomass of lions and antelopes in the ecosystem. (2marks)
Hyenas are also often found in this ecosystem. Name the trophic level (s) that they occupy. Give a reason to support your answer. (2marks)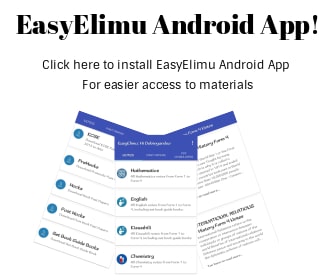 ---
MARKING SCHEME
You are provided with two pieces of specimen K which is a plant structure, a scalpel blade and
two solutions labeled L1 and L2.With one of the pieces of specimen K held vertically, place the
blade edge at the top centre of the specimen as illustrated below

Smoothly cut the piece longitudinally through the centre in the direction of the arrows as illustrated above up to approximately half the length of the plant structure. Place this partially cut piece in solution L1. Repeat the procedure with the second piece of specimen K and place this second piece in solution L2. Allow the set ups to stand for 45 minutes and then remove the pieces of specimen K and wipe off excess solution using tissue paper.

Observe and draw illustrations showing the results of the two experimental set ups(2 marks)
Piece from solution L1

Piece from solution L2

In one word in each case, describe the texture of each of the pieces of specimen K(2 marks)
Piece from solutionL1
Firm/stiff/rigid/hard
Piece from solution L2
Soft/ flexible/flabby/limber
Account for the results of the set up in solutionL1 (3 marks)
Epidermal cells on outer surface of the split have cuticle hence absorb water slowly by osmosis. The cortex cells lack cuticle and absorb a lot of water by osmosis and expand or become turgid. Differential expansion of epidermal cells and those of the cortex results in the outward curvature of the split ends.

You are provided with a solution labeled N which is a food sample, solution H- Benedict's solution, solution G-Iodine solution, and solution F whose identity is unspecified

Conduct food tests using the reagents provided and complete the table below (4 marks)


| | | | |
| --- | --- | --- | --- |
| Test | Procedure | Observation | Conclusion |
| Iodine test | To about 2 ml of specimen N add 3 drops of iodine solution and mix | Blue-black solution | Starch present |
| Benedict's test | To about 2ml of solution N, add 2ml of Benedict's and heat to boil. | Blue colour | Reducing sugar absent |

Place 2cm3 of solution N in a test tube. Add 1cm3 of solution F. Place the mixture in a water bath maintained at 40ºC for 30 minutes and repeat Benedict's test on the resultant mixture. State your observations and conclusions (2 marks)
Observations
Green/yellow/orange/brown colour
Conclusion
Reducing sugar present
Give the identity of solution F (1 mark)
Amylase/Diastase
Account for the results in (b)(ii) above (2 marks)
Diastase hydrolyses/ breaks down starch to maltose which is a reducing sugar

Study photograph A below which shows a plant specimen and an associated sisal pole and answer the questions that follow



What name is given to the coiled part of the plant specimen shown in photographA? (1 mark)
Thigmotropism/ Haptotropism
Name the type of response exhibited by the coiled part of the plant specimen in photograph A (1 mark)
Tendril
Specify the stimulus responsible for the response named in (a)(ii) above (1 mark)
Contact
Explain how the response exhibited by the coiled part of the plant specimen in photograph A occurred (3 marks)
Contact causes migration of auxin to the side away from the support. Higher auxin concentration stimulates faster cell elongation leading to coiling.
State the biological significance of the response described in (iv) above to the survival of the plant (1 mark)
Exposes the plant being supported to maximum light for photosynthesis/ flowers in a position for effective pollination/ fruits in a position for effective dispersal.

Study photographs B1 and B2 below carefully and answer the questions that follow. The part in B2 was extracted from the specimen inB1



Identify the agent of pollination of the specimen shown in the photographs above (1mark)
Insects
Give a reason for your answer in (b)(i) above (1mark)
Brightly coloured petals/ large conspicuous petals.
Describe the pistil of specimen B1 (2 marks)

Ovary superior/hypogynous –Long white style
Style brances near the tip –Red round stigma

What is the name given to the type of pistil found in specimen B1? (1 mark)
Polycarpous
Describe the external features of the leaves of the plant from which specimen B1 was obtained (3marks)

Network of veins/reticulate
Serrated margin
Pointed apex

The three living organisms shown in the photographs below are often found in the same ecosystem.



Name the trophic level identified by the antelope. Give a reason. (2 marks)
Primary consumer
Draw a pyramid of biomass for the three organisms in the ecosystem (3 marks)

Explain the differences between the biomass of lions and antelopes in the ecosystem. (2marks)
Part of the food eaten by the lion passes out as indigestible matter and is removed in faeces hence a small portion of food eaten is incorporated into the body tissues
Hyenas are also often found in this ecosystem. Name the trophic level (s) that they occupy. Give a reason to support your answer. (2marks)
Secondary and tertiary consumers- Feed on flesh of other animals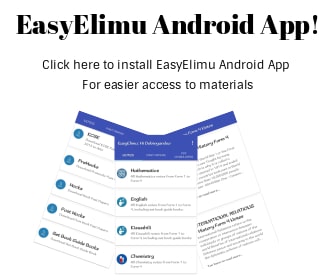 ---
CONFIDENTIAL
-L1- Distilled water
L2- concentrated salt solution
Piece of tissue paper
Scalpel
Means of timing
Means of heating
Solution N- starch solution
Solution F- Diastase
Solution H- Benedict's solution
Solution G- Iodine solution
4 test tubes in a rack