Instructions to students
Write your name, admission number and class in the spaces provided.
Sign and write the date of the examination in the spaces provided.
Answer all questions in the spaces provided
All your answers must be written in the spaces provided in this question paper.
This paper consists of 2 printed pages.
Candidates should check the question paper to ascertain that all the pages are printed as indicated and that no questions are missing
Candidates must answer all questions in English
| | | | |
| --- | --- | --- | --- |
| Question | Maximum Score | Student's Score | Examiner's Initials |
| 1 | 20 | | |
| 2 | 20 | | |
| 3 | 20 | | |
| TOTAL | 60 | | |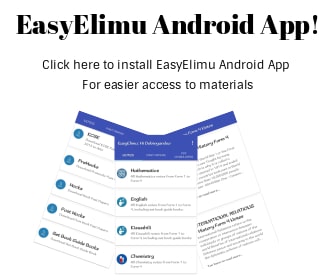 ---
QUESTIONS
Imaginative composition. (Compulsory) (20 marks)
Either

Write a composition beginning with the following.
I had never found myself in such a situation before…
OR
Write a composition describing a memorable trip

Compulsory Set Text
Blossoms of the Savannah by Henry ole Kulet.
In a male-dominated society, only women who are resilient in character overcome the hurdles placed on their paths. Write an essay justifying the assertion with clear illustrations from Henry ole Kulet's Blossoms of the Savannah. (20 marks)
Optional set text

The Short story:
Memories We Lost and Other stories ED. Chris Wanjala
"Even when it seems impossible we should not despair trying to help those suffering from strange illness." Write an essay in support of the above statement drawing your illustrations from the story 'Memories We Lost' by Lidudumalingani Mboqothi. (20 marks)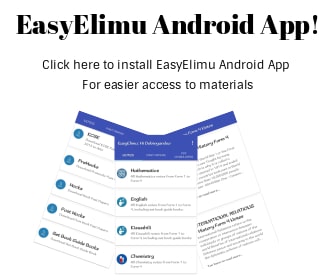 ---
Marking Scheme
Write a composition beginning with the following,

I had never found myself in such a situation before…

Should begin with the words (if not -2AD)
Should be a story
The situation should either be good or bad
There should be a moral
OR

Write a composition describing a memorable trip.
It should be
Compulsory Set Text
Blossoms of the Savannah by Henry ole Kulet.
In a male-dominated society, only women who are resilient in character overcome the hurdles placed on their paths. Write an essay justifying the assertion with clear illustrations from Henry ole Kulet's Blossoms of the Savannah. (20 marks)

Point of interpretation
Character
Their resilience
Background information
Details on the challenges and their resilience
Success (outcome)
Introduction
In the Blossoms of the Savannah, women who are resilient and determines no matter the challenges always succeed in the end.
Resian is determined to go to the university. She has desires to join Egerton University and pursue veterinary Science. (18) She constantly asked Yeiyo amd Taiyo to talk to their father. (183)Her father, Ole Kaelo prefers marrying Resian off to Oloisudori to educating her. (101, 169, 185-197,203-209) She manages to escape and get to Emakererei (262)
Resian is determined to fight off being married forcefully to Oloisudori, despite the father's and Oloisudori's insistence. (101. 169, 185-197, 203-209) she manages to escape their plans by the help of Olarinkoi(209) and even gets to Minik's ranch (262) who protects her from the clutches of oloisudori.( 282-284)
Minik ene Nkoitoi, Emakererei, is focused on rescuing the girl–child from the FGM practice. The society values this practice and one who has not undergone it is deragoratorilly called ntoiye she's been considered as a wasp( 21-22, 52) she saves th girls at her ranch (21, 265-284)
Minik ene Nkoitoi has set her eyes on educating the girl-child despite the resistance from the Nasilian male-chauvinists.
Resian fights olarinkoi from raping her. He worms into their family doing odd jobs (67,74) and wins the girls's trust by protecting them from the vagabonds( 140-143) she uses that fact to lure resian to his place (209) and tries to rape her and also forces to marry her (218-222) she escapes to Minik's place( 262)
Nabaru fights for Resian against Olarinkoi and his mother to get her Emakererei. Nabaru takes care of resian when she's hurt( 224-233) she helps her escape to Nabaru's (245-253)
In conclusion, one needs to beat all odds to achieve their dreams
Question 3
The Short story:
Memories We Lost and Other stories ED. Chris Wanjala
"Even when it seems impossible we should not despair trying to help those suffering from strange illness." Write an essay in support of the above statement drawing your illustrations from the story 'Memories We Lost' by Lidudumalingani Mboqothi.

Point of interpretation
Character
Instance of hope
Background detail
Details about the optimism
Outcome (success)
Introduction
In the story, Memories We Lost by Lidudumalingani Mqombothi, characters should not give up hope in helping their loved especially the ones who are mentally ill. For instance, mother keeps on getting more medicine from the Sangomas in hope that the girl will get better.
Point of discussion
Mother looks for the narrator's sister the whole night till she find her without giving hope (pg 10-11)
The narrator devises a way of disposing the arsenal of drugs in hope of getting her sister back (13-14)
The narrator plays truant so as for the sister to catch up with her in school (12-13)
The narrator walks with the sister for a long time to escape from the Nkunzi so as to get her help (17-18)
The narrator lies to the sister about the hot porridge instance. (12)
She devises a language to communicate with the sister (14)
In conclusion, we ought to care and love our loved ones who are unwell.