SECTION A: (25 marks)
Answer all the questions in this section.
Define the term environment. (2 marks)
Give three effects of air pollution in major urban areas. (3 marks)

Identify three factors that influence the occurence of minerals. (3 marks)
Name the area where the following minerals are mined in Kenya.

diatomite; (1 mark)
salt. (1 mark)

Distinguish between forest and forestry. (2 marks)
Identify three activities that may be undertaken in your school to conserve trees. (3 marks)

Give four challanges facing Nomadic pastoralism in Kenya. (4 marks)
Use the map of Kenya below to answer question (a)




Name the hydro-electric power projects marked E, F and G. (3 marks)
State three advantages of geothermal power as a source of energy. (3 marks)
SECTION B: (75 marks)
Answer question 6 and any other two questions in this section.

The table below shows the value of some of Kenya's mineral exports from 2008 to 2011. Use it to answer questions (a) and (b).



Using a scale of 1 cm to represent 1 000 million Kenya shillings, draw a comparative bar graph to represent the data shown. (8 marks)
State three advantages of using comparative bar graphs to represent statistical data. (3 marks)

Calculate the percentage increase in value of exports between the years 2010 and 2011. (6 marks)
Explain the significance of trade to the economy of Kenya. (8 marks)

State three physical conditions which favour large scale sugarcane groing in Kenya. (3 marks)

Describe the stages involved in the processing of sugarcane at the factory. (6 marks)
Give three by-products obtained from sugarcane. (3 marks)

Differenciate between domestic and international tourism. (2 marks)
Use the map of East Africa below to answer question (b).

Name:

The national parks marked H, J an K. (3 marks)
The game reserve marked L. (1 mark)

Explain how the following factors influnce tourism in Kenya.

climate; (2 marks)
scenery; (2 marks)
tour companies. (2 marks)

State five effects of floods on tourism. (5 marks)

Explain four ways in which the county governments in Kenya would promote substainable tourism. (8 marks)

Use the map of Africa below to answer question (a)


Name the trans-continental highways marked M, N and P. (3 marks)

State four advantages of air transport. (4 marks)
Explain four efforts that the Kenya Government has taken to mprove air transport. (8 marks)

Identify two types of communication. (2 marks)
Explain four problems facing communication in Africa. (8 marks)

Give two main sources of population data. (2 marks)
Outline the information that can be derived from a population pyramid. (3 marks)

Explain how the following factors have led to population icrease in Kenya

cultural beliefs; (2 marks)
migration. (2 marks)

Explain four problems which result from a high population growth rate in Kenya. (8 marks)
Describe four ways in which the population of Kenya differs from Sweden. (8 marks)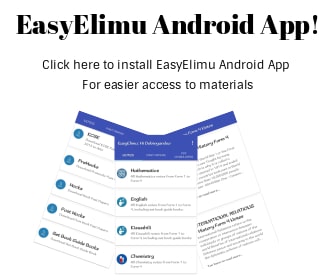 ---
MARKING SCHEME
Define the term environment
It is the sum of all the external conditions/influences affecting the life/development of organisms. (2 marks)
Give three effects of air pollution in major urban centres

causes poor visibility/haze/smog
causes respiratory diseases/skin cancer in humans
leads to acidic rain
causes increase in air temperature
causes stunted growth in plants
Any 3 x 1 = (3 marks)

Identify three factors that influence the occurrence of minerals

vulcanicity
metamorphism
denudation/weathering/erosion
earth movements/folding
evaporation
sedimentation/deposition
Any 3 x 1 = (3 marks)

Name the areas where the following minerals are mined in Kenya

diatomite - Kariandusi (1 mark)
salt - Magadi/Malindi/Ngoleni/ Magarice/Ngongori (1 mark)

Distinguish between forest and forestry
A forest is a continuous cover of trees over a large area while forestry is a science of developing/managing forests. (2 marks)
Identify three activities that may be undertaken in your school to conserve trees.

Planting trees/establishing a tree planting day within the school calendar.
Establishing tree nurseries
Establishing tree planting/environmental clubs to create awareness on conservation
Using alternative sources of energy
Taking care/protection of young trees/watering/that mulching
Using energy save jikos/stoves (vii) Using alternative sources of construction material
Pest/disease control
Any 3 x 1 = (3 marks)

Give four challenges facing nomadic pastoralism in Kenya

Shortage of water
Scarcity of pasture
Outbreak of animal diseases/rinderpest/foot and mouth/tripanosomiasis
Attacks by animal pests/ticks/tsetseflies
Inadequate veterinary services
Poor marketing strategies
Cattle rustling/raids/attacks by wild animals
Decrease in grazing land/competition from other land uses. Any 4 x 1 (4 marks)

Use the map of Kenya below to answer question (a)



Name the hydroelectric power projects marked E, F and G
Gogo(1 mark)
Sondu Miriu/Sangoro(1 mark)
Turkwel(1 mark)
State three advantages of geothermal power as a source of energy

It is a clean source of energy/non pollutant
The cost of production is low
It has minimal environmental degradation
It is a renewable source of energy
It is a reliable source of energy
Any 3 x 1 = (3 marks)
SECTION B
Answer question 6 and any other TWO questions in this section
The table below shows the value of some of Kenya's mineral exports from 2008 to 2011.
Use it to answer questions (a) and (b)



Using a scale of 1 cm to represent 1000 million Kenya shillings, draw a comparative bar graph to represent the data shown.

State three advantages of using comparative bar graphs to represent statistical data.

They give a clear visual impression on total values
They are easy to read/interpret the values for each bar
They are easy to compare the values of commodities
They can be used to represent a wide range of data
They are easy to draw/constuct
Any 3 x 1 = (3 marks)

Calculate the percentage increase in value of exports between the year 2010 and 2011
Soda Ash
Increase in value = 12,400 - 7,300 = 5,100
Percentage increase =

5,100

x 100=69.86% (2 marks)
7.300
Petroleum Products
Increase in value = 6,100 - 4,700 = 1,400
Percentage increase =

1,400

X 100= 29.79% (2 marks)
4,700
Cement
Increase in value 8,900 - 7,400 = 1,500
Percentage increase =

1,500

x 100=20.27% (2 marks)
7.400
Explain the significance of trade to the economy of Kenya

Transport and communication network has been improved to facilitate the movement of goods/services
Employment opportunities have been created leading to improved standard of living
Demand for goods/services has led to the expansion/establishment of industries
Taxation on goods/services has earned the country revenue
Trade has encouraged specialization which leads to production of quality good/ services
Trading activities have led to the development of settlements providing market for good/services
Export of goods and services earns the country foreign exchange used in developing other sectors of the economy
Trade between Kenya and other trading partners enhances economic cooperation/international understanding
Importation of good/services that are not locally available for development of other sectors of economy.
Leads to diversification of the economy hence increasing foreign/local earnings.
Trade stimulates exploitation of existing natural resources in order to have a wide range of exports.
Any 4 x 2 = (8 marks)

State three physical conditions which favour large scale sugarcane growing in ' Kenya

The presence of deep, well drained soil/black cotton /clay soils
High temperatures/between 21°C to 27°C
Gently sloping/undulating land which enables mechanization
High rainfall/1200mm to 1500mm, well distributed throughout the year
Sunny conditions for sugar accumulation.
Any 3 x 1 = (3 marks)

Describe the stages involved in the processing of sugarcane at the factory

The cane is received and weighed
The cane is washed and chopped into small pieces
The pieces are crushed to extract the juice
The juice is put into clarifiers to filter off the impurities
The juice is boiled to evaporate the water
The juice is further stirred in large tanks to allow crystallization
The crystals are separated from molasses
The sugar is breached to whiten
The sugar is then dried, cooled, graded, weighed and packed.
Any 6 x 1 = (6 marks)

Give three by-products obtained from sugarcane

Bagasse
Molasses
Cane juice
Filter cake/filter mud
Jaggery
Any 3 x 1 = (3 marks)

Explain three ways in which the Kenya Government is promoting the sugar industry

Establishment of Kenya sugar Board to advise on production/marketing of sugar
Restricting sugar imports to protect farmers from the flooding of cheap sugar
Establishing a scheme for small scale outgrowers in production/marketing of sugar
Enforcing law to protect the exploitation of farmers by brokers
Financing research for high yielding cane
Subsidizing farm inputs to lower the cost of sugarcane production.
Providing financial assistance to ailing sugar factories.
Any 3 x 2 = (6 marks)

Your class visited a sugarcane plantation for a field study on land preparation and planting of sugarcane

Outline four activities that you are likely to identify

Clearing of land Ploughing of the land
Preparing seedlings/cuttings/dipping setts in pesticide
Making furrows
Planting seedling/cuttings in the furrows
Weeding the crop/spraying with herbicides
Application of fertilizers
Harrowing
Irrigation
Any 4 x 1 = (4 marks)

Give three methods you would use to record data during the field study

Taking photographs
Tape recording/video recording
Drawing sketches
Notes taking
Filling in the questionnaire
Tallying Tabulating
Any 3 x 1 - (3 marks)

Differentiate between domestic and international tourism
Domestic tourism is the visit by people within their country for pleasure while international tourism is the visit by people away from their mother country to a given country for pleasure (2 marks)
Use the map of East Africa below to answer question (b)

Name:

the national park marked H, J and K
The game reserve marked L
H - Murchison falls/kabarega
J - Malka
K - Mari
L - Serengeti Selous

Explain how the following factors influence tourism in Kenya

Climate
Scenery
Tour companies
Climate
Kenya has a pleasant warm tropical climate/sunny conditions throughout the year that attracts tourists from temperate regions. (2 marks)
Scenery
Kenya has beautiful features such as lakes/mountains/the great rift valley/sandy beaches and vegetation that attract tourists.
Kenya has a variety of scenery that allow sports such as mountain climbing . fishing/skating/water skiing,
Any 2 x 1 = (2 marks)
Tour companies
The tour companies charter flights/organize package tours which lower the cost of travel for tourists /facilitates movement of tourists. (2 marks)

State five effects of floods on tourism

Inaccessibility to tourist sites
Migration of wild animals
Destruction of tourist sites/hotels/lodges
Disruption of communication systems
Loss of income by proprietors
Water related diseases in tourist areas
Drowning of people
Any 5 x 1 = (5 marks)

Explain four ways in which the County Governments in Kenya would promote sustainable tourism

Involving local communities in decision making to enhance positive perception on wildlife conservation
Fencing the parks (compensating persons aggrieved by wild animals) to minimise human-wildlife conflicts
Encouraging the use of alternative sources of energy/management of energy to reduce the destruction of natural ecosystem/animal habitat
Improving waste management to reduce contamination of the environment
Encouraging local tourism/lowering rates during the low season in order to have continuous use of tourist facilities
Conserving water to meet the needs of local communities/wildlife/tourists
Improve transport systems within their counties to facilitate movement of tourist
Advertise tourism activities within their county to increase awareness
Strengthening marketing/publicity of their tourist destinations to capture new sources of tourists
Enforcing by-laws to strengthen security in game reserves/tourist sites
Planting trees to help in the conservation of the environment
Encouraging community tourism/home stays in order to benefit from the tourism industry/enhance hospitality
Encouraging collaboration with the private sector to finance tourist activities.
Establishing new tourist attractions to create diversity
Modeling existing tourist facilities to attract more people/visitors.
Any 4 x 2 = (8 marks)

Use the map of Africa below to answer question (9)



Name the trans-continental highways in Africa marked M, N and )
M - The Great North Road
N - The Trans-Africa Highways
P - Algeria-Lagos Highway/Trans-saharan Highway

State four advantages of air transport

It is a fast means of transport
It operates on fixed schedules that allows for prior planning
It has a minimum risk/damage of cargo
It is the most comfortable means of transport over long distances
It has limitless scope of operations It allows access to remote areas
Any 4 x 1 = (4 marks)

Explain four efforts that the Kenya Government has taken to improve air transport

Expansion of existing airport/improvement of airport facilities to cope with increased air traffic
Training personnel in modern aviation technology to improve service, delivery
Promoting budget flights/package tours to lower the cost of travel/lower operational costs
Enhancing security around the airports to reduce crime/lower accident risks
Installing modern navigational equipment to increase efficiency in service delivery
Encourage partnership with established airlines in order to get capital for expansion of air transport.
Promotion of domestic air transport to maximise use of facilities.
Any 4 x 1 = (8 marks)

Identify two types of communication

Oral/verbal communication
Written communication
Visual/audio-visual communication
Sign language
Any 2 x 1 = (2 marks)

Explain four problems facing communication in Africa

Africa has rugged terrain/physical barriers which makes the installation of communication equipment difficult Africa lacks sufficient capital to buy/maintain the communication equipment
There is shortage of skilled human resource which has led to installation/ poor management of the communication systems
The countries have different communication policies making the interconnection difficult
Some countries have suffered periods of civil war/political unrest making it impossible to develop effective communication systems
Vandalism/destruction of communication equipment leads to great losses and discourages further development.
Low level of technology limits connectivity with other parts of the world
Any 4 x 2 = (8 marks)

Give two main sources of population data

National census/head count
Sample surveys
Vital statistics / Registration of birth/death/marriage/migration
Content analysis
Any 2 x 1 = (2 marks)

Outline the information that can be derived from a population pyramid

The size of population
The proportion of males and females
The proportion of youthful/working/ageing population
The composition of population by sex
The dependency ration Birth/death rate
Any 3 x 1 = (3 marks)

Explain how the following factors have led to population increase in Kenya

Cultural beliefs

Some cultures encourage large families due to preference of one gender to the other/prestige/wealth/source of labour some cultures discourage the use of contraceptives leading to couples getting many children.
Some cultures encourages early marriages hence a longer child bearing period. (2 marks)

Migration
Political instability in some neighbouring countries has led to an influx of refugees leading to population increase. (2 marks)

Explain four problems which result from a high population growth rate in Kenya.

Kenya experiences a high unemployment rate (due to inability to create job opportunities to match the rapid increasing population) leading to low standards of living.
There is a high dependency ratio which leads to low saving by workers.
Increased demand for social ammenities has led to strain/congestion.
The high demand for land has caused land fragmentation/landlessness/ destruction of forest land
The increased demand for food has led to food shortages.
Increased expenditure on social ammenities slows down economic growth.
Any 4 x 2 = (8 marks)

Describe four ways in which the population of Kenya differs from that of Sweden

The population of Kenya consists of mainly a large number of young people below 20 years of age while Sweden has an ageing population
Kenya's population has a relatively low life expectancy while Sweden has a high life expectancy
Kenya has a high population birth rate while that of Sweden is low
Kenya's fertility rate is high while in Sweden it is low
Kenya's death rate is high while that of Sweden is low
Kenya's population growth rate is high while that of Sweden is low.
Kenya has a high dependency ratio while in Sweden it is low.
Most of Kenya's population live in rural areas while in Sweden mostly they live in urban centres.
Any 4 x 2 = (8 marks)