Answer three questions only.
Imaginative Composition (Compulsory) (20 marks)
Either

Write a story that includes the following: a wallet, a letter and a reward.
OR
Write a composition on the effects of corruption on development, and explain what the Government of Kenya can do to end it.

The Compulsory Set Text (20 marks)
Margaret A. Оgola, The River and the Source
Contentment and humility are the secrets to happiness. Write a composition in support of this statement, drawing illustrations from The River and the Source.
The Optional Set Texts (20 marks)
Answer any one of the following three questions,
Either

The Short Story
Ilieva Emilia and Waveney Olembo (Eds.), When the Sun Goes Down and Other Stories from Africa and Beyond
Using illustrations from Rayda Jacob's short story, "The Guilt", write a composition to illustrate the truth that racism brings suffering to both the racists and those discriminated against
OR
Drama
Francis Imbuga, Betrayal in the City
Choices have Consequences. Using Francis Imbuga's Betrayal in the City, write an essay in support of the truth of this statement.
OR
The Novel
Witi Ihimaera, The Whale Rider
For centuries, humans have assumed there is a special link between them and nature. Refer to Witi Ihimaera's The Whale Rider, to defend this belief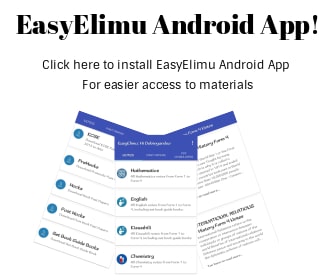 ---
MARKING SCHEME
POINTS OF INTERPRETATION: IMAGINATIVE COMPOSITIONS

Must be a story, if not deduct 4 marks AD. Each of the given items must be woven into the story to create an interesting account. (If not deduct 2 marks for missing item)
Where all three items are missing treat as gross irrelevancy
One or two items missing-deduct 2 marks (AD)
Put* (asterisk) for each item.
Expect an expository/ explanatory essay. Points should be explained as clearly as possible.
Possible Points
Effects of Corruption

Poor infrastructure
Increased poverty
Increased cost of goods and services
Poor medical services
Unemployment
Insecurity etc.
N/B: candidates can come up with other effects and solutions
Fighting Corruption
Creating transparency and openness in government spending
Paying civil servants well to prevent stealing of public funds/taking bribes
Use of technology to pay for goods and services, e.g. using internet or SMS to pay for parking fees O
Establishing a strong legal framework for dealing with corruption, e.g. Prevention Corruption Act of Kenya
Effective law enforcement to punish corruption
Corruption awareness campaigns
Empowering citizens to hold the government accountable for public spending
Closing international loopholes for money laundering and looting of state assets etc.
ESSAYS BASED ON SET TEXTS
Margaret A. Ogolo, The River and the Source

Introduction
Most people would agree that attaining happiness is their principal objective in life. However, few experience happiness because they seek it in the wrong ways and in the wrong places. Some think that accumulating property or becoming a celebrity or holding an important position will give them satisfaction. But one may achieve all these and remain restless and unfulfilled. In The River and the Source, the characters who are truly happy are simple, contented and humble. (Accept any other relevant introduction)
Body

Owuor Kembo is a simple, humble, good-natured person. Although he is a respected chief, he doesn't push his weight around. In spite of the pressure to marry other wives so as to get many children, he is contented in his monogamous state. He loves his wife and the couple have a happy home. We are told: "He had been a man with no complexity." (pp. 23-24, 30-31, 34, 37. 40,43-44,46-47, 50, 57-58, 142)
Akoko undergoes many tragic experiences. She loses her husband, her only son, her son-in-law and is so harassed by a malevolent brother-in-law that she has to leave. Nevertheless, she remains sober and dignified. She accepts what has happened and moves on. Even when times are tough, she doesn't give in to despair. She is a source of inspiration for others. When she is an old woman, we are told this about her: "........the ever serene Akoko now a grizzled old lady but still possessing the sweetest smile that ever lit a woman's face," (pp. 35-36, 42-43, 69-70, 73-74, 124-126, 130-133, 142, 144, 149)
Peter, Akoko's grandson is another character who experiences true happiness. He joins the priesthood and his desire is purely to serve people. His work is demanding and he has to make sacrifices but he is happy to do it. He never complains. We are told this about him:
"He had to celebrate Mass in various outflung places, attend to the sick and the dying, listen to confession, administer baptisms and generally make himself available to any troubled soul whatever the hour; but he was a happy man and became beloved of the people...." (pp. 120-121, 124-127, 153-154, 156-157, 307)
Vera is another character who has reason to gloat. She was a brilliant student and carried often trophy after trophy in her school." (p.173) "She was open and friendly and never put anyone down." She becomes school captain-a position no girl had held before. However, she remains down-to-earth. She loves her sister Becky-a very unpleasant human being - and even sacrifices! her position in a top national school in order to join her sister in an ordinary school. Vera is a happy person. She is concerned about people's needs and does her best to support them. Relating well with others is what gives her a sense of fulfillment. (pp. 173-175, 181, 195, 198-199, 211 216-227, 228-239, 269, 274-275)

Conclusion
Happiness can be elusive. Many pursue it and never find it. But there are some who are truly happy They seem to find happiness so easily, so effortlessly. Such people have some common traits: they are contented and try to make others happy. Even when they face difficulties, they do not become bitter. They overcome challenges and seek ways of making the world a better place for themselves and others.

The Short Story .


Introduction
Racism is the denial of rights, opportunities and services to a person or group of people on account of their race. Those who deny others their rights and opportunities live in fear of revenge, while the discriminated against live in frustration and anger. The emotions of fear, frustration and anger many times explode into violence, which affects both parties. This comes out very clearly in Jacob's Story, "The Guilt".

Body
In the story, Lilian Thurgood is a benefactor of the racist apartheid system but she lives in fear of black people. This is because the blacks live below the poverty line and have learned how to squeeze money from white people. (Accept any relevant introduction; 2 marks)

Lillian is afraid of a desperate mother and her babies who were walking around are looking for help on a rainy night.
Lilian spends money on flower seedlings she does not need because the seedlings vendortricks her and plants them even before she accepts to buy them. (p. 3-4)
Lillian is terrified by William who represents the extreme degeneration of the victim of racism and would have taken advantage of her if she did not have dogs and the gun.
Lilian is subjected to exploitation by a man who rings persistently at her gate in desperation because he feels Lillian is a benefactor of the old regime. (p.4)
(Expect 4 well developed points, mark 3:3:3:3; 12 marks)

Conclusion
Racism creates tension and suspicion among people. And although those who perpetrate it may assume a superior position, they too suffer because they live in fear of the people they oppress The victims of racism also suffer because they may be denied opportunities and privileges they are entitled to.
(Accept any other valid conclusion: grammar and presentation is 4 marks)

Drama
Introduction
When a person makes a choice to do something or even a choice not to do it, there will be consequences. If one, for example, chooses not to study for examinations, the consequences could be failure. In the play Betrayal in the City, a number of characters face the consequence: of their choices.
(Accept any relevant introduction; 2 marks)

Body

Adika chose to join the students' demonstrations and this led to his death that of his parents of the suspected killer. His brother ran mad; his lecturer was imprisoned and the lecturer's sister, Regina was beaten up. (pp. 1-8, 10, 11, 20, 24-25, 28-29, 32, 33, 34, 35, 60, 67-68,71 75)
Jusper chose to kill the person who was defiling his brother's grave. This led to his imprisonment and contributed to the killing of his parents.(pp. 2, 4-8, 11-12.20. 24.33)
Jere chooses to defy the orders to stop the shaving ceremony and this leads to his imprisonment and killing of the old couple. (pp.8-15, 16-19)
Mosese gave a piece of his mind to the politicians during Adika's burial. The consequence was that they planted drugs in his car and arrested him. The suffering he is subjected to in prison nearly makes him break down as indicated by the nightmares he has. In addition, his sister, Regina is beaten up, and when she tries to plead for his release she is nearly raped by Boss. (pp.10, 18-31, 34, 35, 45-46, 61, 64-65)
Kabito chooses to confront Mulili leading to his own death. (pp. 51-52, 54-57, 58-60)
Mulili makes the selfish choice of building his riches through lies and destruction of other people. He is directly responsible for the death of Kabito and the imprisonment of Jere. He thinks he can crook his way out by even betraying Boss but in the end he is shot by Ju(pp. 8-15, 22-23, 51-52, 54-60, 72-74)
Tumbo corruptly declares Jusper the winner of the play writing competition leading to the coup and the death of Mulili. (pp. 43-44, 46, 46, 48-50, 64-65, 69-74)

Conclusion
We should be very careful about the choices we make because whether we like it or not we reap what we sow. In Betrayal in the City, characters like Jusper, Mulili and Jere suffer consequences of their actions. (Accept any other valid conclusion; grammar and presentation is 4 marks)
(Expect 4 well developed points; mark 3:3:3:3; 12 marks; grammar and presentation, 4 mar)

The Novel
Introduction
In folklore, animals are accorded human characteristics as if to say they share our language and our feelings. And we assume that somehow we are related and that our fate is tied to their f This is what the Maori of New Zealand believed, if we assume as we should that the story of Ihimaera's The Whale Rider mirrors their oral literature and oral history.
(Accept any relevant introduction; 2 marks)

Body

The ancestor of the tribe at Whangara is believed to be Kahutia TeRangi. This ancestor came to the shores of New Zealand riding a male whale. This male whale is also regarded as an ancestor because without him the journey would not have materialized. Koro Apirana is the current chief of the tribe, and is believed to have inherited the mantle of this ancient Maori through the male line. Koro Apirana's son called Porourangi will inherit the throne. Unfortunately, according to Koro Apirana, Porourangi and his wife Rehua do not bear a son. They instead get a daughter as their first child. This child is named after the male ancestor of the tribe, Kahutia TeRangi. In the story, her name is shortened to Kahu. (pp. 2-5, 8-9, 1014-15, 20-21, 22-24, 110-115, 117-119) Kahu is named after the great ancestor Kahutia TeRangi who was brought to the community by a whale.
It so happens that Kahu develops a mystic connection with these large animals. When she is watching a film about whale hunting, she falls asleep. But she wakes up and starts crying when, "The soundtrack was suddenly filled with the sound of the whale in its death thrones (34). To make matters even more mystical, Kahu began "to make eerie sounds in her throat," of the type that she was hearing from the whales (35). Elsewhere, we're told she would make "mewing sounds" in imitation of the whales (pp. 33-35, 40-42). The events at the movies are critical, waking up, tears-mystic connection and effect of the events in the movie (death of the whales) on Kahu.
Kahu developed a spiritual affinity for the sea. When the grandfather throws a stone into the ocean and challenges the boys to go pick it up, it is the girl who, with the help of the dolphins, does just that. (pp. 70-73, 107, 116). Kahu seems to be communicating with the dolphins as they direct her to the place where the stone lay.
The most important demonstration of this mystic connection is when Kahu jumps onto the ancestral male whale which was stranded on the beach and leads him back into the sea. Kahu is later brought back to dry land by this same whale, which according to myth is the same one that brought the ancestor, the founder of the tribe. So, Kahu is demonstrably the new whale rider, contrary to the expectations of her grandfather. (pp. 100-107, 110-115,116-119, 120-122).
Kahuumblical cord is symbolically buried in the sight of Kahutia TeRangi's shrine, the great ancestor. It is hoped that the sea will provide Kahu with protection for the rest of her life. (pp 17-18)
There were great ceremonials between man and the sea especially on fishing. (pp. 32, 35, 38-39, 82-83, 94).
Moderation of fishing for posterity
Bounty harvest of fish-first catch offered to god- Lord Tangaroa
Talismanic offerings
Significant names for their fishing grounds
Stranded whales are helped out of their predicament by all people they are saved
Special areas where fish is bred.

Conclusion
The story of The Whale Rider is, therefore, proof of what humans have believed all along: that is the spiritual nexus between us and the animal kingdom. We hear in their cries and songs an attempt to reach out to us. And this is what Ihimaera so ably demonstrates in his novel. (Accept any other valid conclusion; grammar and presentation is 4 marks) (Expect 4 well developed points, mark 3:3:3:3; 12 marks; grammar and presentation, 4 marks)