SECTION A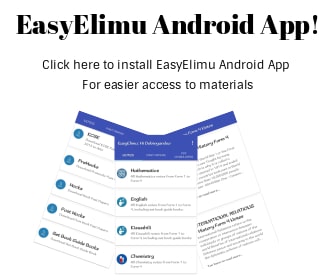 Enlarged hole allows more light to reach the screen ü½
Enlarged hole allows multiple images to beü½ formed on the screen hence overlapping images
 

5V
6V

 

 

a = 0
b = 0
Energy

 

 

lamps in parallel produce light of the same brightness
When lamps are in parallel, failure in one does not affect others
When the switch is closed, x-rays ionize the air particles between the plates, where the positive ions move to the negative plate, while negative ions move to positive plate, completing the circuit hence a deflection is seen on the milliameter 

This is because of most of the energy of the electrons that strikes the anode is converted into heat which causes the heating of the anode. 

 

V = 330ms-1
f = 0.44 kHz                                 
1kHz = 1000Hz
 f = (0.44 x 1000)Hz = 440Hz
λ=v/f=330/440
=0.75m
 

P = 1/f(m) , f = 40cm = 0.40m
=1/0.40= +2.5D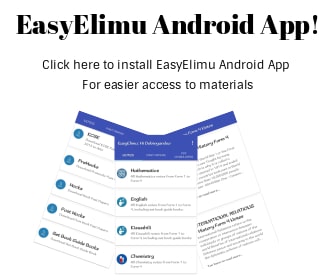 SECTION B
 

The electroscope discharges through the electrons flowing through your body to the ground.

 

 

 

 

Electrons are produced through thermionic emission due to heat energy 

Detected through the glowing of the fluorescent screen
 

Variable p.d in the grid – controls the amount of electrons reaching the screen

Variable p.d in the anodes – ensures we have electrons of varying strength               

 

Time base setting 20 ms/cm
λ= 2cm
T = Time base setting × No. of division for one oscillation
= 20ms/

cm

× 2

cm

= 40 ms = 40/1000s= 0.04s

f= 1/T=1/0.04=100/4=25 Hz

 

I=0.02A
t=1s
e=1.6 × 10-19C
Number of electrons n?
Q=eη
but Q = It
therefore eη = It
η=It/e
η=0.02 × 1/1.6 × 10-19
=1.25 × 1017 electrons
 

 


 

 r = 15o

 

θ1 = 20o

θ

2 

= 70o 

 

Use of thick cables
Transmit power at high voltage to reduce or the current of transmission. Power loss α I2


 


 

 

The pointer of the galvanometer deflects to one side and then back to zero 

It deflects to the opposite side and back again to zero 


 

Amount of voltage in the circuit when the switch is opened 

 

R=V/I= 2.2/0.4= 5.5 Ω
 Non – ohmic – graph is a curve not a straight line ü1

 

---
Want to Improve Your Grade?
Guaranteed, improve your overall grade from
D-

to

C+

,

C-

to

B+

, or

B plain

to

A plain

, using our updated and fresh content.
Thousands of subscribed students and teachers country-wide rely on our content, which is updated weekly, with the latest past papers and revision notes.
Top performing schools and students regularly use our materials. We receive numerous "Thank you notes" after every KCSE Exams.
---
Don't Be Left Out.
Subscribe Today!
Choose among the three options below.
Unlimited PDF Downloads

Unlimited Notes Downloads

Unlimited Past Papers Downloads

No Ads
Unlimited PDF Downloads

Unlimited Notes Downloads

Unlimited Past Papers Downloads

No Ads
Not Yet Convinced?
Read Customer Reviews
Z

" It's the best app to all candidates for notes, questions and even answers. It has helped me improve notably in my exams... "

Zahra Bandal

Form 4 Student - Mombasa

F

" You guys are the best you totally fulfilled my expectations cause I really like this app cause 1: Subjects are well presented 2: The notes range from Form 1 to 4 This app really helps especially to a person who does not have study books. "

Faith Mwande

Form 3 Student - Kitale

B

" I love this site, it has all the revision materials and notes that I need, to teach and sharpen my students, for improved grades in exams. I also get teaching aids like Schemes of work, conveniently and therefore I save a lot of time... "

Belinda Akinyi

English Teacher - Nairobi