SECTION A 25 MARKS
What is Weather? (2mks)
Give three main methods of forecasting weather. (3mks)
Differentiate between Latitude and Longitude. (2mks)
The Local time at town x which is on longitude 30oE is 10.30 A.M. What will be the Local time at town Y which is on Longitude 15oW (3mks)

What is natural vegetation? (2mks)
Give three characteristics of Mediterranean vegetation (3mks)
Define the term soil. (2mks)
Give three factors that determine soil leaching. (3mks)
Give five conditions that favour the growth of coral. (5mks)
SECTION B
Answer question six and any other two questions in this section
Study the map of Taita Hills 1:50,000 (Sheet 189/4) provided and answer the following questions.

What is the name given to this type of a map. (1mk)
Give the title of this map. (1mk)

Give the longitudinal extent of the area covered by the map. (2mks)
Calculate the area covered by the Ronge Forest. (2mks)

Give 3 physical features found at grid square 2318. (3mks)
What is the bearing of point 230300 from the air photo principal point at grid square 2226. (2mks)
Describe the distribution of settlements in the area covered by the map.(5mks)

Using a vertical scale of 1cm represent 100 metres draw a cross-section along the line connecting point 280140 and point 370140. (4mks)
On the cross-section mark and label the following.

Hill (1mk)
River (1mk)
All weather road:- bound surface. (1mk)

Calculate the vertical Exaggeration of the cross-section (2mks)
What is Solar system (2mks)
Give three components of the Solar system. (3mks)

State Five characteristics of the sun (5mks)

What is the name used to describe the shape of the earth. (1mk)
Give the three forces that contribute to the shape mentioned above. (3mks)
State Four effects of the rotation of the earth. (4mks)

Describe the structure of the earth crust. (7mks)
What is desertification? (2mks)
Name three types of desert surfaces (3mks)

Describe the three processes through which wind transports its load. (6mks)
Using a well labeled diagram, describe how a mushroom block is formed. (6mks)
Explain four ways through which desert features influence human activities.

What is magma? (2mks)
Name Four types of magma. (4mks)

Briefly describe how the following features are formed.

Geyser (5mks)
Lava Plateau. (5mks)

Explain two ways in which Volcanic Mountains positively influence human(4mks)
Students carried a field study on volcanic rocks.

Give two methods they would have used to collect data. (2mks)
State three problems that they are likely to have experienced during the field study.(2mks)
Differentiate between an ice berg and an ice sheet. (2mks)
Identify Four ways through which ice moves (4mks)

Describe the following processes of glacial erosion.

Plucking (4mks)
Abrasion (3mks)

Describe how a glacial trough is formed.(5mks)
Students of Gatunguru secondary school carried out a field study on glaciation on Mt. Kenya.

Give three reasons why they conducted a reconnaissance (3mks)
Give three activities they may have been involved in during the study. (3mks)
Formulate one hypothesis that would have been relevant for study. (1mk)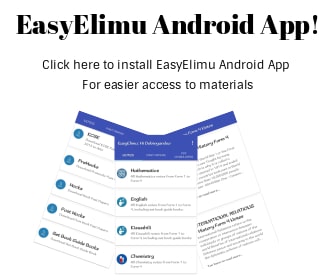 ---
MARKING SCHEME
SECTION A. 25 MARKS
What is Weather? (2mks)
Dairy atmospheric condition of a given place at a specific time 1x2= 2mks
Give three main methods of forecasting weather. (3mks)
- Ancient methods
- Weather lore methods
- Modern methods.
3x1 = 3mks

Differentiate between Latitude and Longitude.
Longitude is an imaginary line drawn on a map or a globe running from East to West showing how far a place is North or South of the equator while Longitude is an imaginary line drawn on the globe or a map running from North to South showing how far a place is East or West of the Prime Meridian.
1x2 = 2mks
The Local time at town x which is on longitude 30oE is 10.30 A.M. What will be the Local time at town Y which is on Longitude 15oW (3mks)
y x
15oW oo 30o E
Longitudes difference = 30 + 15 = 45o
1 o = 4min
45o = 4 x 45 = 180 = 3hrs
10 : 30 AM = 7:30AM


What is natural vegetation? (2mks)
This refers to the total mass of plant life that occupies a given area without interference and modification by human activities. 1 x 2 = 2 mks
Give three characteristics of mediteranean vegetation (3mks)
- The vegetation is composed of shrubs/thickets/bush thorn bush
- grasses dry off during summers draught and winter
- some trees are deciduous.
- some plants have fleshy leaves
- Trees have thick rough barks/many plant have waxy/spiny/small leaves.
- Plants have long tap roots.
- Many plants are evergreen.
any First 3 x 1 = 3 mks

Define the term soil.
It is a naturally occurring thin layer of loose/unconsolidated materials which overlies the crystal rocks and on which plants grow. 1 x 2 = 2 mks
Give three factors that determine soil leaching.
- Nature of soil/solubility of minerals
- Amount of rainfall
- Nature of the slope.
Any First 3 x 1 = 3mks.
Give Five conditions that favour the growth of coral. (5mks)
- The water should be warm about 20o – 30oc
- The water should be shallow to allow sunlight to penetrate/depth up to 60m.
- The water should be clear from silt/mud.
- The water should be saline.
- There should be plentiful supply of plankton microscopic plant food.
- The water should be well oxygenated.
Any First 5 x 1 = 5mks.
Study the map of Taita Hills 1:50,000 (Sheet 189/4) provided and answer the following questions.

What is the name given to this type of a map. (1mk)
Topographical map.
1 x 1 = 1mk
Give the title of this map. (1mk)
Kenya 1 : 50,000
1 x 1 = 1mk

Give the longitudinal extent of the area covered by the map. (2mks)
18.5cm = 5 '
11.9 cm = 5 x 11.9 = 3.2162 ' = 3'
38o 20 ' – 3 ' = 38o 17 '
Hence Longitudinal extent is 38o 17 'E to 38o 30'E
Calculate the area covered by the Ronge Forest. (2mks)
Full squares = 0
Half squares = 9
Area = 0 + (9 ÷ 2) = 4.5 km2 1 x 2 = 2mks.

Give 3 physical features found at grid square 2318. (3mks)
-River
-River valley
-Scrub
-gentle slope.
Any First 3 x 1 = 3mks.
What is the bearing of point 230300 from the air photo principal point at grid square 2226.
008o or N 8oE
1 x 2 = 2mks
Describe the distribution of settlements in the area covered by the map. (5mks)

There are few settlements in the steep areas.
There are few settlements in the area covered by forests
There are many settlements along transportation lines forming Linear settlement.
There are no settlements in the area covered by water reservoirs
There are no settlements in the area covered by sisal plantation.
There are many settlements in the area around junction.
There are more settlements in the Western side than in the Eastern side.
Any 5 x 1 = 5mks

Using a vertical scale of 1cm represent 100 metres draw a cross-section along the line connecting point 280140 and point 370140. (4mks)

On the cross-section mark and label the following.
Hill (1mk)
River (1mk)
All weather road:- bound surface. (1mk)
Calculate the vertical Exaggeration of the cross-section.
VE = V.S
H.S
=

1

÷ 1
10,000 50,000


= 1

x 50,000
10,000 1
= 5 2mks

What is Solar system (2mks)
Refers to the sun, the plants and other celestrial bodies held together by the force of gravity and orbiting around the sun. 1 x 2 = 2mks
Give three components of the Solar system. (3mks)

The sun
The Planets
Asteroids
Meteors / meteoride / meteorites
Comets
Natural satellites(nouns
Any First 3 x 1 = 3mks

State Five characteristics of the sun (5mks)
- It is the centre of the Solar system.
- It is the largest member of the solar system.
- It produces its own light
- It Radiates solar energy to the earth, other planets and their satellites.
- It rotates on its axis in an anti-clockwise direction.
- All planets and some heavenly bodies revolve around it using elliptical orbits.
- It comprises of hot gases mainly hydrogen and helium.
- Has a very high temperature of about 6000oc
- Has a greater gravitational pull than planets which maintains heavenly bodies in their orbits.
- Has three layers i.e. corona, photosphere and chromosphere.
Any First 5 x 1 = 5mks

What is the name used to describe the shape of the earth. (1mk)
Geoid / oblate spheroid 1 x 1 = 1mk.
Give the three forces that contribute to the shape mentioned above. (3mks)

Gravitational force
Centrifugal force
Centripetal force
3 x 1 = 3mks

State Four effects of the rotation of the earth. (4mks)

It causes the occurrence of day and night/apparent movement of the sun from East to West.
It causes difference in time between places over the earth surface/difference 1 hr between two longitudes which are 15o
It causes deflection of winds and ocean currents.
It causes rising and falling of ocean/sea bides.
It causes variation in atmospheric pressure on the surface of the earth.
Any First 4 x 1 = 4mks

Describe the structure of the earth crust. (7mks)

Its rocks are generally brittle/solid
It extends between 6 to 80 km.The sial contain mainly silica and aluminum
The sima contains silica, magnesium and iron.
The sial is lighter / has a density of 2.65 to 2.7 g/cc
The sial has mainly granitic rocks
The sial has basaltic rocks
The sima has a density of 2.7 to 3.0 gm/cc.
The sima is fairly flexible.
Any 7 x 1 = 7mks
What is desertification? (2mks)
Refers to the encroachment of large areas of barren land which are covered with sand.
1x 2 = 2mks
Name three types of desert surfaces (3mks)

Sandy desert/erg/Koum
Stony desert/ Reg / Serrir
Rocky deserts / Hamada
Bad lands
Any First 3 x 1 = 3mks.

Describe the three processes through which wind transports its load. (6mks)

Saltation – It is a process in which coarse grained sand particles are transported through a series of bouncing/jumps along the surface.
suspension – It is a process in which very fine material/particles are picked by wind raised high and blown over long distances.
Surface creep/traction – process in which large heavy materials are rolled and pushed forward by wind along the surface.
P - 3
D - 3 = 6mks

Using a well labeled diagram, describe how a mushroom block is formed. (6mks)

A rock mass with uniform rock structure (homogenous rock) stands on the desert surface.
Weathering and wind abrasion attack the rock.
Abrasion undercuts more near the base of the rock where larger and heavier particles are carried by the wind.
There is less polishing and smothering at the top by the lighter materials carried by the wind.
The process forms a mushroom shaped block with a narrow base and a broad rounded top called mushroom block…



Explain four ways through which desert features influence human activities. (8mks)

Features such as barchans forms beautiful scenery which attract tourists thereby earning foreign exchange.
Oasis are sources of water which is used for agricultural use and for domestic use.
Wind deposited loess form fertile plains for farming.
Salty flats are used for salt production leading to economic development.
Shifting sand dunes forms barriers to transport network hindering transport activities.
Desert features forms beautiful scenes which are ideal for film making.
Vast sand seas are ideal for military training / nuclear testing.
Any First 4 x 2 = 8mks
What is magma? (2mks)
Molten rock material which originate from the interior of the earth and cools while below the earth surface. 1×2=2mks
Name Four types of magma. (4mks)

Acidic / Viscous magma
Basic magma
Ultra – basic magma
Intermediate magma.
4×1=4mks

Briefly describe how the following features are formed.

Geyser

Rain water percolates down through cracks in the rocks.
The water gets into contact with hot igneous rocks.
The water is superheated and gases/steam form.
Pressure builds in the cracks
The pressure causes steam and water to be ejected explosively as jets to the surface intermittently.
The water and steam are emitted intermittently as pressure level changes forming a geyser.
Any 5 x 1 = 5mks.

Lava Plateau. (5mks)

Earth movement forms a series of fissures or vents in the earth crust.
Lava which is extremely fluid is forced to flow through the fissures by underground pressure.
On reaching the surface, the lava spreads evenly over a large surface.
The lava fills and cover valleys and dispressions on the earth surface.
The lava cools and solidifies.
Successive eruptions leads to move and move layers of lava.
The solidified layers of lava form an extensive fairly flat upland area called a lava plateau.
Any 5 x 1 = 5 mks

Explain two ways in which Volcanic mountains positively influence human (4mks)

Volcanic mountains are sources of rivers which provide water for domestic industrial transport and irrigation.
Volcanic mountains influence the formation of relief rainfall that encourages agricultural activities on mountain slopes.
Volcanic mountains forms beautiful scenery that attract tourists.
Volcanic mountains are sources of volcanic rocks that provide materials for building and construction.
Any First 2 x 2 = 4 mks

Students carried a field study on Volcanic rocks.

Give two methods they would have used to collect data. (2mks)

Observation
Collecting samples
Taking photographs
Counting
Experimentation.
Any first 2×1=2mks

State three problems that they are likely to have experienced during the field study.

Some students may have been cut / injured by rocks in High rainfall.
In-ability to collect the right samples.
In accessibility of some sample sites.
Heavy weight of the rock samples.
Any First 3 x 1 = 3mks
Differentiate between an ice berg and an ice sheet. (2mks)
An ice berg is a large block of ice broken from ice sheets and floating in the sea or ocean while an ice sheet is a continous mass of ice which covers a very large area in the lowland, of high altitude areas.
1x 2 = 2 mks.
Identify Four ways through which ice moves

Plastic flowage / intergranular movement
Internal shearing
Basal slip
Extrusion flow.
4 x 1 = 4 mks

Describe the following processes of glacial erosion.

Plucking (4mks)

Pressure of overflowing mass of ice cause freeze thaw action at the bottom.
Melt water enters the cracks and joint on the bed rock.
As the water freezes it exerts pressure in the cracks enlarging them.
enlargement of cracks leads to disintegration of the rocks.
The broken rocks are then embedded or frozen into the ice.
As the ice moves it tears out the frozen rocks from the parent rocks a process called plucking.
Any 4 x 1 = 4 mks.

Abrasion

Rocks materials frozen in the moving ice are dragged over the rocky floor and on the rocky sides of the gracial valley.
The rocks grind and scratch the rocks on the floor and the sides of the gravel valley.
The rocks grind and scratch the rocks on the floor and the sides of the valley.
This wears and polishes the rocks on the valley bottom and valley sides in a process known as abrasion. Any 3 x 1 = 3mks.

Describe how a glacial trough is formed. (5mks)

Initially there is a main river valley and several tributary river valleys.
Once glaciations occurs, ice collects and moves in both the main valley and in the tributary valleys.
Moving ices erodes the valley through abrasion and plucking processes.
As the tributary valleys join the main valley the amount in the main valley increases.
The main valley becomes deeper and wider resulting in a U-shaped, steep sided valley called a glacial trough.
Any 5 x 1 = 5mks

Students of Gatunguru secondary school carried out a field study on glaciation on Mt. Kenya.

Give three reasons why they conducted a reconnaissance (3mks)

To enable them draw study objectives and hypothesis
To assess the suitability of the area of study
To enable them draw a route map
To enable them prepare a work schedule or plan of activities
To seek permission from the relevant authorities in the site of study.
To enable them prepare financial requirements
To identify the problems likely to be encountered during the study
Any first 3×1=3mks

Give three activities they may have been involved in during the study. (3mks)

Observing
Taking photographs
Counting
Drawing sketches
Climbing mountain
Any First 3 x 1 = 3mks

Formulate one hypothesis that would have been relevant for study.

Most of the glacialfeatures on mount Kenya are as a result of erosion.
Most of the features on Mt.Kenya attract tourists.
Any First 1 x 1 = 1mk.