Instructions to candidates
Answer all questions in this question paper.
All working MUST be clearly shown where necessary.
You are NOT allowed working with the apparatus for the first 15 minutes of the 2 ¼ hours allowed for this paper. This time is to enable you read the question paper and make sure you have all the chemicals and apparatus you need.
KNEC mathematical tables and non-programmable silent electronic calculators may be
QUESTION 1
You are provided with

Aqueous sulphuric VI oxide solution A,
5 M Sodium Hydroxide solution
Magnesium ribbon solid C
Phenolphthalein indicator

You are required to determine
The rate of reaction of magnesium ribbon with aqueous sulphuric VI acid solution A
The concentration of sulphuric VI acid in moles per litre



Procedure 1.

Using a measuring cylinder put 70cm3 of solution A and place it in a 100 ml beaker. Using a ruler cut off 1cm piece of magnesium ribbon to obtain 8 pieces. Ready with a stop watch, drop 1 piece of magnesium ribbon into the beaker containing the 70cm3 of solution A and immediately start your stop watch. Note the time taken for all the ribbons to react completely and record it in the table below
Without adjusting the stop watch to zero, drop another 1cm piece of magnesium ribbon immediately to the same mixture and record the time taken for the second ribbon to react completely.
Repeat the experiment until the 8th piece of magnesium ribbon is used.
Keep the solution mixture for use in procedure II. Complete the table by computing 1/time sec -1


| | | | | | | | | |
| --- | --- | --- | --- | --- | --- | --- | --- | --- |
| Length of magnesium ribbon(cm) | 1 | 2 | 3 | 4 | 5 | 6 | 7 | 8 |
| Total time taken in seconds | | | | | | | | |
| Rate of reaction 1/time sec -1 | | | | | | | | |

Plot a graph of 1/time sec -1 (Y –axis) against length of magnesium ribbon (cm) used. (3mk)
From the graph determine the time that would be taken if 5.5cm of ribbon to react. (1mk)
Explain how the rate of reaction vary with increase of length of magnesium ribbon 2mks)

Procedure II

Place all the solution obtained in procedure I into a clean 250ml volumetric flask. Add distilled water to make 250 cm3. Label the resulting solution as D. Fill the burette with solution B. Pipette 25.0 cm of solution D add 3 drops of phenolphthalein indicator and titrate with solution B. Record your results in table II. Repeat the titration two more times. 4MKS


| | | | |
| --- | --- | --- | --- |
| TITRE | I | II | III |
| FINAL BURETTE READING (CM0 | | | |
| INITIAL BURETTE READING (CM3) | | | |
| VOLUME OF B USED (CM3) | | | |

Determine the average volume of B used (1MK)
Calculate the number of moles of sodium hydroxide, solution B that was used (1mk)
Determine

The number of moles of Sulphuric VI acid in 25cm3 of D (1mk)
The number of moles of sulphuric VI acid in 250 cm3 of solution D (1mk)
Given that the total number of moles of sulphuric VI acid that reacted with magnesium ribbon was to be 0.08moles. calculate the total number of moles of sulphuric VI acid in 50cm3 of solution A. (2mk)
Calculate the concentration of the original sulphuric VI acid solution A in moles per liter. (1mk)
Question 2
You are provided with a solid labeled R. carry out the following tests, record the observations and make the correct inferences.

Place solid R In a boiling tube and add about 15cmᵌ of distilled water while shaking thoroughly, filter the mixture. Keep the filtrate and residue for the tests below.

To 2cmᵌ of the filtrate, add sodium hydroxide until is excess

To another 2cmᵌ portion of the filtrate, dip a clean stirring rod and place it on a non-luminous of a Bunsen burner.

Place the residue in (a) above in a boiling tube. Add dilute nitric (v) acid while shaking until all the solid dissolves. Divide the solution into 3 portions of 2cmᵌ

To the 1st portion, add sodium hydroxide solution till is excess.

Using potassium iodide (KI), describe a test that you would carry out to find whether Pb + ions are present in the second portion in (b) above.

Carryout the test described in part (ii) above.


Question 3
You are provided with liquid Y. Carry out the tests below and write your observations and inferences in the spaces provided.

To 1cmᵌ of liquid Y add 1cmᵌ of water and shake.

To 1cmᵌ of liquid Y in a test tube add 3 drops of universal indicator and determine its PH.

To 2cmᵌ of liquid Y add 3 drops of potassium manganate (VII) solution.

To 2cmᵌ of liquid Y add 3 drops of bromine water.

To 2cmᵌ of liquid add 3 drops of acidified potassium dichromate (vi) and warm.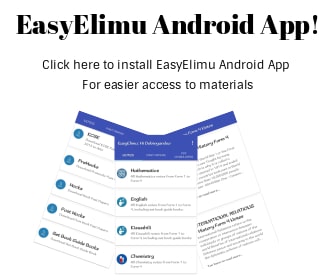 ---
MARKING SCHEME
Table1

5mks


| | | | | | | | | |
| --- | --- | --- | --- | --- | --- | --- | --- | --- |
| Length of magnesium ribbon (cm) | 1 | 2 | 3 | 4 | 5 | 6 | 7 | 8 |
| Total time taken (sec) | | | | | | | | |
| Rate of reaction (sec)- | | | | | | | | |



1/

t

=b (½) (from the graph )when length=5.5cm
1/t =1/bsec (½)
The rate of reaction decreases with increase in length of magnesium ribbon (1mk)
Table below- CT (1mk) Accuracy (1mk)
Decimal (1mk). Final accuracy (1mk)
Average volume of solution B.
NB: Use school value to get the average Q….. Ans (i) (½mk)
Working (½)