HOME SCIENCE
Paper 2
A pattern of a blouse has been provided. You are adviced to study the questions, the patterns Q the layout before you begin the test.
Materials provided;
Pattern pieces.
A - Front bodice
B - Back bodice
C - Front yoke.
D - Sleeve
E - Collar
F - Grossway strip
Light weight cotton fabric of 70 by 65 cm.
Cotton sewing thread to match the fabric.
Elastic cord 18cm long ½ cm wide.
Envelop A4.
THE TEST
Using the materials provided, cut out and make the left half of the blouse to show the following;
Cutting out. (15½ marks)
Working of the inverted pleat on the front bodice. (3 marks)
Joining the front bodice to the yoke using an overlaid seam. (10 marks)
Joining the front bodice to the back bodice at the shoulder using an open seam. (6½marks)
Working the side seam using double stitched seam. (7½ marks)
Preparation and attachment of uninterfaced collar using a crossway strip. (16 marks)
Working of the sleeve to include;

Control of fullness at the crown. (2 marks)
Joining of the underarm seam using a French seam. (6½ marks)
Attachment of the sleeve. (4 marks)
Working of elastic casing at the lower edge of the sleeve and inserting the elastic cord. Don't seal the opening used to insert the cord. (10 marks)
Presentation. (6 marks)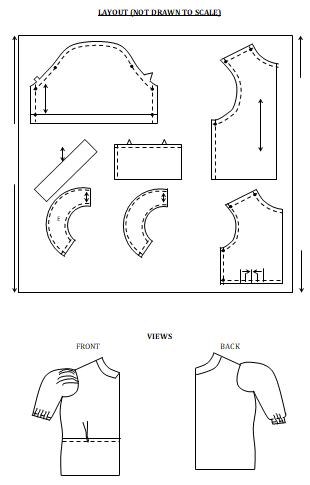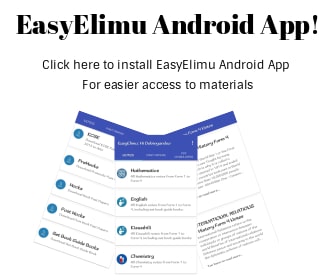 ---
MARKING SCHEME
TASKS

MAX. SCORE

ACTUAL SCORE

REMARKS

PRESENTATION

1.

Work well pressed and well folded

1

2.

Label stitched on a single fabric without concelaing any details.

1

3.

Clearly written Name, Adm. No., Class

2

4.

Pins, unnecessaary tacking and hanging threads removed

1 ½

5.

Made up the right half

½

SUB TOTAL

6

CUTTING OUT

1.

All the seven pieces cut out.

3 ½

2.

Smooth cutting of the front bodice and on a straight grain.

2

3.

Smooth cutting of the front yoke and on straight grain.

2

4.

Smooth cutting of the back bodice and on straight grain.

2

5.

Smooth cutting of collar and under collar and on straight grain.

4

6.

Smooth cutting of the lower edge of front yoke and the back bodice.

2

SUB TOTAL

15 ½

INVERTED PLEAT ON FRONT BODICE

(If not inverted pleat give zero)

1.

Correct size of the pleat – 3 cm.

1

2.

The folds just meeting without any gap and overlapping.

1

3.

Pleat well pressed and flat.

1

SUB TOTAL

3

JOINING THE FRONT TO YOKE USING OVERLAID SEAM (If not give zero)

1.

Overlay folded to the WS at the stitching line.

1 ½

2.

Overlay placed on underlay's stitching line on the R.S.

1

3.

Seam stitched with straight and firm stitchery and close to the fold on R.S.

1 ½

4.

Seam turnings trimmed to 1cm and neatened together.

1 ½

5.

Appropriate neatening stitches used

(If not, give zero from e – g)

½

6.

Evenness and correct tension of the stitches.

2

7.

Firm and neat stitches.

2

8.

Stitches fastened on and off.

2

9.

Seam well pressed and flat.

1

SUB TOTAL

13

JOINING FRONT TO BACK BODICE AT THE SHOULDER WITH OPEN SEAM.

1.

Seam done with firm and straight stitchery.

1

2.

Seam turnings should be neatened separately and appropriately.

1 ½

3.

Correct size of the neatened turnings 1cm to within 2mm.

1

4.

Seam open at the sleeve crown and the neckline.

2

5.

Evenness of the neatened turnings.

1

SUB TOTAL

6 ½

SIDE SEAM

(Double stitched seam if not give zero)

1.

Straight and firm stitchery of the first line.

1

2.

Straight and firm stitchery of the second line close to the fold.

1 ½

3.

Seam neatly tucked in to conceal the raw edges.

1

4.

Correct width 6mm to within 2mm.

1

5.

Evenness of the complete seam.

1

6.

Fell folded to the back.

1

7.

Seam flat on the R.S & W.S

1

SUB TOTAL

7 ½

PREPARATION AND ATTACHMENT OF THE UNINTERFACED COLLAR

Preparation:

1.

Collar joined with firm and smooth stitchery.

1

2.

Collar trimmed and snipped.

2

3.

Well knife edged.

1

Attachment:

4.

Collar joined to the garment with firm and smooth stitchery.

1

5.

Raw edges trimmed and snipped.

2

6.

Collar finished using crossway strip.

1

7.

Held in place using appropriate stitches

1

8.

Quality of stitches used.

1

9.

Fastened on and off.

1

10

Correct size and shape of the collar

2

11.

Correct positioning.

1

12.

Collar flat on the right and wrong wide.

1

13.

Collar flashing to CB to within 3mm

1

SUB TOTAL

16

(a)

UNDERARM SEAM

(French seam - If not give zero)

1.

Straight and firm stitchery of the first line.

1

2.

Straight and firm stitchery of the second line.

1

3.

Raw edge completely concealed.

½

4.

Seam well-knife edged.

1

5.

Seam pressed to the back and flat at the casing and armhole.

1 ½

6.

Correct width of the seam 6mm to within 2mm.

1

7.

Evenness of the seam.

½

SUB TOTAL

6 ½

(b)

Attachment

1.

Worked gathers at the crown.

1

2.

Gathers evenly distributed.

1

3.

Sleeve attached with firm and smooth stitches

1

4.

Seam allowance not trimmed and not neatened.

1

5.

Back notches and front notches matching to within 3mm.

1

6.

Seams matching where they meet at the armhole.

1

SUB TOTAL

6

(c)

Elasticatingat the lower edge of sleeve.

1.

A narrow turning made (0.5cm) to conceal the raw edge.

1

2.

2nd turning made (1.5cm) to make the casing.

1

3.

Casing held in place using appropriate stitches.

1

4.

Evenness of the casing.

1

5.

Elastic inserted.

1

6.

Ends of elastic joined appropriately

(i) Overlapping to 1cm.

(ii) Overcasting stitches used.

(iii) Quality of stitches used.

(iv) Reinforced on and off.

1

1

1

1

7.

Gap for inserting elastic left open at 2cm from under-arm seam on the side

1

SUB TOTAL

10

SUM TOTAL

90/2