You are provide with a food solution mixture labeled Y. you are also provided with the following reagents. 1% copper (II) sulphate solution, 10% sodium hydroxide solution, 0.1% DCPIP solution and a filter paper. Carry out tests to determine the food substances present in Y (12 marks)


| | | | |
| --- | --- | --- | --- |
| Food substance being tested | Procedure | Observation | Conclusion |
| | | | |
The Diagram below shows two organisms (R and S) belonging to the same phylum



Name the class in which the organisms shown above belong. (2 Mark)

Organism R
Organism S

Other than presence of exoskeleton, listtwo observable similarities between the two organisms (2 Marks)

Listtwo observable differences between the two organisms (2 Marks)

Explain how the organism labelled P is adapted to safeguard itself from the predator (2 Marks)

Name the gaseous exchange system exhibited by organism S (1 Mark)
State the respiratory surface used by organism S (1 Mark)

Discussfour functions of exoskeleton (4 Marks)

The following micrographs show images taken from a transverse section of a various stems by a light microscope. Analyze them closely and use them to answer questions that follow.



On the diagram, label part A, B and C (3 Marks)
Explain the adaptation of the parts C and D to their functions (2 Marks)
Identifyfive differences between cross section T and Q and record them in the table below. (5 Marks)

Explain how part B facilitates the process of secondary growth (4 Marks)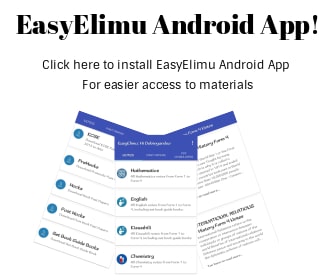 ---
MARKING SCHEME
Question 1.
Food substance being tested

Procedure

Observation

Conclusion

Proteins;

-Put the food substance in a test tube

-Add sodium hydroxide solution

-Add 1% Copper II Sulphate;

Purple Colour;

Protein present;

Vitamin C;

-Add DCPIP in the test tube

-Add the food substance drop by drop as you shake;

No colour change/ DCPIP is not decolorized;

Vitamin C Absent;

Lipids;

-Rub/smear the substance being tested on the surface of filter paper

-Warm the paper by bringing it close to the flame

-Observe it through light;

-The paper is translucent/ There are translucent spots

OR

-Permanent translucent mark persists;

Lipids present;
-4 mark each (12 marks in total). Marks for procedure occur at the end of the collect procedure.
-Reject colour stroking. If procedure is wrong, all the succeeding sections are wrong.
Question 2.
Arachnida;
Insecta; rej. When word start with small letter.

- Jointed appendages;
- Bilateral symmetry;
- Have segmented body;



| | |
| --- | --- |
| R | S |
| -Body is divided into two parts (Cephalothorax) | - Body is divided into three parts; |
| - Two chelicerae each having a craw-like structures | -Does not have chelicerae; |
| - Each leg ends into two toothed craw | -Does not have toothed craw; |
| - Arachnids have no antennae | -Have a pair of antennae; |

-The body colour that matches with the surrounding and therefore the predator cannot be able to identify and attack the organism.
-Lower side of the hind limb/tibia has spikes to strike the predator/any other relevant explanation

Tracheal system
Tracheole/tracheoles

-It provides support to terrestrial arthropods;
-It also provides point of attachment for body muscles;
-It prevents desiccation of the body and by secreting wax;
-It protects the organism from mechanical injury;
Question 3.
A-Vascular bundles;
B- Intravascular cambium/cambium;
C- Sclerenchyma;
labeling must be done on the diagram, not on the space provided.
C- Thickened by lignin to provide mechanical support and strengthening the plants;
D -Consist of numerous parenchyma cells that store water and food substances;
-Packed with storage tissues to store of food and water;



| | |
| --- | --- |
| T | Q |
| No pith | Pith present |
| Vascular bundles scattered | Vascular bundles in a ring |
| Numerous vascular bundles | Few vascular bundles |
| Cambium Absent | Cambium present |
| Small Vascular bundles | Large Vascular bundles |

-Inner cambium/cambial cells divide and increase in number thereby forming secondary xylem;
-Secondary xylem push primary xylem cells toward the center;
-Outer group of cambium/cambial cells divide and increase in number thereby forming secondary phloem;
- Secondary phloem pushes primary phloem cells toward the periphery;
- Plant stems increases in girth/diameter
5 max 4-each point one mark