INSTRUCTIONS TO CANDIDATES
Answer ALL the questions in the spaces provided in the question paper
Spend the first 15 minutes of the time allowed for this paper reading the whole paper before commencing your work.
ALL working MUST be clearly shown where necessary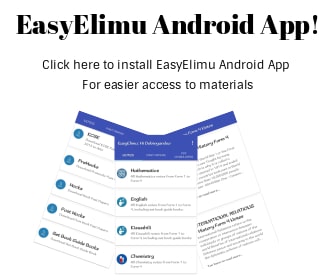 ---
QUESTIONS
You are provided with substances labeled M, N, V, U and X and a filter paper. M and N are food substances, while V is Benedict's solution, U is 10% Sodium Hydroxide solution and X is 1% Copper Sulphate solution. Using the reagents provided, carry out tests determine the food substance(s) in M and N (10 marks)


Substance
Food Substance Being Tested for:
Procedure
Observation
Conclusion
M
N

State the functions of the food substances found in both M and N. (4marks)

Below are sections of a dicotyledonous plant organs labeled X and Y.



Give three observable differences between the sections. (3 marks)
On the diagram, label any three parts of section Y. (3 marks)
Identify and state the functions of the parts labeled A and B. (4 marks)
A ……………………………………………………….
Function……………………………………………………….
B ………………………………………………………
Function……………………………………………………….
How would section X compare with that of a monocotyledonous plant? (3 marks)

Study the diagrams of fruits below



Name the type of fruit shown by P (1mks)
State the type of dispersion used by fruit M, K and N. Give adaptation for each of them (6mks)
Draw a well labeled diagram of diagram L (5mks)
State the type of placentation shown by diagram Q (1mk)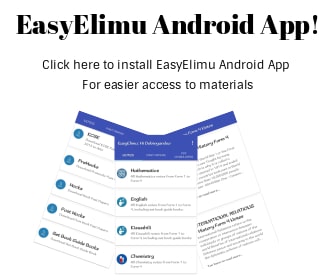 ---
MARKING SCHEME



Substance
Food Substance Being Tested for:
Procedure
Observation
Conclusion
M
Reducing sugars √
Put about 2cm3 of M into a test tube
Add equal amount of Benedict's solution and heat to boil (2mks)
colour changes from green to yellow.
or
colour changes from blue to green
(2mks)
Reducing sugars present
or
Little reducing sugar is present √ (1/2 mk)
Proteins √
( To M)
add (10%) Sodium hydroxide solution then (1%)copper sulphate solution √ (dropwise)(1 mk)
colour changes to purple √ (1/2 mk)
proteins present √ (1/2 mk)
Lipids √
Pour a drop of M onto the filter paper and dry √ (1mk)
No permanent translucent spot formed √ (1/2 mk)
lipids present √ (1/2 mk)
N
Reducing sugars √
(To N) add Benedict's solution and heat to boil
colour changes from blue to green
(2mks)
Little or Trcaes of reducing sugar is present √ (1/2 mk)
Proteins √
( To N)
add (10%) Sodium hydroxide solution then (1%)copper sulphate solution √ (dropwise)(1 mk)
colour changes to purple √ (1/2 mk)
proteins present √ (1/2 mk)
Lipids √
Pour a drop of N onto the filter paper and dry √ (1mk)
A permanent translucent spot formed √ (1/2 mk)
lipids present √ (1/2 mk)

Reducing sugars;

Source of energy when oxidized
Are condensed to form starch for storage in plants / glycogen for storage in animals
Proteins
Forms structures in living organisms
Forms metabolic regulators / enzyme / hormones
Source of energy during starvation;




| | |
| --- | --- |
| X | Y |
| xylem in a ring | xylem star shaped |
| no root hair | presence of root hair |
| pith present | pith absent |




Sclerenchyma;- provide strength and support
Cambium; -Give rise to new Xylem and new phloem/secondary growth

In monocots, the vascular bundle is scattered in the ground tissue; No pith; No cambium;

Drupe

M – wind dispersal; – has hair like structures to increase surface area so that they can be blown by wind;
K- Animal dispersal; – has persistent calyx to attach to the animals;
N – Wind dispersal; – has extended pericarp to increase surface area so that it can be blown by wind;


Marginal placentation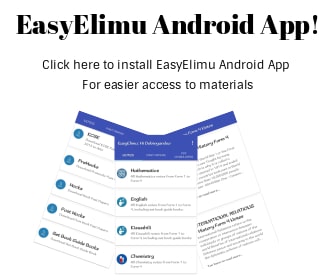 ---
CONFIDENTIAL
Each candidate should be supplied with the following;
2 test tubes in a test tube rack
10 ml of white wheat flour suspension in a 50ml beaker labeled M.
10 ml of groundnut solution in a 50 ml beaker labeled N.
10% Sodium hydroxide solution in a beaker labeled U
Benedict's solution labeled V
1% copper sulphate solution in a beaker labeled X
Droppers
2 filter papers
A means of heating
A test tube holder.
NB:

TO PREPARE GROUND NUT SOLUTION
Peel off the raw testa; then grind the cotyledons and embryo using mortar and pestle into a powder; then dissolve the powder in water in a beaker.
For every 20 candidates dissolve 10gms of ground nut powder in 100 ml of water.
TO PREPARE WHEAT SOLUTION
Dissolve 10gms of wheat flour in 100ml of water for every 20 candidate.