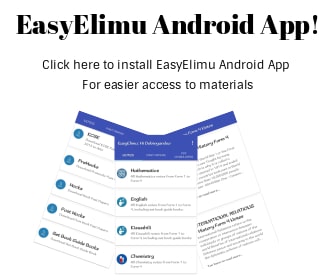 ---
Usually written to people known to people you know fairly well. These can be friends and relatives.
Also referred to as friendly letters.
They are meant to:

Give news;
Request information;
Congratulate people;
Ask questions; or
Give advice.
- An informal letter has such elements as:
Sender's address. Write your address here. Example,

MAALIK AHMED
P.O. BOX 6454-90800
KITALE
Date when the letter is written.
Salutation. Example,
Dear Timothy,
Body. Write the body of the text. Include greetings, news, other questions, etc.
Closing. Sign of with your name. example,
See you soon,
Denis
- The table that follows is of a format of an informal letter blended with explanations:
The Format
Explanation
Address
At the top right hand corner, write your address. For example,
Keicy Kimito
P.O. Box 567
RONGO
Date
Below the writer's address, is the date. For example,
13th December, 2015
Salutation

Written on the left hand side of the letter. Start with:

Dear ………. ,
e.g. Dear Drinkwater,
Dearest………, or My Dear……., ( for close friends and relatives)
Example,
Dearest Drinkwater,
Or
My Dear Drinkwater,

Opening Paragraph

You may ask about the recipient's health. For example,

How is your family?
How are you Njuguna? I hope that you and your family are in the pink.
I am fine and I hope you are as fit as a fiddle.

Content Paragraphs

This is where:

You mention your main reason for writing (paragraph 2)
Give the news
Ask questions

You can start with:

I am writing this letter to…

Closing Paragraph

It is proper to inform your recipient that you are ending the letter. Some
phrases you can use are:

Do write me soon.
Please convey my warm regards to…
Allow me to pen off here.
Hope to receive a reply from you.
Bye/ Goodbye

Closing

Sign off with your name. you can sign off using:

Your loving friend,
Yours lovingly,
Yours affectionately,
Your nephew,
Yours sincerely,
Keep in touch,

Your name should follow. Your first name is preferred


The language used is simple as well as friendly.
You can use contractions such as I'm, won't, you're, etc.
Sample Friendly Letter
Brigit Annabel
P.O BOX 454—40400
SUNA- MIGORI
5th September, 2019
Dear James,
Hi James! Hope you are fine back there in Rongo. My sister and I are very much fine.
I'm just writing to let you know I quit my old job and found something new in Migori town.
I was really fed up with working at Banana Academy as there was little work enough to challenge me anymore. You know me; if there is no enough, I get bored too easily and have to find something new.
I'm now teaching at Sunsun in Migori and the kind of work I do suits me to the ground. I teach two candidate classes. The work here is not only challenging, but it is rewarding as well. I know you will find it hard to believe… but you just have to.
That is not all for now! I'm getting married in a couple of weeks. He is working in the neighbouring school. So many promises I hope he will fulfill he has not stopped to give. I also find him the best among the many. When the time comes I believe you will come and celebrate with us.
Keep in touch,
Brigit
Exercise
You have recently joined another school. Write a letter to your friend. In your letter
Explain why you changed school
Describe your new school
Tell him/her your other news