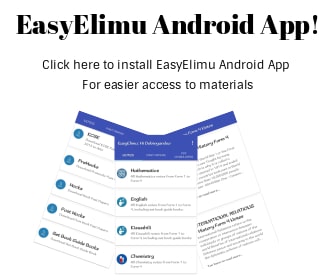 ---
A personal journal is a record of individual's impression of a given event, occurrence or a person.

Record what strikes you the most.

What you record could have happened to you or to others.
Date

Day

At times, the calendar

Entry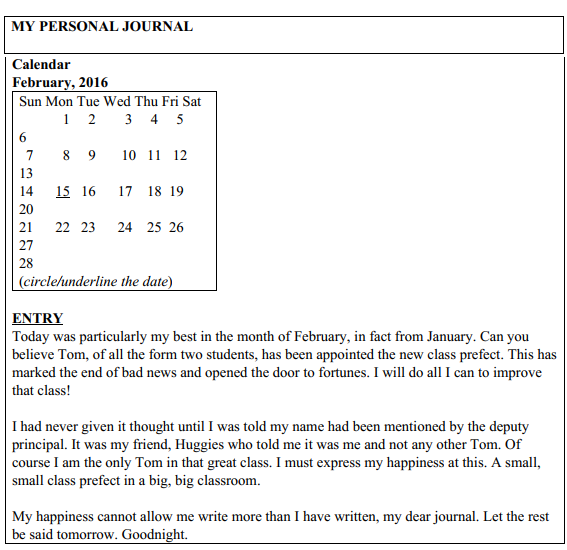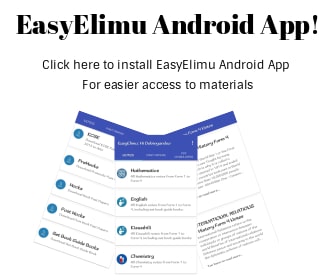 ---
A shopper needs to write a list of all the items to be purchased.

Written before a shopping trip to a shop, grocery, or supermarket.

Writing a shopping list will help cut down on money wastage and time for thinking on what to buy

while at the shopping center.
A shopping list contains the following:

Title.

​

A title must have what the shopping is intended for and the words "shopping list".

Budgeted amount.

​

Write how much you have at hand to do shopping. Don't use more than

what you have. Budget carefully. You can't also remain with a certain amount. If you are left

with too much from what you were to use, it will also mean you don't know how to budget.

Item category.

​

Items are normally put under different categories. It is a good idea to group

related items together for ease in shopping. Items are categorized as;

Snacks e.g. cake, chips, etc.

Toiletries e.g. soap, toothpaste, tissue papers, etc.

Foodstuff

Drinks/beverages

Electronics

Clothing

And others

Item.

​

Write items under the right category.

Description.

​

Write the type of item you want. Prices might also be different. If for example

you want to buy juice, write the type you want, for instance, savanna, pineapple. Their prices

vary.

Quantity.

​

Say how many or how much you need to buy. If a liquid use mililitres, litres etc. if

solid, grams, kilograms, will do.

Price

​

. The amount to be spent on each item is written in this column.

Total

​

. Write the amount in total to spend. Never spend more than budgeted for.
More creative individuals add to their shopping lists:
Expected balance/change

Where shopping to be done. For example:

​

shopping to be done at Uchumi Supermarket.

Who to do shopping, among other things.
NO
ITEM CATEGORY
ITEM
QUANTITY
DESCRIPTION
PRICE IN KSH.
1
Stationery
Exercise books
Ruler
Mathematical set
Pens
8-200 pages
2
1
10
Crown
Helix
Oxford
Bic
800
100
300
200
2
Clothing
Blouse
Skirt
Cardigan
Neck tie
1
1
1
1
Short sleeved
Dark grey
Indigo one
Red stripped
500
500
600
200
3
Books
Set Books
3
Blossoms of the Savannah
Memories we lost
Chozi la Heri
600
500
600
4
Drinks
Soda
Juice
3-1 Litre
2 L
Coke
Delmonte
300
300
5
Snacks
Crackers
Cookies
Pretzel
50g
100g
100g
Chez it
Oreo
Bold Gold
110
200
200
TOTAL
6010
Expected Balance Sh. 90
Exercise
You are form two class prefect. Your class is throwing the end of the year class party. Before this happens, there is contribution by all the class members. If the total amount raised is sh. 9 000 which you are supposed to budget for, prepare the shopping list of the item you would buy.