Instructions to candidates
Answer ALL the questions.
Each of your essay should not exceed 450 words
Imaginative compostion (Compulsory)

Write a composition to begin with the following: - "Looking up the sky, I knew everything would be fine……………………" (20mks)
Technological advancement has impacted negatively on the society, especially on the youth. Discuss. (20mks)

A DOLL'S HOUSE
Women play key roles in the society but more often than not their roles are never recognized.
Using illustrations from A Doll's House support this assertion. (20mks)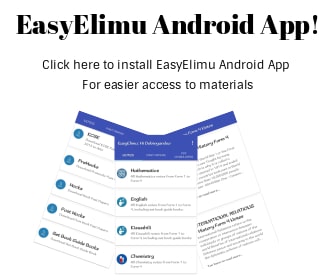 ---
MARKING SCHEME
Imaginative Composition

It must be a story


Must begin with the given statement if not deduct (2 mks)
The statement must be relevant to the story if not deduct up to (4 mks)

Technological advancement has impacted negatively on the society, especially on the youth. Discuss. (20marks)


The composition must be in continuous form, if not, deduct 4mks AD
The candidate's argument must be realistic and factual e.g pornography, helps cheat in exams, e.t.c.
The candidate must expose/show negative or harmful effects of technology, of social values in society. If not, deduct 2 mks AD
Points should flow fluently and logically.
Award credit for creativity in the execution of ideas.
N.B: There must be a concluding paragraph or a recap. If missing, deduct 2mks AD.

Women play key roles in the society but more often than not their roles are never recognized. Using illustrations from A Doll's House support this assertion.
Men and women play different roles in the society but more often than not, the roles of women are overlooked as they are only seen as home makers whose area of specialization is child bearing in addition to acting as husband pleasers.

This makes men who are considered as providers to be more appreciated than women. However, the reality is that women too play great roles in the society.

Nora is a woman who plays a great role of saving her husband after his illness. The doctor recommends that they go south for some time so that Helmer can get better. The family has no resources to finance such a trip but Nora takes it upon herself to get a loan to finance the trip.

Most people, Helmer included, assume that Nora got the money from her father We see Nora struggling to repay the loan where she tries to save as much as possible from what is given to her by her husband for domestic upkeep. Even when she is asked what she would want as a Christmas present, she asks for money which makes Helmer conclude that she is a spendthrift.