IMAGINATIVE COMPOSTION(COMPULSORY) (20 MARKS)

EITHER

Possession of firearms for self defence should be legalized in Kenya. Write a composition either supporting or opposing this statement.

OR
Write a composition ending with the following words…………………………... after this incident I realized that it is never too late to change.
THE COMPULSORY SET TEXT

Blossoms of the Savannah is a novel about hope that leads to victory; write a composition to illustrate on this statement.


OPTIONAL SET TEXTS


ANSWER ANY ONE OF THE FOLLOWING THREE QUESTIONS.

How could the submissive, selfish and silly Nora of the first two acts transform herself into an independent woman by the end of the last act? Is the transformation realistic?
MARKING SCHEME
QUESTION ONE
1A POINTS OF INTERPRETATION
Must be an argumentative essay
There must be an attempt to argue for and against both sides of the statement.
Candidates must clearly come up with their stand/position with reference yo the statement.
1B
Must end with the given sentence if not deduct 2AD
The story must involve an event that shows change of behavior of a character possibly after an unpleasant experience due to earlier misbehavior.
THE RIVER AND THE SOURCE
INTRODUCTION 2MKS
A dynamic and accommodating person is one who is conscious of the changing circumstances around them and is ready to embrace the new realities with the realization that resisting them would be futile. Akoko and her husband chief Owour Kembo illustrate this.
Accept any other relevant introduction.
D1
Chief Owour Kembo stubbornly refuses to take another wife to bring forth more children and be assured of an heir to the position of chief. Not his mother or the persuasive council of Jodongo can make him change mind. He is contented with Akoko "How could he tell them that since he married his wife, he has profoundly lost interest in all other women"……..pg 30
Moreover he does not mind the position of chief passing on to his brother Otieno if need be, their stained relationship notwithstanding. He treasures Akoko and treats her like a queen; his brother treats his many wives as sluts. Although in a subtle way; the chief's decision to be contented with a monogamous union points to a shift from traditional mindset that somebody of his status should marry many women. It is possible to find fulfillment in one wife as he does in Akoko.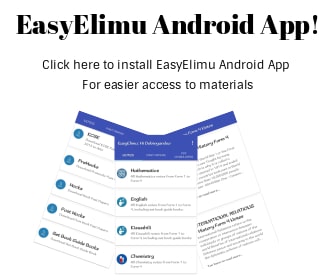 D2
Akoko's epic journey to petition the serikal over her brother in law is how of dynamism. Otieno has sat on the chief's stool with heavy glee and is misusing her husband's wealth,moreover,he shows no intention of returning the chief's stool to Owour Kembo's family when his son comes of age.Ordinarily,Akoko's complaint against her hostile brother in law would have been decided at clan level.She takes the cause of justice to a new level.This clearly sshows she is receptive to the changing times around her.

D3
Akoko allows Nyabera to seek the new religion at Aluor mission.Nyabera has had to bear one calamity after another, from the loss of hr father and siblings to her own husband and children. Akoko is sensitive to her suffering and supports anything that can calm her nerves. Akoko is thus understanding and accommodating.
D4
Akoko supports Awitis to join a teacher training college. Awiti has excelled in her primary school examination and is among the two girls selectedto join college. However, the mother Nyabera maybe understandably fears that something sinister can happen to her if she is out of her sight. Akoko severely adminishes her and insists that Awiti must take up her position in college--- "Don't you see the world is changing and she is acquiring something that will make a diference as to whether she survives or perishes. Akoko is alive to the fact the people need to be empowered to fit well in the new order being witnessed.
D5
Maria nyabera is agitated that awiti is engaged to a man "whose roots and antecedents you don't know" this is the accepted norm that a potential partner has to be investigated to be sure there is no consanguinity or undesirable traits in their family. Decesive akoko brings reason when she says" accept it maria the world is changing."
Accepted any 4 well illustrated points 4x3=12mks.
CONCLUSION
The above shows that for change to take root proponents for such change is necessary. These are the people who have the ability to understand that the world is hardly static. Chief Owour Kembo and Akoko demonstrate this.
Accept any credible conclusion (2mks)
Language, grammar and presentation(4mks)
Must be written in paragraph with a topic sentence and supporting sentences.
(a) WHEN THE SUN GOES DOWN
Introduction
When one gets too obsessed with something, they risk alienating themselves from the social environment around them. One may become totally unaware of themselves and or insensitive to the feelings of others. In the story diamond dust the author illustrates how obsession can explore one to unpleasant situations.(2mks)
(Accept any credible introduction)
Mr. Das' obsession with his pet dog Diamond strains his relationship with his wife, she feels that he pays too much attention and affection to the dog at the expense of his family she notes "Not even about our own children-not even your first born son----Mrs. Das grumbles a lot as she mops the puddles from her house, she has to put up with the bad smell too."
obsession dehumanizes the victim. Mr. Das does things that leave his colleagues embarrassed. He lowers his dignity as a government servant. They caught him roaming ridiculously with the dog and though he was completely ouf of his senses. Mr. das is completely oblivious of this.
Mr. Das relationship with other people is strained the postman's pair of trousers given to him for uniform by the postal service is torn as the fierce dog attacks him. The neighbors' children are also attacked. Inspite of all these complaints mr. Das remains unmoved.
C. P Biswas lament that mr. Das has become disintegrated. Mr. Das is so obsessed with his dog that he does not perform his duties at his workplace well. He apologizes for lateness of some work done or some mistakes done. Mr. Das' obsession finally leads to his death, as he chases a von, that is carrying diamond who had disappeared for some days.
Accept any 4 well illustrated points 4x3=12mks.
Conclusion
Obsession is dangerous. Mr. Das is held captive by his dog and he eventually dies.
Accept any plausible conclusion (2mks)
Language. Grammar, presentation (4mks)
b) Betrayal in the city
Introduction